Best Skullcandy Earbuds of 2023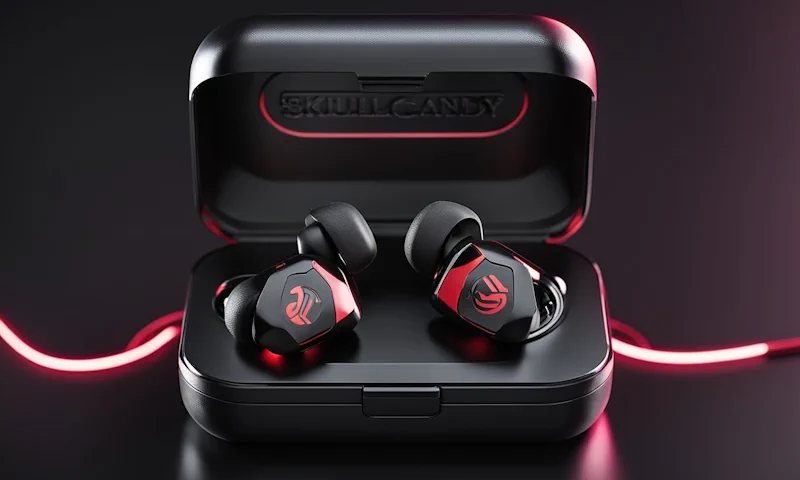 Skullcandy is a popular brand among audiophiles. It offers a range of wireless earbuds that deliver an incredible listening experience. Known for their stylish designs, attractive price points, and reputation for quality, it's no surprise that many people choose Skullcandy earbuds for their audio needs.
One of the things that make Skullcandy wireless earbuds stand out among the competition is their impeccable sound quality. They're designed to provide brilliant sound, impressive bass, and crisp audio for a comprehensive listening experience. Plus, Skullcandy earbuds are built with comfort in mind, ensuring that you can enjoy your favorite tunes for hours on end without any discomfort.
Durability and affordability are also key factors that make Skullcandy earbuds a smart choice for any audiophile. So, why not explore what Skullcandy has to offer and find the perfect pair of wireless earbuds for you?
Is Skullcandy Good for Earbuds?
Skullcandy earbuds are generally considered good for their mid-range price point. They offer decent sound quality with a focus on bass, which can be appealing to users who enjoy a more bass-heavy sound. Skullcandy earbuds also often have stylish designs and are known for their durability. So, if you're looking for affordable earbuds with a focus on style and durability, Skullcandy can be a good choice. But audiophiles seeking more premium and top-tier sound quality might want to explore other options.
How to Choose the Best Skullcandy Earbuds: Buying Guide
When searching for the perfect pair of Skullcandy wireless earbuds, it's essential to consider several factors that can affect performance and user experience. To help you navigate your way through the plethora of options, we've compiled some tips and recommendations for finding the best pair suited to your needs and preferences.
Fit: Choose earbuds that have a secure and comfortable fit in your ears. Look for models that come with different sizes of ear tips and ear wings or hooks. Avoid earbuds that are too bulky or heavy for your ears.
Battery life: Choose earbuds that have a long-lasting battery life to support your listening habits. Look for models that have fast charging features and wireless charging cases. Avoid earbuds that have a short battery life or require frequent charging.
Noise cancellation: Choose earbuds with an effective noise cancellation feature to block out unwanted background noises. Look for models that have active noise cancellation (ANC) technology and ambient mode. Avoid earbuds with poor noise isolation or sound leakage.
Water resistance: Choose earbuds with a high level of water resistance to withstand sweat, rain, and splashes. Look for models that have an IP rating of at least IPX4 or higher. Avoid earbuds that are not water-resistant or have a low IP rating.
Wireless connectivity: Choose earbuds with a stable and reliable wireless connection that can pair easily with your devices. Look for models that have Bluetooth 5.0 technology and support multi-device pairing. Avoid earbuds with frequent connection drops or latency issues.
Keep these factors in mind while exploring your options, and you'll be well on your way to finding the best Skullcandy wireless earbuds tailored to your unique needs. Happy listening!
1. Skullcandy Indy Evo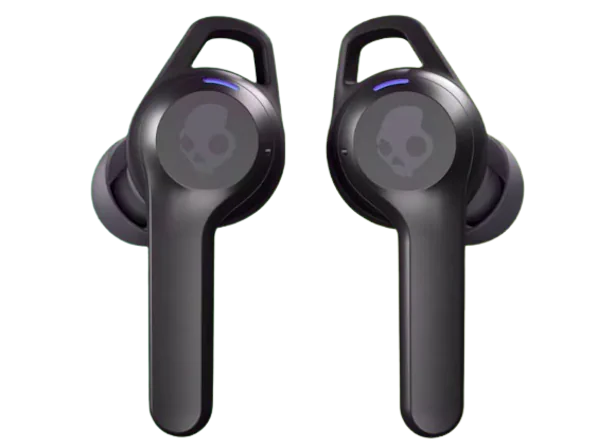 If you're looking for the best overall Skullcandy earbuds, check out the Skullcandy Indy Evo. These earbuds boast a fun and punchy sound that brings your favorite tunes to life. They also provide good noise isolation, so you can enjoy your music without distractions.
The design is sleek and stylish, with comfort in mind. The earbuds are lightweight (4.4g each), so you barely notice them in your ears. The case is also compact, measuring 70mm x 62mm x 30mm. Moreover, they come in various color options to match your style. Worried about workouts? No problem! The Indy Evo earbuds are sweat and dust-resistant with an IP55 rating.
In terms of features and benefits, you get up to 30 hours of battery life, a built-in microphone for hands-free calls, and Bluetooth 5.0 for seamless connectivity. Additionally, they have Tile integration making it easier to find your earbuds if you misplace them. And for those always on the go, fast charging ensures you're never left without your tunes.
Get ready to take on your day with the Skullcandy Indy Evo earbuds, and experience top-notch quality, performance, and features in a small package.
2. Skullcandy Push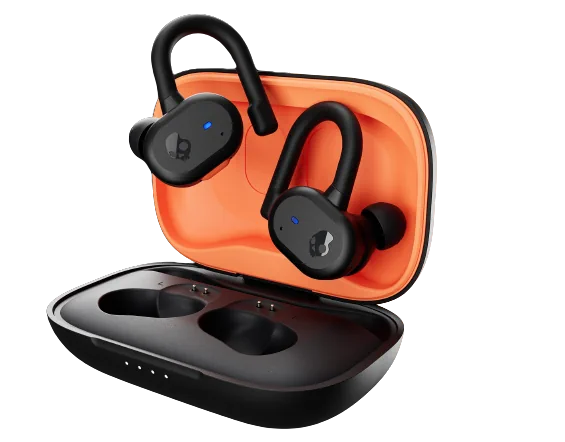 Are you looking for a pair of wireless earbuds with a unique design and some noteworthy features? Let us introduce you to the Skullcandy Push. These earbuds offer a comfortable fit, so you can wear them all day without any issues. They're perfect for gym enthusiasts and adventurers who appreciate durable gear.
The Skullcandy Push earbuds boast a remarkable 43-hour battery life, ensuring your listening experience remains uninterrupted during long outings. Plus, their IP55 sweat and water resistance make them ideal companions for your workouts or outdoor adventures.
One of the standout features of these earbuds is the Skull-iQ smart technology, which not only allows hands-free voice control but also comes with built-in Alexa integration. You can use your voice to control your music, ask questions, and so much more. Additionally, the earbuds offer Personal Sound by Mimi, which tailors the audio to suit your unique hearing profile.
Lastly, never worry about misplacing your earbuds again, as the Skullcandy Push comes with Tile tracking technology. So, if you're in the market for a reliable and feature-packed pair of wireless earbuds, the Skullcandy Push should definitely be on your list.
3. Skullcandy Dime 2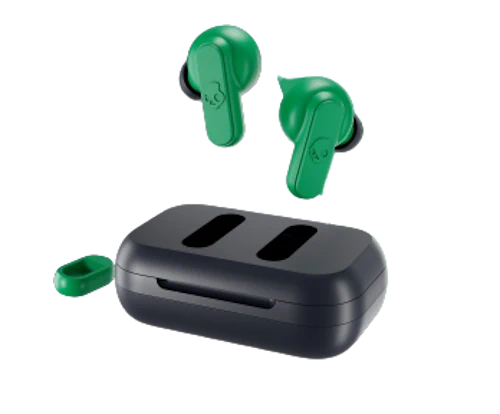 When it comes to quality and performance, the Skullcandy Dime 2 earbuds don't disappoint. We've found that they deliver a generous amount of bass, making them ideal for music lovers who appreciate that extra kick. However, we've noticed some minor limitations in details like microphone connection and noise rejection, but for the price, this is hardly a deal-breaker.
In the design department, the Dime 2 earbuds are our smallest ever, making them incredibly portable and convenient. Plus, with their 12-hour battery life, you can enjoy your favorite tunes or take calls uninterrupted throughout the day.
What sets these earbuds apart is their unique set of features. The Dime 2 now comes with Tile™ technology, making it harder for you to lose them. This means even the most forgetful among us can rejoice because losing these earbuds just got a lot harder.
In summary, the Skullcandy Dime 2 offers a balance between performance, design, and features that make it a fantastic choice for anyone looking for affordable wireless earbuds.
4. Skullcandy Jib True 2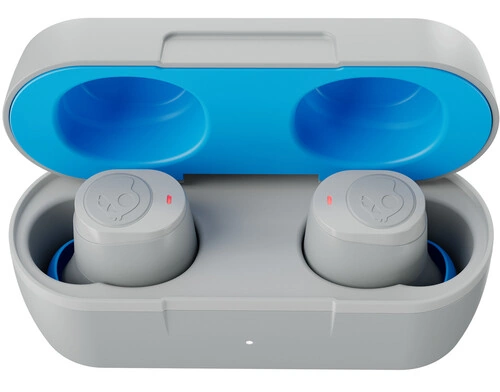 Are you searching for amazing wireless earbuds without breaking the bank? Look no further, let us introduce you to the Skullcandy Jib True 2! These earbuds offer an impressive blend of quality, performance, and design at an affordable price.
The Jib True 2 earbuds come with an attractive design and provide a secure, noise-isolating fit, perfect for any activity you have planned. With IPX4 water resistance, they can even cope with sweat and light rain during your workout sessions.
Now, let's talk about the features that make these earbuds stand out. Firstly, they boast a whopping 33 hours of total battery life, ensuring your favorite tunes will last through long commutes or extended workouts. Additionally, they're equipped with Built-In Tile™ Finding Technology, so you can track and locate them with ease if they ever go missing.
They also empower you to manage calls, track, and volume controls right at your fingertips, oh, and did we mention you can use either Bud Solo? That's right, versatility at its finest.
So, when it comes to Skullcandy Jib True 2, expect an enjoyable listening experience, convenience, and sleek design without emptying your wallet. Don't hesitate, give them a try, and you'll see why we're raving about these true wireless earbuds!
5. Skullcandy Indy ANC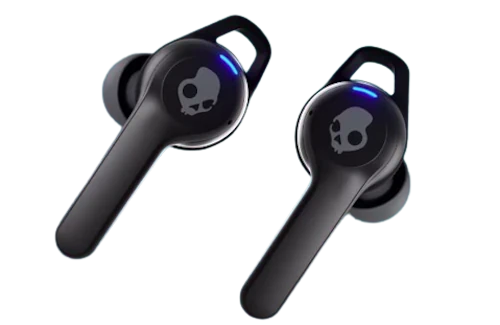 Are you looking for top-notch wireless earbuds with great performance and features wrapped in an attractive design? Look no further than Skullcandy Indy ANC. These earbuds boast remarkable audio quality with wicked treble and deep bass, making your music experience absolutely immersive.
One of the standout features of Indy ANC is its active noise cancellation. Say goodbye to pesky background noises and enjoy your tunes in peace. And guess what? You can customize the sound to suit your hearing preferences with the Skullcandy app! Just hook up the earbuds to the app, analyze your hearing, and optimize sound levels just for you.
Indy ANC sports a unicolor design with stylish stems akin to Apple AirPods Pro. The earbuds come in 'Black' and 'Chill Grey' color variants, giving you the option to choose a style that suits you best. The lightweight design ensures ultimate comfort for extended listening sessions.
In conclusion, Skullcandy Indy ANC is not just easy on the eyes but also delivers high-quality audio, noise cancellation, and personalized sound, making it a fantastic choice when considering wireless earbuds.
6. Skullcandy Grind True Wireless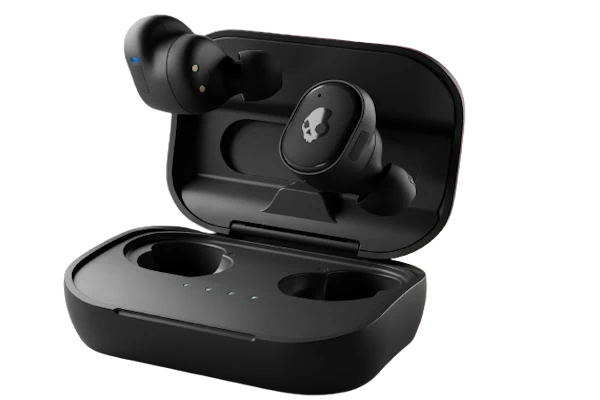 Are you looking for affordable wireless earbuds with decent durability? Let us introduce you to the Skullcandy Grind True Wireless Earbuds. These earbuds offer a solid design without breaking the bank. But what about quality and performance? Let's dive in!
When it comes to sound, the Skullcandy Grind may not be top-of-the-line, but it still provides enjoyable audio for casual listening. Their lightweight construction allows for comfortable wear, making them perfect for everyday use. Although these earbuds lack some advanced features, they still pack a punch!
What makes the Skullcandy Grind stand out is its affordability. We love that they cater to those on a budget, without compromising on durability. With a price tag under $60, you can enjoy wireless listening without breaking the bank. So, why not give the Skullcandy Grind a try and experience them for yourself?
7. Skullcandy Sesh Evo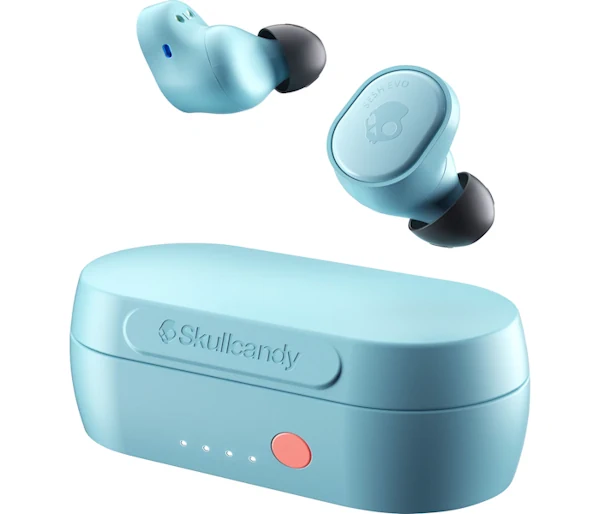 We love the Skullcandy Sesh Evo for its balance of quality, design, and features. The sound quality and performance are impressive, delivering a solid audio experience for casual music listeners and avid audiophiles alike.
The design of the Sesh Evo is sleek, compact, and discreet, making them comfortable to wear all day. They fit securely in your ears, so you don't have to worry about them falling out while you're on the go.
What sets these earbuds apart are the handy features and benefits. Their 24-hour battery life ensures you'll have music all day, and their built-in microphone offers easy hands-free calling. Plus, they're compatible with both iPhone and Android devices, making them highly versatile.
So, are you ready to enhance your listening experience with the Skullcandy Sesh Evo? We believe these wireless earbuds are a fantastic choice for anyone seeking a blend of superb sound, eye-catching design, and practical features.
8. Skullcandy Jib+
Are you looking for a stylish and affordable pair of wireless earbuds? We've got you covered with the Skullcandy Jib+! These earbuds offer impressive quality and performance without breaking the bank.
The design of the Jib+ is sleek and modern, with a comfortable in-ear fit. They come in various colors, so you can pick the one that best suits your style.
As for features and benefits, the Jib+ boasts a 6-hour battery life, allowing you to enjoy your music or take phone calls without worrying about running out of juice. Plus, the built-in microphone works with both iPhone and Android devices, so no matter what smartphone you have, the Jib+ is compatible. With easy Bluetooth pairing, these earbuds offer a hassle-free experience while delivering great sound quality.
User Reviews and Feedback
We've gathered some user reviews to give you an idea of how people feel about Skullcandy wireless earbuds. Many customers have praised their reliability, mentioning that the earbuds consistently provide a stable connection and impressive battery life. The sound quality is also a standout feature for many users.
However, not all feedback is positive. Some reviewers have experienced issues with comfort, stating that the earbuds can feel uncomfortable during extended listening sessions. Despite this drawback, the majority of users have found Skullcandy earbuds to be a reliable option for their audio needs.
In conclusion, the user reviews indicate a mostly positive experience with Skullcandy wireless earbuds. While some people have issues with comfort, overall, the earbuds appear to offer reliable performance and enjoyable sound quality.
Conclusion: Are Skullcandy Wireless Earbuds Suitable for You?
So, are Skullcandy wireless earbuds the best out there? We can't deny that they offer some fantastic options, like their true wireless earbuds with excellent sound quality and stylish designs. The Skullcandy sound is loved by many for its immersive audio experience and is definitely a selling point for these earbuds.
In terms of affordability, Skullcandy manages to balance style, functionality and cost impressively well. However, it's essential to consider that some competing brands might have more advanced features, such as better noise cancellation or longer battery life.
Ultimately, it comes down to personal preferences and priorities. Skullcandy wireless earbuds can be an excellent choice for those who value aesthetics and sound quality. But, as with any tech purchase, it's always a smart idea to research and compare the best true wireless earbuds before making a decision.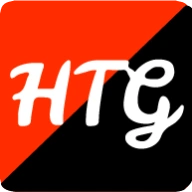 The Editorial Staff at HowToGalaxy is a team of tech enthusiasts having years of experience in writing tech-related tutorials, troubleshooting guides, tech tips, reviews, and buying guides.