6 Best Free USB Security Software for Windows 10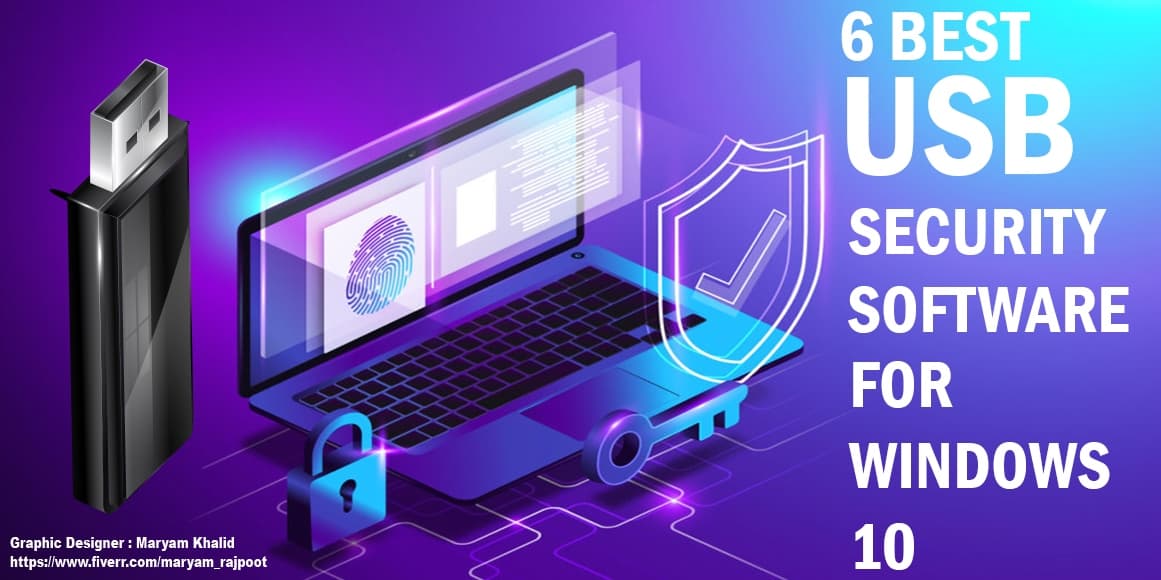 USB flash drives are widely used for transferring and storing important data. It also acts as a virus and other threats carrier. Personal or shared computers are most vulnerable to the threats transmitted by USB flash drives. Therefore, you need to have powerful USB security for Windows 10, which will protect the computer against all types of threats via USB drives. To do this, you should have good knowledge about the best USB flash drive antivirus in the market. Here is a list of the 6 best free USB security software with detailed features.
List of 6 Best USB Security Software For Windows 10
USB Threat Defender
DriveSecuriy
USB Secure Utilities
USB Immunizer
McAfee VirusScan USB
USB Disk Security
#6 USB Threat Defender
USB threat defender is one of the best USB flash drive antivirus programs available in both free and paid versions.
USB Threat Defender provides multilevel protection against USB threats.
Main Features:
USB threat defender efficiently removes Autorun.inf files.
It claims to detect and remove those viruses and malware that are undetected by the best antivirus software.
The proactive scan feature could detect malware before they harm your computer.
Its definition-based scan eliminates both the known and unknown infections that already infiltrate your system.
#5 DriveSecurity
DriveSecurity by ClevX® is another best free USB security software that detects and eliminates viruses and malware from USB drives.
It can detect and eliminate all types of infections like viruses, malware, rootkits, spyware, and worms from the USB drive.
Main Features:
Drive security works with both USB drives as well as memory cards.
It automatically scans removable drives and eradicates known and unknown threats.
It also protects you from the unintentional spreading of malware to personal or shared computers.
Related: Top 7 Best Data Recovery Software
#4 USB Secure Utilities
USB Secure Utilities is lightweight, portable, and provides satisfactory USB security for Windows 10.
It immunizes and vaccinates the USB drive. It can detect threats with three kinds of scans, i.e. standard, generic, and New Technology, thus providing wide protection against various kinds of infections like MSO Cache, Recycler, ice, and Autorun.inf, etc.
Main Features:
USB secure utilities have the backup and restore functionality through which you can back up your files and restore them in case of any data loss.
It shows your device information, such as operating system, memory, file system, etc.
It also has a file explorer through which you can explore files on your pc.
#3 USB immunizer
USB immunizer is a free, lightweight USB security tool by Bitdefender. Its main function is to immunize and eliminate any unusual process that can be executed from the USB drive.
It disables Autorun.inf files before their execution. Whenever a new USB drive is connected to the pc, it immunizes them instantly. Using the virus definitions of Bitdefender antivirus, it is one of the best free USB security software in the market.
#2 USB Disk Security
USB Disk Security is a versatile software that provides USB security for Windows 10. It provides complete protection against almost all types of threats. It is one of the best free USB security software that also has a paid version.
Related: Computer Virus Protection: How to Get Rid of PC Viruses
Main Features:
USB Shield protects the computer from all types of infections that can infiltrate into your pc through USB. It also monitors in real-time and blocks threats before their execution.
USB Scan uses heuristic scanning technology and checks the USB drive for potentially harmful files and programs. It disables autorun.inf and quarantines all the threats.
Data Protection is a unique feature that can prohibit access to unauthorized persons to use your USB drive. When this feature is enabled, no third person can copy or paste any file or program from your USB drive.
System Tools is another useful feature that deletes malicious programs and files that hide in the temporary internet directory. It can also restore unwanted changes on your computer that are caused by malware.
USB Drive control feature disables the USB drive connectivity on your pc. By using this feature, you can disable USB disk connectivity on your computer to prevent unauthorized persons from stealing your data via USB.
#1 McAfee VirusScan USB
McAfee VirusScan USB is a powerful tool by McAfee that provides complete protection against all types of threats that emerge from the USB drive.
It automatically blocks and removes viruses, worms, malware, and Trojans from the USB drive through background scans. Many users consider this the best USB flash drive antivirus available in the market.
Note: McAfee VirusScan USB works with the USB drives that use the U3 platform. For more information about U3 smart drives, see www.u3.com.
Main Features:
Active Protection: Whenever a file is changed or added to your USB drive, McAfee's active protection automatically detects and eliminates threats using a background scan.
On-Demand and On-insertion Anti-Virus Protection: This function guards irreplaceable files such as important financial data or family pictures.
Security Alerts: This feature generates automatic notifications when a potential threat is detected.
McAfee® VirusCarrier Guard: This amazing feature protects your drive and prevents it from acting as an infection carrier when inserted into another PC. It also prevents the transfer of infections from infected PCs to your USB drive.
Automatic Updates: Continuous update of viruses and threat definitions helps protect USB drives from the latest threats and gives the best USB security for Windows 10.
To sum up, USB Threat Defender, DriveSecurity by ClevX®, USB Secure Utilities, USB Immunizer, USB disk security, and McAfee VirusScan USB are the best USB flash drive antivirus programs available in the market. Some of these are also available in the paid versions.
If you think that you need USB security for Windows 10, you can download one of these. We hope these 6 best free USB security software will help you to safeguard your USB drive from viruses and other threats!
Note: Does this article provide the info you're looking for? Is there any information you think of missing? You can give your opinion in the comments section below.
If you like this tutorial, share this post and spread the knowledge by clicking on the social media options below because "Sharing is caring"