How to Factory Reset Windows 10 Using Different Methods
Key Points
From using the built-in reset option and Boot Menu to the Command Prompt method, there are several ways to factory reset Windows 10.
Before resetting it is important for you to backup data and follow some precautions that are mentioned in this article.
Factory reset will delete all data and reinstall a fresh copy of Windows 10.
Are you experiencing problems with your Windows 10 computer? Is the problem so bad that a factory reset seems the only viable solution for fixing your system? Good news! There are several methods you can use to reset your Windows 10 device to its original state.
A factory reset can help resolve issues with slow performance, system crashes, viruses and malware, and other problems. It's also a great way to prepare your computer for selling or donating.
Different Methods of Resetting Windows 10
Luckily, you can reset Windows 10 using different methods if one method doesn't work for you.
Using the built-in Reset option in Settings
Using the Boot Menu options
By using Command Prompt
Using a bootable USB drive to reset your Windows
Important Tasks to Do Before Factory Reset Windows 10
Backup your data: Factory resetting will erase all the personal files from your computer. So it's important to make sure you have copies of your important documents, photos, and other data. You can use a USB drive, a hard drive, or online cloud storage to create backups.
Uninstall any programs you don't want: If there are any programs on your computer that you don't want to keep, make sure to uninstall them before factory resetting. This will save you time and space after the reset.
Deactivate any licenses: If you have any software with activation licenses, make sure to deactivate them before resetting. This will allow you to use the software on another device in case you are planning to sell this device after resetting.
Note down any custom settings: If you've made any customizations to your settings, such as custom power plans, external microphone settings, mouse settings, or theme settings, make sure to write them down so you can easily set them up again after the reset.
Disconnect any peripherals: If you have any external hard drives, printers, or other peripherals connected to your computer, make sure to disconnect them before resetting. This will help ensure that the reset process goes smoothly. Also, this will prevent any potential data loss on the external drives if you go for a full reset option.
Plug your PC into a power source: Before resetting Windows 10, make sure your device is plugged in and connected to the internet. For laptops, make sure the battery is fully charged as the reset process may take some time to complete.
Once you've taken care of the tasks mentioned above, you're ready to factory reset your Windows 10 computer.
1. How to Factory Reset Windows 10 Using Settings App
Click on the Start button and then Settings.



Click on Update & Security and then select Recovery from the left menu.



Next, click the Get started button.



Choose between the "Keep my files" or "Remove everything" options. Selecting the "Keep my files" option will preserve your personal files but remove any programs and settings you have installed. Selecting the "Remove everything" option will erase everything from your computer.



On the next screen, choose either the Cloud download or Local reinstall options. Cloud download will download a fresh copy of Windows and install it on your device. Local reinstall will use the version of Windows that you already have installed on your computer. After that, select Change Settings.



If you choose the Keep my files option in step #4, you'll see an option to restore preinstalled apps. Enable it and click on Confirm to continue factory resetting your computer. This will make sure that all of the apps that came preinstalled with your device are reinstalled. The "Keep my files" option is suitable if you want to reset your Windows 10 to fix any system error.



If you choose to Remove everything in step #4, you will see three options; Clean data, Delete files from all drives and Download Windows. Enable all three options if you want to sell or donate your device. The Clean data option will clean all your files. If you want to format all the drives including external drives and media you can enable Delete files from all drives.



Now click Reset to start the factory resetting process.
2. How to Reset Windows 10 From Boot Menu
If you can't access the Settings menu due to a system crash or malware infection, you can factory reset your system through the advanced boot options. To do this, you'll need to press a specific key when your computer is starting up, which will take you to a recovery environment.
Restart your device. When the restarting process starts, press F8 or F11 key. This will open the Advanced Startup menu. Alternatively, just press and hold the Shift key on the Windows sign-in screen and click on Restart.
In the Advanced Startup menu, choose Troubleshoot.
Select Reset this PC and go through the same process as explained in the previous method.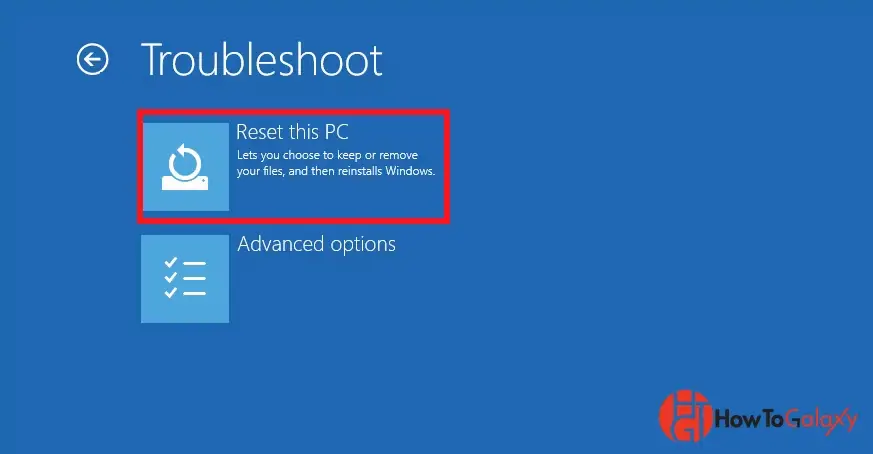 3. Resetting Windows 10 Using Command Prompt
This is another simple method if you are unable to access the Settings app. You can initiate the factory reset process on your Windows 10 by running a command line in the Command Prompt. To do this:
Type 'command prompt' in the Windows search and click on Run as administrator. This will open the Command Prompt window.



Write systemreset –factoryreset in the Command Prompt windows and hit Enter. This will display the factory resetting screen where you will be asked to keep your files or remove everything. From here, follow the process described in method #1.


Reset Windows 10 Using a Bootable USB Drive
If your Windows is unable to boot due to a critical system error, the only way to factory reset your device is to use a bootable USB drive. To do this, you will first need to create a bootable USB drive containing the Windows 10 installation files.
Once you have the bootable USB drive ready, plug it into your computer and restart your device. The system will detect the bootable USB drive and display options to install or repair your system. Choose Repair your computer > Troubleshoot > Reset this PC.
You need to choose between the Keep my files and the Remove everything options. Choose the appropriate option and follow the on-screen instructions to reset your PC.
Have You Successfully Reset Windows 10?
Factory resetting your Windows 10 device can be a useful solution for fixing various problems and starting fresh with a clean system. It's important to back up your data and make any necessary preparations before resetting your device. Whether you want to resolve a specific issue regarding Windows 10 or plan to sell your laptop, you can use any of the above methods to factory reset your Windows 10 device.
Note: Does this article provide the info you're looking for? Is there any information you think of missing or incorrect? You can give your opinion in the comments section below.
If you like this tutorial, share this post and spread the knowledge by clicking on the social media options below because "Sharing is caring".