Key Points
There are two methods to factory reset Android phones; (1) through the Settings menu and (2) through Recovery mode.
Data deleted through factory reset is non-recoverable.
Make sure to back up your important files before factory reset.
Factory resetting an Android phone is an important task to ensure that all data stored on your device is securely erased prior to selling or donating it. By factory resetting, you are restoring the original factory settings of your device and deleting all personal information and apps installed on it.
The method for factory resetting varies slightly depending on the type of Android phone you are using. You can access the factory reset option by accessing the settings app on your device and navigating through to the reset option. Most Android phones require your device's PIN or password before performing the factory reset process.
It is important to note that factory resetting will not delete any of the operating systems, or pre-installed apps.
Steps to Take Before Factory Reset Your Android Phone
Before resetting your phone, make sure that it is fully charged.
Make sure you remember your phone password or PIN. Factory resetting requires your password or PIN to proceed.
Back up all of your personal data.
Remove your SIM card. Factory reset also deletes SIM card contacts and other SIM card data. A few Android phones give a separate option to delete SIM card memory when you try to factory reset. Make sure not to select the Erase SIM Card Memory option.
Although data on the SD card is not deleted during factory reset, it is better to remove the SD card before resetting.
Log out of any accounts and services that you have linked to the device.
Note: Some Android phones may have slightly different settings or options names. If you cannot locate the factory reset option in your device's settings, please refer to the manufacturer's manual or contact customer support.
Factory Reset Android Phone Using the "Settings" App
Open the Settings app, tap on System, and then Reset phone.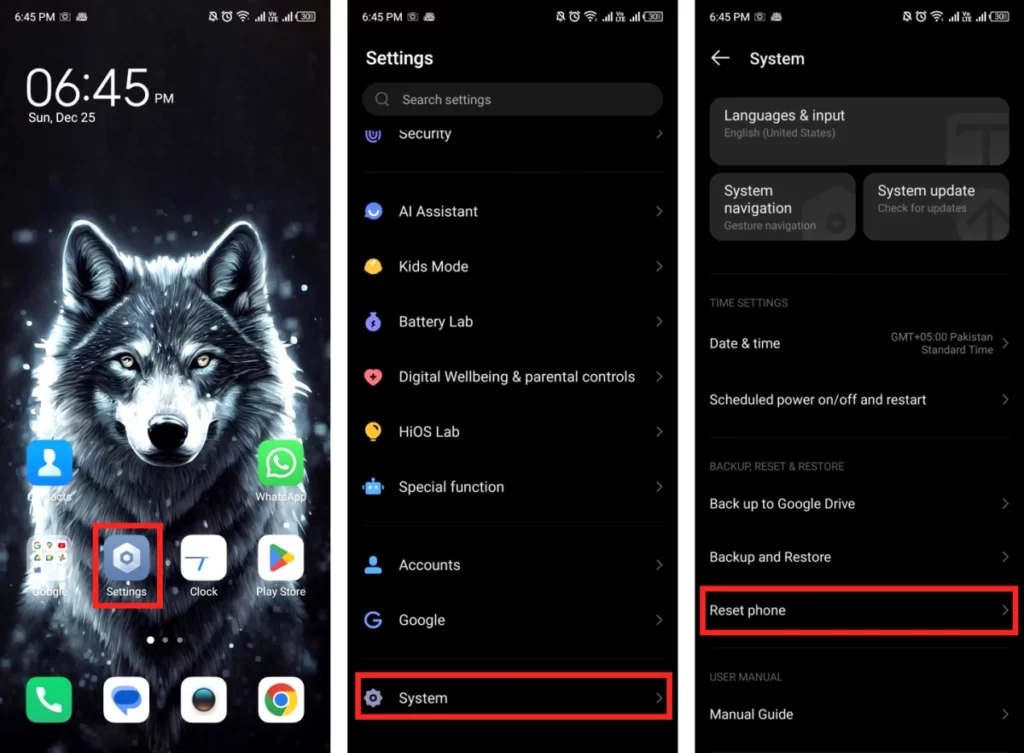 Select Erase all data. A warning screen will appear; tap on ERASE ALL DATA to proceed. Enter your phone's PIN, password or security pattern when prompted.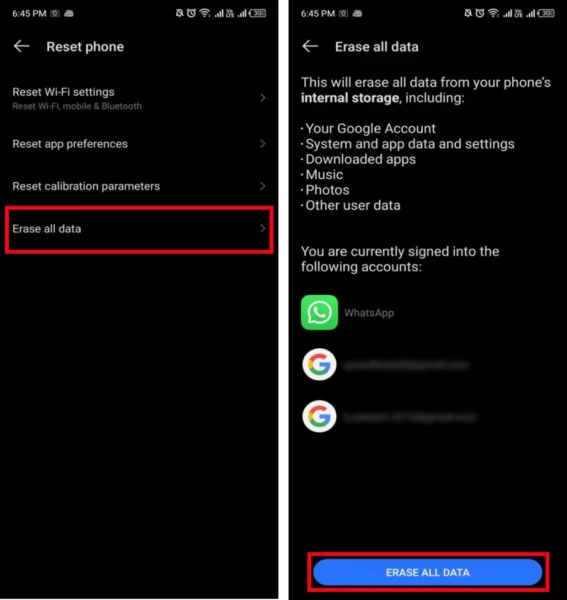 Factory Reset Android Phone Using "Recovery Mode"
If factory resetting your device using the settings app did not work or if you are unable to access your phone's settings due to a malfunction, you can factory reset your device using the recovery mode.
Turn off your phone.
Press the Power button and Volume up buttons simultaneously and hold them for a few seconds until you see a logo on the phone's screen. Some Android phones have a power button and Volume down key combination to access the recovery mode.
Use the volume down button to navigate the menu and select Recovery mode. You can select the option using the power button. If you are using a Chinese phone brand like Huawei, Oppo, Vivo, Tecno, Xiaomi, or Infinix, the recovery mode menu will most probably be in the Chinese language. In this case, here is the guide for factory resetting Chinese Android smartphones.
In the Recovery mode menu, use the volume buttons to navigate and search the Wipe data/factory reset option and select it.
Now confirm it by selecting Factory data reset. Select Reboot system now.
Your phone will reboot and go through the factory reset process.
Factory Resetting Android Phones
Factory resetting an Android phone is a simple process that you can do with ease by following the above instructions. It is important to back up important files stored on your device so that you can access them in the future.
Note: Does this article provide the info you're looking for? Is there any information you think of missing or incorrect? You can give your opinion in the comments section below.
If you like this tutorial, share this post and spread the knowledge by clicking on the social media options below because "Sharing is caring".
Frequently Asked Questions (FAQs)
What is Factory Reset?
Factory reset is the process of restoring a device to its original settings. It erases all data, apps, and app data stored on the device, and restores factory settings.
Is Factory Reset Safe?
Yes, factory resetting is safe as long as you follow the correct steps.
Can a Factory Reset Clean Viruses And Malware From Your Android Device?
Yes, factory resetting a device can remove viruses and malware from your phone memory. But it does not remove viruses or malware from your SD card. You may need to format your SD card to remove malware.
What is Factory Reset Protection in Android Devices?
Factory Reset Protection (FRP) is a security feature that prevents unauthorized factory resetting of an Android device. It requires users to enter the Google account details associated with the device in order to factory reset it.