How to Enable Windows 10 Dark Mode
Today, we are going to show you how to enable Windows 10 dark mode without using any third-party software. This is a built-in feature of the Windows 10 operating system. Anyone with an updated version of Windows 10 can have this feature turned on very easily. Before going towards the tutorial, let us have a short introduction to dark mode in Windows 10.
Starting with Windows 10 build 1809, you can enable Windows 10 dark theme for File Explorer and similar things in the interface. Dark mode in Windows 10 is becoming increasingly popular as it is eye-catching and looks beautiful.
Windows 10 dark mode has been really useful for those who operate their pc or laptop in a dark environment. By enabling the dark mode, you don't have to look at those eye-irritating white backgrounds anymore, at least when you are on your system interface. It saves your eyes and is helpful when it comes to workflow or productivity.
Ok.
Let's start the tutorial.
Enable Dark Mode in Windows 10
First of all, go to settings. Then go to personalization.

Navigate to the Colors tab and you will see the Dark option under the default app mode section.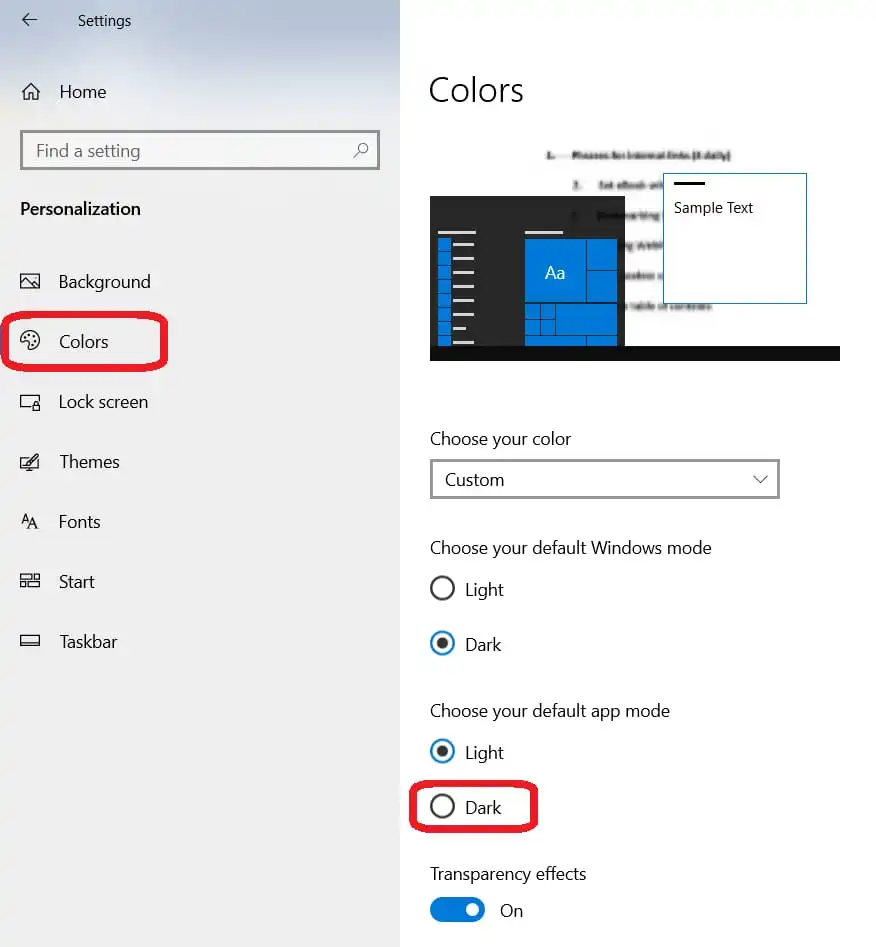 Select the Dark option and it's done!
Read: How to Enable the Secret Ultimate Performance Mode in Windows 10
By enabling Windows 10 dark mode or night mode, a black background will be applied to the settings, search box, right-click menu, and file explorer. Windows 10 dark theme supports third-party programs such as Chrome or Firefox.
But for the browsers, Windows 10 dark theme only changes the search bar color. The website's background will remain white.
If you want to change the browser background color, then there is a similar dark mode feature available in chrome or Firefox. By doing that, you can browse any website with a darker background if you are a dark theme lover.
Note: Does this article provide the info you're looking for? Is there any information you think of missing? You can give your opinion in the comments section below.
If you like this tutorial, share this post and spread the knowledge by clicking on the social media options below because "Sharing is caring"