How to Enable the Secret Ultimate Performance Power Plan Windows 10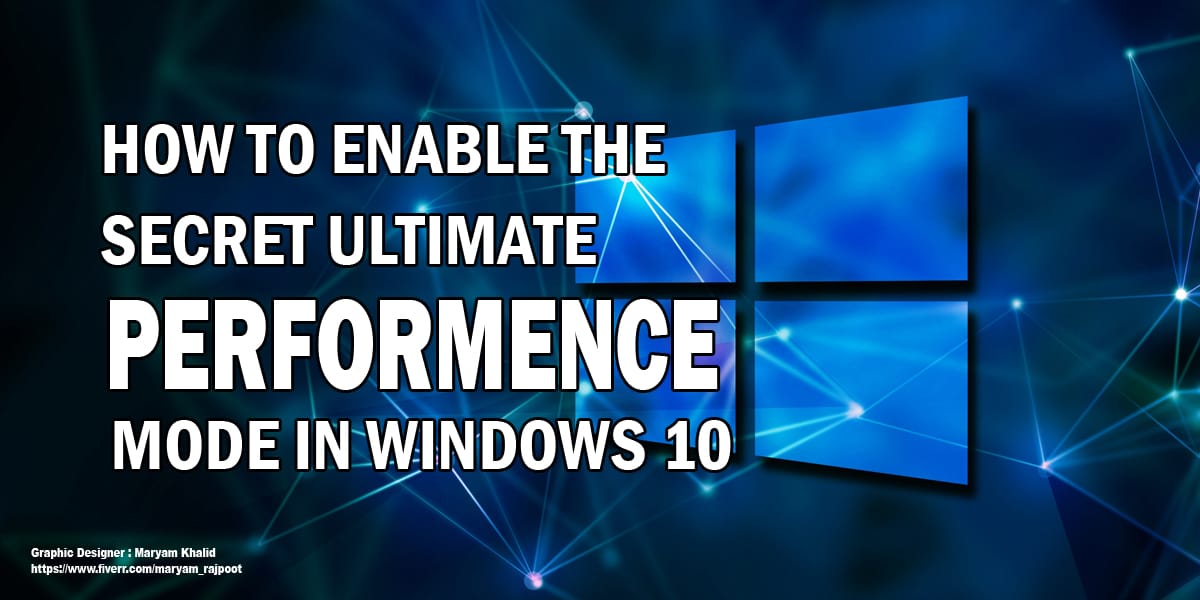 Before starting the tutorial, I am sure you are well aware of the Windows 10 power/battery plans and their effects on your computer's performance. There are 3 different power plans available in Windows 10 by default, and those are balanced, high performance, and power saver. By default, the balanced plan is activated. So when you check for the currently enabled plan on your control panel, it would be the balanced option.
You can choose a high-performance plan that could boost your system's performance. But here we are going to show you more powerful settings that are hidden inside the Windows. This is the ultimate performance power plan. But wait a little bit more. Before talking about the Windows 10 Ultimate Performance Mode let us have a short brief about the three basic power plans.
What is a Balanced Power Plan in Windows 10?
This plan automatically balances performance with energy consumption on capable hardware, for example, CPU, RAM, or GPU. With this setting, you might not get the full performance of your system because it sometimes compromises the performance to save energy.
What Is Power Saver Plan In Windows 10?
The people who are more concerned about their laptop battery life normally use this setting. But with this plan, you will get poor performance of your hardware or system. You may experience slow loading and execution of programs installed on your computer. If you are using your system for small tasks, you can go with a power saver plan but for heavy PCs and game lovers, this is the worst setting for you. 
Related: 5 Most Useful YouTube Keyboard Shortcuts
What is High-Performance Plan
It is a great choice for those who want their computer to run like a bullet train. If you are a hardcore computer user, or a graphic designer working with heavy graphic software like Adobe Photoshop, Adobe Illustrator, InDesign, etc., this setting is ideal for you. Just enable the High-performance power plan and it will boost your computer's performance.
But there is an even more powerful plan hidden inside the Windows, which is the "Ultimate Performance Power Plan". This setting is only recommended for power users and not for everyone. That's why it is hidden. With a little trick, you can find this setting. So, let's unleash the hidden power of your computer.
Before enabling this plan, make sure your Windows is up to date, as you might find it difficult to enable the ultimate performance power plan with the outdated version of Windows 10. Your Windows 10 version should be 1809 or later. To check your current Windows 10 version, just write "winver" in the search bar, and you will find which version is currently installed on your computer. If it's not 1809, update to the latest version.
Related: How to Enable Windows 10 Dark Mode
How to Enable the Ultimate Performance Power Plan
Go to the Start button and right-click on it. From the menu, select Windows PowerShell (admin). It may ask for permission, so click yes, and you will see the PowerShell window.
Type the following command in the window: "

powercfg -duplicatescheme e9a42b02-d5df-448d-aa00-03f14749eb61

"
Now press Enter.
Congratulations! You have successfully activated the Windows 10 ultimate performance mode. Now you just need to enable that mode. So close the PowerShell window and open power settings by going to Control panel > System and Security > Power Options. Click "Show additional plans" and you will see the Ultimate Performance option.
Just enable it and click on the save changes button to save the settings and enjoy the ultimate performance power plan on your windows pc. This ultimate performance power plan can achieve the maximum level of performance inside your hardware limitations.
Try using this new power Plan and feel the difference. But remember, enhanced performance means more power usage, and more power usage means more electricity bills and reduced battery life. So use this mode only if you need it. In case you don't like it, you can always go back to your older power plans anytime. So that's how you can enable the Windows 10 ultimate performance mode.
Related: Windows 10 Won't Boot? Windows 10 Startup Repair Methods
Note: Does this article provide the info you're looking for? Is there any information you think of missing or incorrect? You can give your opinion in the comments section.
If you like this tutorial, share this post and spread the knowledge by clicking on the social media options below because "Sharing is caring"