8GB vs 16GB MacBook Pro: Which One's Right for You?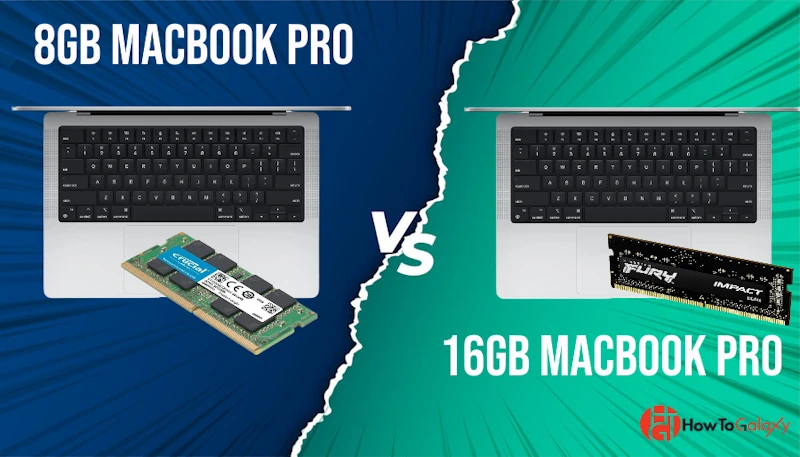 Apple is well-known for its iPhone 15, desktop Macs, and iPad tablet devices. Are you thinking of purchasing a MacBook Pro? Are you feeling confused over whether to go for the 8GB or 16GB RAM model? Fret not, we can help you make that decision. In this article, we'll discuss these two RAM choices. How much RAM to buy and how that affects you depends on your needs. While most Windows-based PCs start at 4GB, Apple's base models are equipped with 8GB of RAM.
To begin, let's introduce the most significant feature of these devices: namely, the unique M1 and M2 chips. All MacBook Pros use Apple's silicon M-series CPU chips. Combined with SSD storage, these powerful chips are what make the newer MacBooks so speedy, improving computing efficiency and performance. We'll dive into why these chips and RAM matter and their impact on performance. Windows with its Intel cores takes a step back when it comes to Apple's star MacBook Pro.
In the end, you will have a clearer idea of which RAM option is best suited for you.
MacBook Pro 8GB vs 16 GB: What's the Difference?
The MacBook Pro (MBP) is one of Apple's standout higher-end computing series. First, there's a noticeable price difference between the 8GB and 16GB MacBook Pro models. As a rule, you pay more for devices with 16GB compared to the 8GB one. But what's in it for you with that higher price tag? Well, one chief difference is in performance. Although both variants are powered by Apple's M-series chips, the 16GB RAM MacBook Pro multitasks better and can handle greater workloads. The 8GB vs 16GB M1 MacBook certainly proved RAM matters.
The Apple M1 Mac chip is known for its excellent processing and speed. The M2, its successor, claims improved CPU and GPU efficiency than the M1 chip. These chips are also found in the iPad, Mac Mini, iMac, and other MacBook series. However, M1 Mac mini desktop devices phased out gradually. With the M1 MacBook Pro, you can expect Apple's usual elegance paired with the intuitive operating system. While the 8GB RAM model can deal with heavy tasks, some lag in response is expected due to memory storage on the disk. The 8GB M1 Macs certainly run similarly to those with M2 chips too. Most users are fine with 16GB or 32GB of RAM.
8GB vs 16 GB MacBook Pro: The Difference in Price
Although the Apple brand is priced higher for its exclusivity and recognition, the budget still matters. Despite the max tech progress in computing, people want simple features too. The 8GB RAM version is easier on the pocket, but the 16GB MacBook Pro promises better quality performance. With a price difference of around $200, the choice is yours.
It's important to remember that users cannot upgrade the RAM in MacBooks. It is physically immovable, as it is soldered into the motherboard. To upgrade, you need to buy a whole new device! Thus it is essential to make the right choice before anything. You may want to sell your device in the future at some point too. So consider resale value too. When it comes to the MacBook Pro, it is likely the better-performing 16GB RAM variant will sell better.
8GB vs. 16GB MacBook Pro: Video Editing Performance
MacBooks are generally geared towards users engaged in creative tasks. Video editing is a resource-intensive task that needs more RAM and CPU. When tested for 4K and 8K video editing, 8GB and 16GB RAM MacBook models differ in speed of performance in the export test of a five-minute long project. The 16GB variant finished the task in half the time of the 8GB one. The 50% faster rate happened while both machines were utilizing less than half of their available RAM.
Apple 2023 MacBook Air Laptop with M2 chip: 15.3-inch, Midnight

8GB RAM - 256GB SSD - 1Touch ID - Superfast memory

1080p FaceTime HD Camera - Backlit Keyboard - All-day battery life

Apple MacBook Pro M2 Chip 13-inch, Space Gray

16GB RAM - 256GB SSD - Supercharged by M2 Chip

Thin design - Advanced audio and video. Long battery life

Apple MacBook Pro 16 inch M1 Pro chip, Silver

16GB RAM - 512GB SSD - 10 core CPU - 16 core GPU

All-day battery life. Stunning display

Apple MacBook Pro Laptop with M2 chip 13-inch, Silver

8GB RAM - 512GB ​​​​​​​SSD

All-day battery life - Backlit Keyboard - Stunning display
8GB vs 16 GB MacBook Pro: Photo Editing Performance
Enough RAM makes a world of difference in editing photos! In a realistic photo editing test, the difference between the 8GB and 16GB RAM models became evident, especially during image export. The 16GB model was faster during the export of 50 HD images taking a little over a minute. The 8GB model took around 2 minutes with noticeable lag. This highlights how higher RAM is a pro for tasks like this.
This comparative difference is important to professional photo editors. A smooth workflow is crucial for working with complex editing projects and high-resolution images. With increased swap RAM in the 16GB MacBook, there is faster file processing and smoother application of filters and adjusting parameters.
8GB vs 16GB MacBook Pro: File Transfer Speed
Why does file transfer matter? If you need to switch between devices with large files it definitely does! Keeping that in mind, let's see how the 8GB RAM model fares vs the 16GB RAM models. A file transfer test highlighted the differences between them. A video file of 22 GB size was transferred to them both. The 8GB MacBook took about 28 seconds while the 16 GB MacBook took less time in this task, about 9 seconds.
What can we conclude from the test? 16GB RAM is better for transferring large files, which makes life easier for those on the go. However, if data transfer is a rarity for you, the 8GB version of the MacBook Pro is sufficient.
8GB vs 16 GB MacBook Pro: Programming Speed
The software programmers must wonder if RAM makes a difference in their coding. To answer this question, the 8GB and 16GB MacBook Pro devices were tested by running a variety of software development programs. The results looked at how performance varied when handling debugging, code compilation, and other resource-hungry tasks at once.
An Xcode benchmark test revealed both MacBook Pro models had negligible differences in performance. They handled these tasks with ease. The 8GB model took 119 seconds overall, while the 16GB model completed the test in 120 seconds. However, if you run several projects at once, higher RAM can save you more time.
8GB vs 16 GB MacBook Pro: Multitasking Performance
You see a greater difference in the performance of RAM during multitasking. In a multitasking test by running Safari with multiple tabs open with Final Cut Pro, Logic Pro, and Adobe Photoshop, the difference of 8GB vs 16GB RAM becomes apparent. The 16GB model responded quickly, while the 8GB model lagged with a slower response rate.
Professionals see the limitations of lower RAM while running apps simultaneously with too many browser tabs. However, 8 GB is sufficient for lighter multitasking or moderate gaming in the real-world routine. For more smoother operations, you may want to choose a 16GB MacBook Pro. Even if you run a Windows PC and use Chrome, Microsoft Office, etc. with other heavy apps increasing RAM gives a smoother experience.
8GB MacBook Pro Is Suitable For
As previously mentioned, an 8GB MacBook can take on pretty much all tasks a 16GB can. The difference in response time may not matter to the typical real-world user. If you are a person who does not swap between RAM-demanding programs at the same time, 8GB is enough for you.
16GB MacBook Pro Is Suitable For:
Increased RAM is for those that run multitask-intensive apps like Vision Pro, Lightroom, or multiple coding projects that require more from the processor. If you want to run such apps without lag, a 16 GB model MacBook Pro is best for you. Hardcore gamers can also benefit from more RAM.
Reasons to Buy an 8GB MacBook Pro
You are on a tight budget.
You rarely multitask
You value battery life over faster processing of data
You don't plan to upgrade your MacBook's current capabilities as they are sufficient
Reasons to Buy a 16GB MacBook Pro
You are willing to spend more for higher-end features
You use your MacBook for advanced computing tasks that require more RAM and processing power
You want premium performance
You are thinking of upgrading your macOS and increasing RAM requirements in the future.
8GB or 16GB MacBook Pro: Which One to Choose?
Consider your needs before choosing the right device model. With the powerful M2 chip, both models promise good performance for their users. RAM did not matter much when laptops ran operating systems and programs that required less RAM. Along with RAM, the storage also matters.
Typically, the average computer user of today selects an 8GB MacBook Pro to balance budget and features. However, newer versions of macOS versions tend to take up more resources – at least 2-3GB of unified memory. For professionals using heavier programs, that leaves less RAM for computing. That's why they may want to skip the lower end of RAM and go for 16Gb or higher RAM.
Frequently Asked Questions (FAQs)
Is It Worth Getting a 16 GB RAM MacBook Pro M2?
While 8GB of RAM may be enough for most of the computing tasks, buy the 16 GB RAM MacBook Pro if you need to run more resource-heavy applications and do multitasking. With a 16GB upgrade of RAM, you can go lag-free longer without needing to upgrade sooner. So you can future-proof your choice!
Can You Upgrade 8GB RAM MacBook Pro to 16 GB?
Sadly, MacBooks lack that particular feature. You cannot upgrade MacBook's physical RAM as it is soldered into the device. You should look over what programs you require and go over your RAM usage. This gives a fair idea of the RAM you need on a regular basis. You can avoid future problems or wait another year for a new model this way. If you think you might need 16 GB RAM in the future, it's best to buy a 16GB MacBook Pro today.