HP ENVY x360 13 vs Apple MacBook Air 13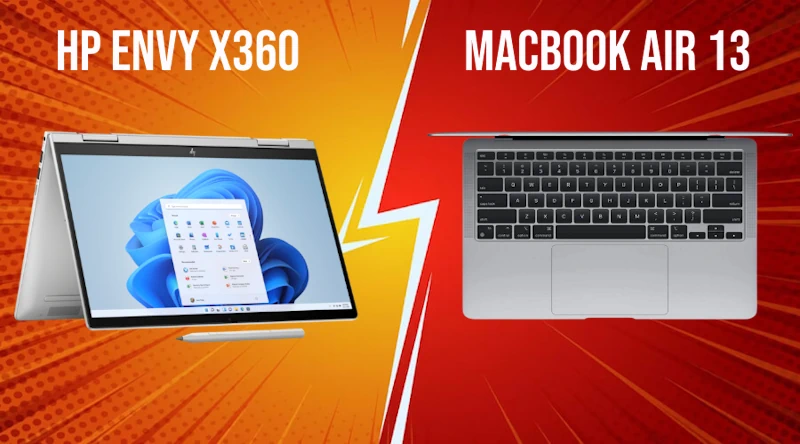 It's fall season, which means back to school or focusing on work. Don't have a laptop, or looking for an upgrade? The HP ENVY x360 13 and Apple MacBook Air M2 13 are two popular choices for students and businesses. Either of these laptops offers speed, portability, productivity, and reliable performance. Although both models have some similarities, the major difference is the operating systems and 2-in-1 capability. The latest MacBook Air runs the Mac operating system, while the ENVY runs Windows. There are minor differences in specs affecting performance. Join us for a comparison of the key differences in specs and cost, and cast your vote for either!
HP ENVY x360 13 vs. Apple MacBook Air 13: What's the Key Difference?
The Difference in Price
The HP ENVY x360 13 boasts a relatively affordable starting price of $799.99 for its core i5 models. The MacBook Air 13 starts at $999. The lower price of the ENVY increases value by additional features like a fingerprint reader, a stylus, and a touchscreen. As the name suggests, it has a screen capable of rotating 360 degrees. On the other hand, the MacBook Air costs more. This mostly owes itself to the famed Apple name, recognized for its high-quality design and the intuitive Apple ecosystem.
The Difference in Operating System (Windows and macOS)
As the ENVY x360 runs Windows 11 and MacBook Air 13 Mac operating system, the best laptop choice depends on what the laptop is needed for.
The Windows system is more commonly used around the world, especially for its famous Microsoft Office suite. Easy to use and customize for the average user, a Windows laptop offers a greater variety of software and productivity. However, advanced users may feel limited by the hardware and its less streamlined workflow.
Apple's OS is limited to its own products. However, it is more secure than Windows and is optimized for its hardware with exclusively designed software. This means a solid performance with less lagging, which is important for tasks like graphic design or video editing.
The Difference in Performance (CPU, RAM, and Graphics)
There are critical differences in performance, based on the laptops' graphics capabilities, RAM, and CPU.
With the ENVY x360 13, users have the choice of components, but the higher you go, the more the cost. Users can choose between processors AMD Ryzen 5 or 7, and either Intel Core i5 or Intel Core i7 CPU with AMD Radeon graphics. RAM is upgradeable from 8GB of DDR4 to 16 GB. The selected configurations can put the HP ENVY at another level.
The MacBook Air 13 has an Apple M2 chip with unified 8GB or 16GB of RAM and a powerful Apple GPU. Now this may not sound like much. The M1 chip proved very capable. Similarly, Apple's M2 chip streamlines its operating system to boost performance and power consumption compared to AMD or Intel core processors. This makes for a very efficient performance package. The ENVY's processors are based on a 9W TDP. They are not as resource-heavy but do lose some power in tasks requiring higher processing.
The Difference in Design
In design, both laptops are thin and light. The ENVY laptop is sized at 12.07 x 7.66 x 0.65 inches with 2.95 pounds weight, but the MacBook Air 12 is more compact at 11.97 x 8.36 x 0.63 inches and 2.8 pounds. The ENVY offers nightfall black and natural silver colors while MacBook Air 13 has gold, silver, and space gray. Both are solidly built with ENVY's metal chassis and carbon fiber palm rest vs. the recycled aluminum body of the MacBook Air 13. However, the MacBook fares better when it comes to resisting scratches.
Both are clamshells, but the ENVY x360 13 is also a 2-in-1 laptop. With its 360-degree hinge, it can convert into a tablet, stand, or tent with the touchscreen and stylus. The MacBook Air 13 opens at 135 degrees, with the minimalist elegance of Apple products.
The ENVY x360 has a full backlit keyboard and key travel at 1.3 mm with a glass touchpad and Windows Precision drivers. The MacBook has a Magic Keyboard with scissor switches and key travel at 1 mm, along with a haptic-feedback Force Touch trackpad. The keyboards in both are comfortable and responsive. The ENVY x360 adds a fingerprint reader and a numeric keypad to the mix, while the power button on the MacBook Air features a Touch ID sensor.
When it comes to webcams tests and specifications show that the MacBook Air wins. It has better low-light image quality and signal processing. Both have a 720p 5MP HD webcam, but the ENVY x360 has a lens shutter.
The Difference in Display Quality
When it comes to the display option, the ENVY 13 has a Full-HD (FHD) 13-inch IPS touchscreen with 1920 x 1080 pixels resolution and wide viewing angles. The brightness sits at 400 nits. The contrast ratio scales up to 1000:1 while the color gamut is up to 72% NTSC. In comparison, the MacBook Air 13 offers wide viewing angles on a 13.3-inch IPS Retina display giving it a sharper image with a 2560 x 1600 pixels (QHD+) resolution. This, combined with a brightness of up to 400 nits, a contrast ratio of up to 1500:1, and a color gamut of up to 100% sRGB (P3) brightens things. For now, it doesn't have an OLED panel. Sharper images can make a different display premium in viewing!
Both displays are vivid and crisp, but the MacBook's resolution, contrast, and color accuracy are higher. However, the HP's bezels are thinner, with a screen-to-body ratio of 88% to the MacBook's less immersive 82%. The more screen-to-edge ratio also enhances ENVY's OLED display touchscreen, which supports stylus input and multi-touch gestures tablet functionality for drawing and other tablet-focused tasks. The MacBook Air lacks touch support, and only supports the good old-fashioned keyboard and mouse cursor input to display. 
Best Deals on HP ENVY x360 13
HP ENVY 13 Laptop, Intel Core i7 8 GB, 13.3", FHD Touchscreen Display

8GB RAM - 256GB SSD - Long battery life

Windows 10 - Camera Kill Switch- Fingerprint Reader

HP Envy x360 13 2-in-1 Laptop 13.3" FHD OLED Touchscreen Intel Core i7

8GB RAM - 1TB SSD - Thunderbolt - HDMI Cable - Backlit

Audio by Bang & Olufsen - Anti-glare screen - Windows 11
The Difference in Ports and Connectivity
Both laptops have standard Wi-Fi 6e and Bluetooth connectivity, but the MacBook has additional AirPlay and AirDrop abilities for streaming and sharing data with nearby Apple devices.
The ENVY x360 comes loaded with several connectivity options. It has a built-in USB-C port functionality with DisplayPort 1.4 and Power Delivery; two USB-A ports, of which one features HP Sleep and Charge, and one HDMI 2.0 port. Like most slimmer laptops of today, they leave out the standard display port. You also find the traditional headphone jack combined with a microphone, and finally a microSD card reader. This covers all possible connectivity needs! In contrast, the MacBook Air 13 has fewer options: two Thunderbolt 4 ports with USB 4, Power Delivery, DisplayPort, and HDMI support, and one headphone jack. This is limiting for those who may want to connect USB-A devices.
If you are unsure of what connectivity options you need, make a list to test against the Apple MacBook and HP laptops. Similar related comparisons can help you adjust the importance of what features you require.
The Difference in Sound Quality
Both laptops have adjustable sound settings, but MacBook Air 13 has more options compared to the ENVY. The MacBook features stereo speakers with Dolby Atmos support, an equalizer, and a spatial audio mode, along with noise cancellation for a more clear and immersive audio experience.
The HP ENVY 13 has the standard dual speakers specially tuned by Bang & Olufsen, further enhanced with HP Audio Boost. It does have a satisfactory bass and treble. Although reportedly sounds feel muffled or distorted when the volume increases. The MacBook Air 13, in comparison, gives a crisper and more balanced sound according to Apple's usual high standards but can lack bass at lower volumes. However, both laptops provide a suitable auditory experience for day-to-day activities.
The Difference in Security Features
Both laptops have several customizable security features for your peace of mind. To start with, the ENVY has a built-in keyboard fingerprint, while the MacBook Air 13 combines the power button with a Touch ID sensor. These features are used to unlock devices and authorize payments. The MacBook takes biometric authentication one step further with Face ID from an iPhone or iPad. It has better encryption since it uses the Apple T2 Security Chip for SSD data encryption with AES-256 hardware encryption.
Besides, both laptops have antivirus software for virus and malware removal, but Macs are more secure. Furthermore, these two laptops have firewall software to regulate the device's network traffic.
Parents can also rest easy with the flexible parental control options. While Windows has suitable parental control, the MacBook Air 13 also offers more options in comparison. These include setting timers, filtering content, limiting activity, and deriving reports for all device users.
The Difference in Scalability
When it comes to scalability, the ENVY x360 provides more options by giving users access to memory and SSD slots. Users can upgrade the memory of 8GB of RAM up to 16 GB of DDR4 RAM, while the maximum allowance for upgrading storage is from 256GB to 1TB SSD or 2TB SSD. Users cannot upgrade the memory or SSD in MacBook Air 13. Both components are propriety and soldered in place. The MacBook Air has a base storage of 256 and 512GB SSD, depending on your choice of model.
From a software perspective, the ENVY features compatibility with a variety of hardware and software. This is because it runs on the more widely installed Windows operating system, which has greater software support than a Mac.
The Difference in Battery Performance
The ENVY has a 51 Wh Li-ion battery promising up to 12 hours of use, or at least 9.5 hours of video playback. The MacBook Air 13 claims 18 hours of battery with typical use, or 15 hours of video playback with its 49.9 Wh Li-ion polymer battery. Both offer long battery life, but the MacBook Air 13 takes the prize running longer on a single charge with its M2 chip.
These laptops do offer fast charging, which is where the ENVY wins. It has a 65 W AC adapter that takes 30 minutes to charge up to 50% whereas the MacBook Air comes with a 30 W USB-C adapter capable of charging the device 80% within the hour.
Best Deals on MacBook Air 13
Apple MacBook Air Laptop with M2 chip, 8GB RAM, 512GB SSD

15.3-inch Liquid Retina Display - Space Gray Color

All-day battery life - 1080p FaceTime HD Camera - Touch ID

Apple MacBook Air 13" M1 Chip, 16GB RAM, 512GB SSD

Retina Display - Space Gray

All-day battery life. Stunning display
MacBook Air 13 or HP ENVY x360 13: Who Is the Winner In 2023?
Ultimately, when placed side-by-side, both laptops differ in key features and which laptop is best depends on the buyer's needs.
ENVY x360 13 suits users on a budget who want user-friendly, versatile hardware and software without any complications in compatibility. Additional benefits include the ENVY's upgradeability and tablet functionality for better value.
MacBook Air 13 suits users who want a fast, secure, and interactive device. It impresses with superior battery life for resource-heavy tasks like video editing and value performance over budget. The sleek, light design combined with the intuitive Apple ecosystem for Macs makes for an immersive experience.
Is HP ENVY Better than MacBook Air?
Both the HP ENVY x360 13 and MacBook Air 13 appear as premium laptops with a diverse set of features. After comparing the laptop's specifications, users can decide which one fits their requirements better.
What Is Special About HP ENVY?
HP ENVY x360 13 is a unique laptop because of its 360-degree hinge convertible touchscreen and pen support. You can use it as a tablet which makes it much more interactive and versatile than most laptops. HP ENVY x360 13 also has a cheaper starting price compared to the MacBook Air.
What Is Special About MacBook Air 13?
The MacBook Air 13 runs on the M2 chip which provides a powerful, breezy performance and longer battery life.  A useful feature is the MagSafe port, a magnetic connector linking to the power source. If the cable gets pulled, it prevents accidents e.g. the MacBook falling. 
A standout feature is the Liquid Retina display. It is a vivid and bright screen with better contrast, color, and a higher resolution compared to the ENVY. With the True Tone technology, the device detects ambient light and fine-tunes color temperature accordingly.