HP vs Apple Laptops: Which Brand Is the Ultimate Choice for You In 2023?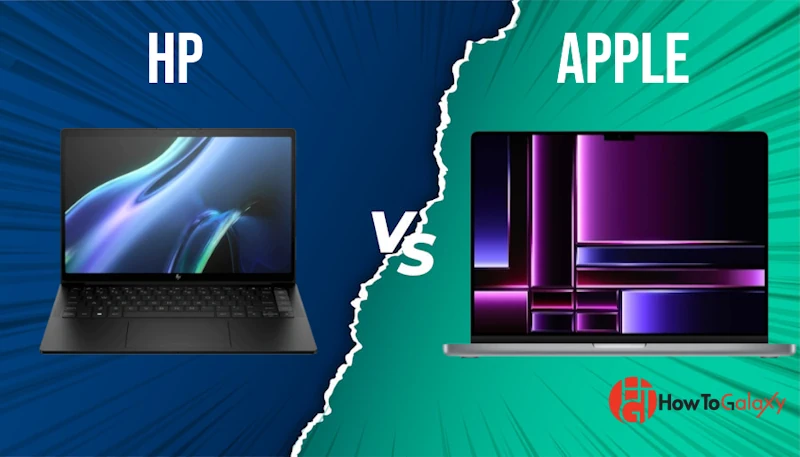 When it comes to laptops, HP and Apple are two brands that have withstood the test of time. Both Apple and HP have long histories in technology, they have revolutionized technology by blending high-power processing with intuitive design to shape computing as we know it. Now, both companies offer various lineups of computing devices and accessories for all budgets. They dominate the computer market, outselling other brands by a margin from time to time.
If you are in the market for a new laptop, you probably wonder how to choose from their superior variety of laptops. Before buying, you need to consider performance, battery life, design, display, and of course the price among what is best for your needs. Thanks to our article, you can narrow down your search! Read on to learn more about which laptop brand is the best and what they have to offer.
About Apple MacBook
Mac computers are beautifully constructed machines running software exclusively designed for them. Apple dedicates itself to blending design and cutting-edge technology. This, of course, makes Apple computers typically the choice for high-powered professional tasks. Apple's dedication to maintaining its craft is reflected in its MacBook laptop lineup. So, need a laptop with style, power, and dependability? Take a look at Apple's much-admired MacBook range.
The MacBook laptops are of undeniably high quality. They are renowned for their streamlined and sophisticated appearance, featuring a thin unibody aluminum frame with a superb Retina display. Apple's passion for innovative user-friendly design shines from every side. A MacBook is more than just a laptop- you get a device that represents the crowing point of contemporary computing, not just a laptop.
MacBook Pro
Most users look for a strong, flexible laptop to meet their needs in the workplace. Whether you're a creative user or a professional looking for heavy-duty computing, the MacBook Pro is where it's at! The basic configuration of the MacBook Pro offers 13-inch, 14-inch, or 16-inch display sizes. There is also the choice of Intel or Apple M1/M2 processors.
Memory options extend from 8GB to 32GB, and you can choose between 256GB or 2TB of storage. Similarly, graphics include the dependable Intel Iris Xe or AMD Radeon Pro. The computing specs are splendid for sure. The MacBook comes with a Retina display with True Tone technology for an added visual experience. Type comfortably with the Magic Keyboard and the dynamic touch bar and enjoy seamless connection options with Thunderbolt 4 or USB-C ports. To top it off, the battery claims to last up to 20 hours with light or moderate use. The basic models start from $1,299.
You don't simply have to use the MacBook for office work. Edit videos, code software, make graphic designs, play games, or simply watch a movie! With the MacBook Pro streamlining your workflow, your work and play go to the next level.
MacBook Pro Deals
Apple MacBook Pro M2 Chip 13-inch, Space Gray

16GB RAM - 256GB SSD - Supercharged by M2 Chip

Thin design - Advanced audio and video. Long battery life

Apple MacBook Pro 16 inch M1 Pro chip, Silver

16GB RAM - 512GB SSD - 10 core CPU - 16 core GPU

All-day battery life. Stunning display
MacBook Air
Apple's answer for those looking for a thin, portable laptop for leisure and daily use is the MacBook Air. In terms of design, with a compact 13-inch size, it is perfect for browsing the internet, emailing, writing, and streaming content. Want to learn more? Let's investigate what it's all about.
Most variants of the MacBook Air run on the Intel or the Apple M1/M2 processor. Apple also includes either 8GB or 16GB of memory for breezy performance. With storage options of 256GB or 512GB, your files have a home. The MacBook Air also boasts an Intel Iris Xe or Apple M1 chip, as well as a Retina display with True Tone technology for the best user experience.
The MacBook Air comes with the Magic Keyboard, complete with the secure Touch ID for comfort and peace of mind. Users also have connectivity with Thunderbolt 4 or USB-C ports. With a reported battery life of at least 18 hours, the MacBook starts at $999.
MacBook Air Deals
Apple MacBook Air Laptop with M2 chip, 8GB RAM, 512GB SSD

15.3-inch Liquid Retina Display - Space Gray Color

All-day battery life - 1080p FaceTime HD Camera - Touch ID

Apple MacBook Air 13" M1 Chip, 16GB RAM, 512GB SSD

Retina Display - Space Gray

All-day battery life. Stunning display
About the HP Laptop Brand
Hewlett-Packard, with the famous HP logo, is a well-known brand that makes adaptable laptops. It frequently has contemporary designs with cutting-edge features that meet a range of consumer needs. The stylish Spectre x360, the high-powered Envy series, and the flexible Pavilion x360 are just a few of the popular HP laptop models. In comparison to Apple, HP offers a far wider selection of laptops.
HP laptops are capable of handling difficult jobs thanks to their remarkable features and dependable performance. Do you want a design that stands out? The Spectre's razor-sharp silhouette is sure to draw attention.
HP Pavilion
Getting that perfect laptop is quite challenging. Consider the Pavilion, a reasonably priced, reliable general-purpose computer. These laptops, which range in size from 14 inches to 17 inches, are made to accommodate a wide range of consumers with varying preferences.
The processors in Pavilion laptops range from Intel Core i3 to i7 or AMD Ryzen 3 to 7. Storage options range from 128GB to 1TB SSD or HDD, while memory combinations range from 4GB to 16 GB. Additionally, these machines provide AMD Radeon Vega, Intel UHD Iris Xe, or RX for your graphics selection.
For the display, there are options for HD, FHD, or 4K IPS, as well as touchscreen functionality. A useful feature is the numeric keypad and lighted keyboard that come with some models. For all of your devices, Pavilion laptops provide USB-A, USB-C, HDMI, and SD card reader connections.
Now, what about battery life? On a full charge, you may expect up to 11 hours of use, which should get you through the day with no problems. The Pavilion is priced economically, starting at around $350.
HP Pavilion Deals
Highly Rated - Amazon's Choice

HP Newest Pavilion 15.6" HD Touchscreen, Intel Core Processor up to 4.1GHz

16GB RAM -1TB PCIe NVMe M.2 SSD - Fingerprint Reader

Anti-Glare Screen - Long Battery Life - Windows 11 - Type-C Charging

Best for Students and Businesses

HP Pavilion Business & Student Laptop, 15.6" HD Display, AMD Ryzen 3 Processor

16GB RAM -1TB SSD - Wi-Fi 6

AMD Radeon Graphics - Long Battery Life - Windows 11
HP Envy and HP Spectre
If you are searching for a high-end laptop with excellent performance, a modern aesthetic, and useful features? We have the answer! For creative and professional customers needing a high-powered workhorse of a laptop, the HP Envy and Spectre are ideal solutions.
Perfectly sized from 13 inches to 17 inches, they provide outstanding performance for a variety of tasks with the choice of Intel Core i5/i7 processors, or AMD Ryzen 5 to 7 CPUs for the higher-end models. No need to stress if your workflow demands more power, with 8GB to 32GB range of RAM, and storage capacities ranging from 256GB to 2TB SSD.
The Envy and Spectre have impressive graphics, which are necessary for any creative process. For all your visual-heavy tasks, they have Intel Iris Xe or NVIDIA GeForce MX or GTX graphics. FHD or 4K IPS, OLED, or touchscreen panels are available as display options, all of which guarantee sharp images and rich colors.
Who doesn't value a comfy keyboard for prolonged typing sessions? These laptops are backlit and feature full-size numeric keypad options to simplify typing. Additionally, they include flexible connections for seamless connectivity, including Thunderbolt 4, USB-C, HDMI, and an SD card reader.
Another important consideration for any professional on the run is battery life. Get up to 19-hour battery life and stay productive. Additionally, these solid laptops are affordable, starting at $799, without sacrificing quality.
To sum it up, the Envy and Spectre laptops are ideal choices for all your computing demands. You will get the most out of them whether you're a photographer, graphic designer, software developer, or an avid gamer. You'll discover these laptop lines boost your creativity and productivity with their fashionable aesthetic, premium performance, and diverse features.
HP Spectre and HP ENVY Deals
Best for Students and Creators

HP Envy 2-in-1 15.6" FHD Touchscreen Laptop, 6-Core AMD Ryzen 5

8GB RAM -512GB PCIe SSD - Backlit Keyboard

Fast Charging - Long Battery Life - Windows 11 - HDMI - USB A&C,

HP Spectre x360 Luxury 14, 13.5" WUXGA Touch Intel Core i7

16GB RAM -1TB PCIe SSD - Wi-Fi 6E - Bang & Olufsen Quad Speakers

Backlit Keyboard - Long Battery Life - Windows 11 - Thunderbolt 4

HP Spectre X360 2-in-1 Touchscreen Laptop, 16" 3K+ Touchscreen, Intel Core i7

16GB RAM - 512TB SSD - Wi-Fi 6 - FP Reader - MPP2.0 Tilt Pen

Backlit Keyboard - Long Battery Life - Windows 11
HP OMEN
For die-hard gamers who demand a great gaming experience with exceptional performance, the HP OMEN laptops are a revelation. Aren't we all searching for the ideal laptop, one that handles AAA games, streaming, and even virtual reality with ease? Look no further than the OMEN laptops.
The OMEN laptops are available in sizes ranging from 15 inches to 17 inches to meet your gaming needs. These powerful machines have high-end processors – from Intel Core i5 to i9 or AMD Ryzen 5 to 9 – and have 8GB to 32GB RAM variants. Gamers will love the ample storage options ranging from 256GB to 1TB (SSD or HDD). Most importantly, The NVIDIA GeForce GTX or RTX graphics cards deliver an immersive visual experience with a selection of FHD, QHD IPS, and OLED panels. Throw in some high refresh rates and low response times, and you are all set for the next gaming adventure!
A stylish, comfortable keyboard is one of the high points of a gaming laptop. With the HP OMEN, you get RGB illumination and macro keys on the programmable backlit keyboard. Now those tough attack combos won't be a problem!
We all know how important ports are for connecting all of your peripherals, and OMEN laptops have choices like Thunderbolt 4, USB-C, HDMI, Mini DisplayPort, and SD card readers to connect all of your gaming accessories with ease.
The battery can reportedly last up to 8 hours for those marathon gaming sessions, so no need to shorten that online match or lose gaming progress. Given the thrilling, unmatched gaming world they offer, these powerful laptops, which start at $999, make for a great purchase. 
HP OMEN Deals
HP OMEN 17-inch Laptop, QHD, Intel Core i7, 165Hz Display

16GB RAM - 512GB SSD - 3ms Response Time

Anti-Glare Screen - NVIDIA GeForce RTX 4070 GPU (8 GB) - Windows 11

Best for Harcore Gamers - Amazon's Choice

HP OMEN 16.1" QHD 165Hz Gaming Laptop, Intel i9 14-Cores

32GB RAM -2TB PCIe SSD - 4-Zone RGB Backlit Keyboard

NVIDIA GeForce RTX 3060 - Thunderbolt 4 - Wi-Fi 6E - Windows 11
HP EliteBook and ProBook
The EliteBook and ProBook laptops are known as some of the best laptops for business. These laptops cater to corporate and enterprise users who cannot compromise on performance, security, and versatility.
The HP EliteBook and ProBook laptops come in a range of screen sizes, from 13-inch to 17-inch models. They run on either the Intel Core i3/i5/i7 or AMD Ryzen 3 to 7 PRO processors line so they can do all sorts of tasks. You get lots of RAM options from 4GB to 64GB, while storage starts from 128GB to 2TB, with a choice of SSD or HDD. Graphics are powered by either Intel UHD, Iris Xe, AMD Radeon Vega, or RX PRO.
You get no shortage of connectivity options. These laptop lineups have an array of ports for every imaginable connection. Whether you need Thunderbolt 4, USB-C, HDMI, VGA, Ethernet, or a Smart Card reader. The variety of options ensures affordability, with base options starting at $499.
So, where do HP EliteBook and ProBook laptops' strengths lie? These laptops are perfect for professional work, including managing projects, working on 0software, and communicating online. Their flexibility, sturdiness, and powerful specifications ensure their place as a candidate for hardworking professionals.
HP ProBook and HP EliteBook Deals
Best for Large Businesses

HP ProBook 450 G9 Business Laptop, 15.6" FHD Display, 12th Gen Intel Core i7

16GB RAM - 1TB SSD - Wi-Fi 6 - HDMI

FP Reader - RJ45 - NVIDIA GeForce MX570A - Windows 11

Best for Small and Medium Businesses

HP EliteBook 850 G5 15.6" Laptop, Intel i7, 1080p Full HD (Renewed)

16GB RAM -512GB NVMe M.2 SSD - USB C Thunderbolt 3

Windows 11 - Lot of Business Features
HP vs Apple Laptops: What's the Differences?
The key difference between HP and Apple laptops is the cost and versatility. Compared to Apple, HP laptops are more affordable and offer far more variety. Apple focuses on performance and design for a variety of professions, including video editors, graphic designers, business professionals, and engineering students, rather than manufacturing multiple laptops geared at different consumer needs.
The Retina display from Apple has a high resolution, accurate colors, and a power-efficient design. Additionally, their powerful batteries keep users going for hours without a problem.
However, HP laptops offer more bang for your buck, making them a sensible cost-effective choice for customers on a budget. Finding a laptop series that meets your demands is made simpler by their wide selection. If immersive viewing experiences are at the top of your specs list, HP laptops also offer attractive configurable display options.
Performance-wise, MacBook has a stellar reputation for powerful operating systems, with the added benefit of seamless connectivity with other Apple products. Despite costing more than HP, they deliver excellent performance. The MacBook Pro 16 starts at $2,500 for an M2 Pro CPU with 12 CPU cores and 19 GPU cores, 16GB of RAM, a 512GB SSD, and a 16.2-inch Liquid Retina Mini-LED.
In comparison, HP offers a variety of performance options at various pricing points. The HP Envy x360 13, for instance, is a reasonably priced 2-in-1 convertible device that delivers versatile design as well as reliable productivity performance.
In conclusion, the primary distinction between Apple and HP laptops is what they focus on. Although HP focuses on affordability and specs, you will find that display quality and energy efficiency is the main point for Apple. Performance-wise, MacBooks dominate, while HP laptops serve a wider range of needs and price points.
Apple vs HP Laptops: The Difference In Performance
There are a few significant performance differences between HP and Apple laptops. In this section, we'll go through features like CPU, RAM, and graphics, and how they affect the overall laptop user experience.
We can all agree that the CPU plays a key role in system speed and responsiveness. HP provides various AMD or Intel CPUs, differing in performance. Apple laptops typically use their propriety Apple M1 or M2 CPUs, which offer superb performance in and of itself. These specialized Apple CPUs provide fluid multitasking and lightning-fast system response. In terms of performance, both HP and Apple provide strong options.
Let's discuss RAM next. Both manufacturers usually offer a variety of RAM configurations, ranging from 8GB to 32GB or even more. Both are capable of handling the modern work demands of today. No doubt, more RAM enables better multitasking in computing. While certain HP models have dedicated graphics cards, Apple laptops often run on integrated graphics, giving users who want dedicated graphics for gaming or intensive graphics work a little advantage.
In terms of display quality, the premium Retina displays dominate the majority of Apple laptops with crisp visuals and vivid colors. HP laptops, in comparison, typically have IPS panels for high-quality images at a reduced cost. In the end, your needs and budget determine what you choose.
Now an important question on your mind probably is, how long do these laptops' batteries last? The battery life of laptops from Apple typically lasts up to 18 hours. HP also provides long-lasting battery life on a single charge but falls behind Apple with some models lasting up to or even past 12 hours. Apple has a minor advantage in this area.
Let's talk about keyboards now. The most recent iterations of Apple's keyboard offer a comfortable typing experience. The company has made numerous adjustments to its keyboard design throughout the years. Also designed for comfort, HP keyboards are responsive, with adequate key travel. Ultimately, both manufacturers produce excellent keyboards.
The Difference In Operating System (OS)
| | | |
| --- | --- | --- |
| Aspect | Windows | macOS |
| Market Share | The most widely used operating system in the world, with a market share of over 75% | The second most popular operating system in the world, with a market share of about 17% |
| Compatibility | Compatible with most software and hardware devices, primarily gaming and business applications | Limited compatibility. Compatible with other Apple products and services, such as iPhone, iPad, iCloud, iMessage, etc. |
| User Interface | Offers a familiar and customizable user interface, with multiple options for personalization and settings | Offers a smooth and intuitive user interface with a minimalist and elegant design |
| Security | Vulnerable to viruses and malware, requiring regular updates and antivirus software | Secure and stable, with built-in protection and encryption features |
| Battery Management | Less efficient in battery management, resulting in shorter battery life | More efficient in battery management, resulting in longer battery life |
The Difference In Design
| | | |
| --- | --- | --- |
| Aspect | HP | Apple |
| Available Sizes | Offers a variety of sizes, ranging from 13-inch to 17-inch | Offers two main sizes, which are 13-inch and 16-inch |
| Weight Range | Offers a variety of weights, ranging from 2.8 lbs to 7.5 lbs | Offers lighter weights, ranging from 2.8 lbs to 4.3 lbs |
| Color Options | Offers a variety of colors, such as silver, black, blue, red, green, etc. | Offers fewer colors, such as silver, space gray, gold, etc. |
| Chassis Materials | Uses different materials, such as plastic, metal, carbon fiber, etc. | Uses aluminum as the primary material for its chassis |
| Durability | Varies in durability, depending on the model and quality | Generally durable and sturdy, with a solid build quality |
The Difference In Display Quality
| | | |
| --- | --- | --- |
| Aspect | HP | Apple |
| Resolution Options | Ranging from HD (1366 x 768) to 4K (3840 x 2160) | Offers resolutions ranging from FHD (1920 x 1080) to QHD (2560 x 1600) |
| Brightness Levels | Ranging from 200 nits to 400 nits | Offers higher brightness levels, ranging from 400 nits to 500 nits |
| Contrast Ratios | Ranging from 600:1 to 1500:1 | Offers higher contrast ratios, ranging from 1500:1 to 1600:1 |
| Color Gamuts | Ranging from sRGB to Adobe RGB | Offers wider color gamuts, covering P3 color space |
| Display Technologies | IPS, LED, OLED, 4K, touchscreen | Consistent display technology: IPS with True Tone feature |
The Difference In Security Features
| | | |
| --- | --- | --- |
| Aspect | HP | Apple |
| Biometric Authentication Options | Fingerprint scanner, facial recognition, IR camera | Consistent option: Touch ID or fingerprint scanner |
| Encryption Software | BitLocker (Encrypts entire drive or individual files) | FileVault (Encrypts entire drive) |
| Firewall Software | Windows Defender Firewall (Blocks unauthorized network access) | macOS Firewall (Blocks unauthorized network access) |
| Anti-Theft Protection Feature | Find My Device (Allows locating, locking, or erasing the laptop remotely) | Find My Mac (Allows locating, locking, or erasing the laptop remotely) |
The Difference In Customer Service And Warranty
| | | |
| --- | --- | --- |
| Aspect | HP | Apple |
| Support Channels | Phone, email, chat, and social media | Phone, email, chat, in-store support (Genius Bar), and social media |
| Response Time | Typically quick but may vary depending on the channel | Often fast and consistent across channels |
| Satisfaction Rate | Generally good with some room for improvement | High, known for excellent customer support |
| Coverage Period | Standard warranty of 1 year with options to extend | 1-year limited warranty, option to purchase AppleCare+ for up to 3 years |
The Difference In Battery Life
| | | |
| --- | --- | --- |
| Aspect | HP | Apple |
| Battery Capacities | Offers a variety of battery capacities, ranging from 41 Wh to 95 Wh | Offers consistent battery capacities, ranging from 49 Wh to 100 Wh |
| Charging Speeds | Offers a variety of charging speeds, ranging from 45 W to 200 W | Offers consistent charging speed, which is 61 W or 96 W |
| Battery Performance | Offers a variety of battery life, ranging from 5 hours to 16 hours | Offers longer battery life, ranging from 10 hours to 20 hours |
The Difference In Price
| | | |
| --- | --- | --- |
| Aspect | HP | Apple |
| Starting Price | Offers lower starting price, which is $399 for the cheapest model | Offers higher starting price, which is $999 for the cheapest model of MacBook Air |
| Average Price | Offers lower average price, which is $800 for most models | Offers higher average price, which is $1,500 for most models |
| Highest Price | Offers lower highest price, which is $2,600 for the most expensive model of HP ZBook Workstation | Offers higher highest price, which is $3,499 for the most expensive model of MacBook Pro |
HP Laptop or Apple MacBook: Which Is Better to Buy?
Two of the most well-known and respectable laptop manufacturers are HP and Apple. Nevertheless, each has unique qualities, benefits, and drawbacks that cater to various consumers.
In terms of models, features, and operating systems, HP has a broader selection of laptops with more choice, value, and adaptability. They are perfect for those seeking an affordable, versatile, and functional laptop providing value for money.
In terms of performance, display, security, and battery life, Apple's sleek laptops provide more consistency, quality, and efficiency. They are perfect for users looking for a stylish, powerful laptop that offers an easy-to-use interface without breaking the bank.
When deciding which brand is better, take into account criteria like your purpose, preferences, and budget for your requirements.