Lenovo vs Acer Laptops (2023): Which Should be Your Choice?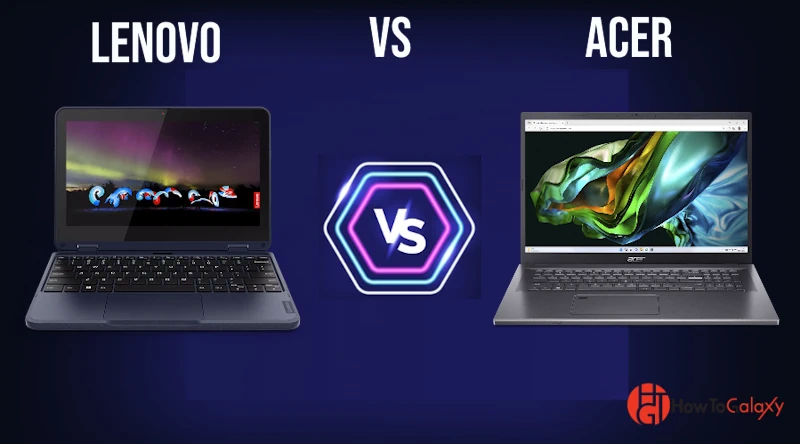 Laptops have become an essential tool in today's world. Whether you're a regular school student or an office professional, there's no denying that these devices are an important part of your lifestyle now.
However, everyone today knows that Lenovo and Acer are two of the world's few largest computer manufacturers. Both companies are well-known in the computer industry. They produce products from high-end business laptops to affordable student laptops.
Both are very popular laptop brands, so it might be hard to pick between them. So, in this article, you will guide you through the detailed differences between the two brands to help you find your next laptop.
Lenovo Laptops Overview
Lenovo is a Chinese multinational technology company. You might know it for its laptop computers because it is the highest-selling laptop brand in the world. The popularity is mainly due to the innovative designs, balanced performance, and budget-friendliness.
Some of the major laptop series produced by Lenovo are:
ThinkPad: It

is m

ainly

designed for students and business individuals.

Legion: You will love this design if you love gaming.
Chromebook: Perfect choice for

budget-conscious users.
Best Lenovo Laptop Deals
Best Overall - Amazon's Choice

Lenovo ThinkPad X1 Carbon Intel Core i7-1165G7, FHD Display

16GB RAM - 512GB NVMe SSD - 100% sRGB-Display

Backlit Keyboard - Fingerprint Reader - Windows 10 Pro

Best For Students and Businesses

Lenovo Flex 5i 15.6" FHD Touch Screen Laptop, Intel Core i5-1135G7 Processor

8GB RAM - 256GB SSD - Fingerprint Reader

Stylus Pen - Bluetooth 5.1 - Backlit Keyboard - Windows 11

Best For Budget Gamers - Popular

Lenovo IdeaPad Gaming 3 15.6" FHD, AMD Ryzen 5 6600H Processor

8GB RAM - 256GB SSD - 120Hz Refresh Rate

NVIDIA GeForce RTX 3050 - Antiglare Screen - Windows 11

Lenovo Legion 5 Gaming, 15.6" FHD Display, AMD Ryzen 7 5800H

16GB RAM - 512GB SSD - GeForce RTX 3070 Ti

NVIDIA GeForce RTX 3050Ti - Wi-Fi 6E- Windows 10
Acer Laptops Overview
Acer is a Taiwanese multinational hardware and electronics corporation. It was founded in 1976 and is well-known in the PC market. Acer offers a wide range of products. You can get monitors, projectors, and so much more here.
It is a global electronics company that manufactures a wide range of laptops. It Includes budget laptops, ultraportable laptops, and professional laptops. Here is a list of some of the popular Acer laptop types:
Acer Swift: This laptop series is lightweight and easy to carry around.

Acer Spin: The Spin series is a 2-in-1 laptop series that can work as a laptop and a tablet.

Acer Aspire series: This includes budget laptops for everyday use, suitable for students and home users.
Best Acer Laptop Deals
Acer Aspire Vero AV15-51-7617 Green PC, 15.6" FHD IPS, 11th Gen Intel Core i7-1195G7

16GB RAM - 512GB NVMe SSD SSD - 100% sRGB-Display

Backlit Keyboard - Wi-Fi 6 - Windows 11

Acer Swift X SFX14-41G-R1S6 Creator Laptop, 14" Full HD Screen, AMD Ryzen 7 5800U

16GB RAM - 512GB NVMe SSD - 100% sRGB-Display

NVIDIA RTX 3050Ti GPU - Backlit Keyboard - Wi-Fi 6 - Windows 10

Best Budget Acer Chromebook

Acer 2022 Chromebook 315 15.6" Full HD 1080p IPS Touchscreen Laptop PC, Intel Celeron N4020 Dual-Core Processor

4GB RAM - 64GB eMMC SSD - Webcam

Long Battery Life - Wi-Fi - Chrome OS

Acer Predator Triton 500 SE Gaming 16", 12th Gen Intel i7

16GB RAM - 1TB Gen 4x4 SSD - GeForce RTX 3070 Ti

WQXGA 240Hz G-SYNC Display- Wi-Fi 6E- Windows 11
Acer vs. Lenovo Laptops: What're the Differences?
Acer and Lenovo provide a range of popular laptops in the tech industry. The best choice will depend on your requirements, such as budget, performance needs, and design preferences. Pointing out the difference between Acer and Lenovo laptops in terms of pricing is quite difficult as both laptops are highly affordable and offer budget-friendly laptops.
Performance-wise, Lenovo gaming laptops have a slight edge over Lenovo. However, due to the variety of options, Acer gaming laptops are more popular among gamers. When we talk about laptops other than gaming, Lenovo takes the lead in performance. Lenovo also takes the lead in durability and toughness. We will discuss the difference between the Acer and Lenovo laptops below, so continue reading if you are interested.
Lenovo vs. Acer: The Difference in Performance (CPU, RAM, and Graphics)
Lenovo laptops are known for their high performance. Many of them feature powerful processors and more than enough storage space. Meanwhile, Acer laptops also offer good performance at an affordable price point.
You can get differences in performance from different series of both Lenovo and Acer Laptops. Both brands offer Laptops with Processors ranging from Intel i3 to i9. The Legion Pro 7i features the i9-13900HX processor, which you can also get in the Acer Predator Helios.
The Acer gaming laptops offer quad-core to octa-core CPUs with 2.9GHz to 4.6 GHz clock speed. Other series like the Aspire and especially Swift have a much lower CPU performance than the gaming series.
Moving on to the RAM, both laptops offer RAM from 4GB to 32GB, the latter being available in the higher-end models. At a higher price, you can also get 64GB RAM in some models of both brands. ThinkPad P16 Gen 2 offers a 64GB DDR5 RAM. Meanwhile, Acer offers 64GB DDR5 RAM on the Acer Nitro 5 and the Acer Predator, which comes at a much higher price tag.
If you need a better-performing GPU, both brands offer the top-notch NVIDIA RTX 4000 series on their laptop, mainly on the higher-end gaming laptops. You can get GPU up to RTX 4080 with both Acer and Lenovo. Acer offers higher-end GPUs, most with their gaming laptops. Whereas Lenovo focuses on higher performance with their Legion series.
Lenovo vs. Acer: The Difference in Design (Also include Durability)
Acer is well known for its charming and unique laptop designs. That is also one of the reasons it is famous among gamers. However, Acer cannot beat Lenovo in portability. If Acer is famous for its designs, Lenovo is on par with Acer for its Lightweight and portable laptops.
Both Lenovo and Acer offer durable laptops with sturdy builds and high-quality materials. Lenovo's ThinkPad line is known for its durability and ruggedness, with features like reinforced hinges, spill-resistant keyboards, and MIL-SPEC-tested builds. Its Legion series is also built to withstand the rigors of gaming and intense usage, with features like reinforced cooling systems and robust keyboard backlights.
Acer laptops are also durable, but their level of durability may vary depending on the specific model. Its high-end laptops are built for users who demand long-time usage. However, its other models may not be as durable.
The specific models and features of both these brands can vary widely. It's important to research individual models and compare the specs and features to determine which laptop best fits your needs.
Lenovo vs. Acer: The Difference in Display Quality
Lenovo laptops are known for their high-quality displays. Its ThinkPad series is designed specifically for business users. These laptops feature bright, clear displays with good color accuracy, making them ideal for office work and other productivity tasks.
These displays also include 4K and HDR. You can opt for FHD to 4K displays with both Lenovo and Acer laptops, depending on your budget.
Acer is known for producing high-quality displays on its laptops, too. Many of its models feature fast refresh rates and high resolutions. Acer's Predator series, in particular, is known for its high-quality displays that deliver excellent color accuracy and brightness.
The Acer Predator Helios or the Swift Edge features a 4K display with a high refresh rate and Adobe RGB color gamut, making it perfect for gamers and content creators. Acer offers 100% Adobe RGB UHD displays on most mid to high-end laptops.
These brands offer laptops with high-quality displays featuring impressive screen refresh rates, color accuracy, brightness, and resolution. As for screen sizes, both brands offer a range of sizes to fit individual needs. You will find everything from compact 13-inch models to larger 17-inch options.
Regarding 4k display options, Lenovo and Acer have models that offer this feature. Lenovo's Yoga 920, ThinkPad X1 Carbon, Acer's Predator Triton 500, and Nitro 5 Spin are among the laptops with 4k displays.
Moreover, Lenovo and Acer also offer anti-glare and anti-blue light features on some of their laptops. Lenovo has a range of notebooks with anti-glare IPS displays. That includes the ThinkPad X1 Carbon. Acer also has many models with anti-blue light technology.
Lenovo vs. Acer: The Difference in Security Features
Lenovo and Acer offer a range of security features to protect their devices and user data.
As for Lenovo, its ThinkPad laptops feature an integrated fingerprint reader for biometric authentication and an optional smart card reader. Lenovo uses a Trusted Platform Module to encrypt data that prevents unauthorized access. It also has several software-based security solutions. Last but not least, Lenovo laptops have a shutter that closes itself after a video call or something like that, taking away the possibility of you being the person in the next viral internet clip.
Acer laptops often come with a biometric fingerprint reader for added security. It also offers encryption software, such as McAfee LiveSafe, to protect against data breaches and malware. Its Chromebooks have an additional built-in security feature that helps keep the devices safe.
Lenovo vs. Acer: The Difference in Customer Service and Warranty
Both laptops are known for their market repo. Among them, Lenovo provides better customer support through its global network of service centers. Their customer service representatives are knowledgeable and responsive, addressing customer concerns promptly. Lenovo also offers an extensive warranty that covers hardware defects and accidental damage, providing peace of mind to their customers.
On the other hand, some customers report positive experiences when it comes to Acer, while others have reported issues with long wait times and unresponsive customer service representatives. Acer also offers a standard warranty that covers hardware defects, but its accidental damage protection is limited compared to Lenovo's.
Lenovo offers a one-year standard warranty, but you can get an extended warranty with additional coverage, which is also the case for Acer.
Talking about customer service, Lenovo has responsive and good customer service with customer service hotlines, online chat, and other service centers. Acer also offers great customer service, but there are mixed reviews, with some people even facing some negative experiences.
Lenovo vs. Acer: The Difference in Scalability
Lenovo and Acer manufacture different products that can vary in their features. Such as Lenovo's ThinkPad series is designed with upgradeability in mind. Depending on your needs, you can upgrade the storage and RAM. However, the IdeaPad series of Lenovo has limited upgrade options, which is a big disadvantage for that specific series.
Acer also provides different types of laptop series with different specifications. Acer is a big brand, so obviously, they will provide you with many upgradeable features. However, its Chromebook series has minimal features related to upgrades as they are budget-friendly.
Lenovo vs. Acer: The Difference in Battery Performance
Battery performance is one of the important features you should consider when buying a laptop.
Many Lenovo models can run for 12 hours on a single charge. Lenovo can be your go-to brand if you need a laptop to perform heavy-duty tasks such as gaming or video editing. The ThinkPad series by Lenovo is particularly known for its exceptional battery performance. The ThinkPad X1 Carbon can last up to 12 hours with a battery capacity of 57Wh, making it one of the best laptops regarding battery life in the entire market.
Other Lenovo laptops feature a battery capacity of around 30Wh to 50Wh. The more powerful Lenovo laptops have a higher battery capacity of up to 70Wh and even up to 90Wh in a few laptops.
On the other hand, Acer laptops are not very well-known regarding battery performance. While some Acer models have a decent battery life, others drain out relatively quickly.
The Acer gaming laptops have a higher battery capacity of around 55Wh to 70Wh. But since they are more power-demanding, they drain out much quicker despite a larger battery. Other Ultrabooks have an approximate battery capacity of around 45Wh to 60Wh. But with less power demand, they last much longer than gaming laptops.
Lenovo has an edge over Acer regarding battery performance.
Lenovo vs. Acer: The Difference in Price
The price range of the Acer and Lenovo laptops is quite similar. We can't say that one brand is more costly than the other. The laptops of the Acer Aspire series start from $250 and go up to $750. You can also find expensive Acer laptops whose prices can go up to 1100-1300 USD.
Similarly, you can get a Lenovo ThinkBook starting from $250, which can go up to $925.
The price range for different Acer series on the official site is as follows:
Acer Aspire Series: $250 to $750

Acer Swift Series: $750 to $1100

Acer Enduro urban Series: $800 to $1000

Acer Nitro Series: $800 to $1300
The price range for different Lenovo series is as follows:
Lenovo ThinkBook: $250 to $925

Lenovo ThinkPad: $800 to $975

Lenovo Yoga Series: $650 to $1200

Lenovo Legion Series: $850 to $1350
Lenovo or Acer: Which Laptop Brand Should Be Your Choice?
Both Lenovo and Acer manufacture high-quality items and have their own pros and cons. The opinion may vary according to your needs and budget.
Lenovo has established its reputation based on its quality and durability, especially its ThinkPad and Legion series are well-known around the globe. Lenovo laptops are good for long-term use.
Acer might not be able to beat Lenovo's durability, but it provides sleek designs and almost the same performance. If you want a gaming laptop, Acer is more suitable.
Frequently Asked Questions
Which Is the Best: Lenovo or Acer?
Lenovo is better for business users, students, and daily users. At the same time, Acer is better for gamers. The laptop that works best for you would be the one that fulfills your needs and is not too heavy on the pocket.
Do Lenovo Laptops Last Long?
Yes, Lenovo laptops have great battery life. These laptops can last up to 10 hours, much more than the usual laptops from other companies.
Which Is Better for Gaming, Lenovo or Acer?
Acer laptops are definitely better for gaming. Lenovo laptops offer good performance but when it comes to variety, Acer takes the lead with a variety of different models.