Lenovo Flex vs IdeaPad 3 (2023): A Detailed Comparison of Features
Lenovo is undoubtedly the biggest name in the laptop world. It's laptops sell more than any other brand. Lenovo IdeaPad Flex and IdeaPad 3 are popular budget-oriented laptops from Lenovo. The laptops had caught the attention of many tech enthusiasts and regular and are quite popular among consumers.
Both laptops from the IdeaPad series are popular for their durability and affordability. In this article, we'll compare the Lenovo Flex and IdeaPad 3 in-depth to help you determine which laptop best meets your needs.
About Lenovo Flex
Lenovo first introduced the IdeaPad Flex series in 2013. Lenovo IdeaPad Flex is a 2-in-1 laptop series that combines laptop and tablet functionality. The Flex has a 360-degree hinge that lets you switch between laptop, tablet, tent, and stand modes.
Lenovo IdeaPad Flex is a good choice for users who require a device that can switch between work and entertainment modes. It is an excellent choice for users requiring a device for productivity and entertainment, such as home users, students, or office users.
About Lenovo IdeaPad 3
The Lenovo IdeaPad 3 series was first released in 2020. It is a budget-friendly laptop series designed for everyday use. The IdeaPad 3 is a versatile and reliable device with different configurations to cater to various needs and budgets.
The IdeaPad 3 is an excellent choice for users who require an essential and affordable laptop for everyday tasks such as web browsing, streaming video, or using productivity software. It's also a great option for students who need a dependable and portable laptop for schoolwork.
Lenovo Flex vs IdeaPad 3: What Are the Differences?
Lenovo IdeaPad Flex and IdeaPad 3 are two different models of laptops from the Lenovo IdeaPad series. Although they belong to the IdeaPad series, they differ, and many people get confused while picking between them. The main difference between the two laptops is the design. The Lenovo Flex is a 2-in-1 laptop with a 360-degree hinge. Whereas the Lenovo Ideapad 3 is a traditional laptop with a clamshell design.
So, head in further as we compare the Lenovo IdeaPad Flex with the IdeaPad 3 on different aspects, including their performance, design, display, storage, price, and more.
Best Lenovo Flex Deals
Lenovo Flex vs IdeaPad 3: The Difference in Performance
From the entry-level Intel Celeron and Pentium to the more powerful Intel Core i3, i5, and i7, the IdeaPad Flex features a variety of CPUs. It has 4GB, 8GB, 12GB, or 16GB of Memory, which is plenty for regular use, basic multitasking, low to medium-level gaming, and even some demanding applications like Adobe Photoshop, etc.
IdeaPad Flex features integrated Intel graphics, acceptable for basic tasks like web browsing and video streaming. However, if you plan to use your laptop for gaming or graphics-intensive applications, Lenovo also offers the Flex series with MX230 or 940MX GPU.
The Lenovo IdeaPad Flex's performance can be pretty good, especially if you select a more powerful processor, RAM, and SSD variant.
The IdeaPad 3 may not be the most powerful option because it is designed to be a budget-friendly laptop. Some models of the IdeaPad 3 come with decent specifications and performance capabilities for their price range. They feature Intel Core i3 or i5 12th gen or AMD Ryzen 3 or 5 processor, which should easily handle most everyday tasks. The IdeaPad 3 series also has a budget gaming laptop; IdeaPad Gaming 3, equipped with up to AMD Ryzen 7 processor and NVIDIA GeForce 30 series graphics.
The RAM is also decent in the IdeaPad 3, with 4GB to 8GB in most models. Some models also feature 12GB and 16GB RAM options. Additionally, some versions come with dedicated graphics cards, like the NVIDIA GeForce MX350, which can enhance performance for activities like light gaming and video and photo editing.
Overall, you can expect a similar performance between the two laptops series with the Flex series having a little bit of an advantage over the IdeaPad 3 series. They are not designed to run demanding tasks like high-end gaming, graphic designing, video editing, or running heavy business software except IdeaPad Gaming 3 which is a gaming laptop. You can easily do your regular tasks with ease like browsing, watching movies, light gaming, office use, running educational software, and small business software. Both of them are ideal for students and home users.
Lenovo Ideapad Best Deals
Lenovo Ideapad 3 Laptop, 15.6" HD Touchscreen, 11th Gen Intel Core i3 Processor

8 GB RAM - 256 GB SSD - Webcam

Lenovo IdeaPad 3 Travel Laptop, AMD Ryzen 5, 17.3" FHD Display

8 GB RAM - 512 GB SSD - Windows 11 Home

Anti Glare Screen - Crystal Clear Webcam, Lightweight laptop

Lenovo IdeaPad Gaming 3, 15.6" Screen, AMD Ryzen 7 Octa-Core Processor

8 GB RAM - 512 GB SSD - 120 Hz refresh rate

Windows 10 - NVIDEA GeForce GTX 1650 Ti 4GB GDDR6
Lenovo Flex vs IdeaPad 3: The Difference in Storage Capacity
All the Lenovo Flex models feature SSD storage except for the Chromebook, which has eMMC storage. The Chromebook features 64GB storage while most other models offer 128GB to 1TB SSD storage options.
On the other hand, Lenovo IdeaPad 3 offers a variety of storage options. All the models feature SSD storage. You can choose between 256GB or 512GB SSD. On the IdeaPad 3i, Lenovo also has offered 1256GB storage; 1TB HDD, and 256GB SSD. The SSD can be the primary memory that helps keep the laptop efficient and smooth while incorporating a cheaper 1TB HDD.
Lenovo Flex vs IdeaPad: The Difference in Design
Lenovo Flex has a decent build quality with a lightweight and portable frame. It makes it sturdy and durable, and the laptop looks premium with the Graphite Grey color. The 2-in-1 aspect of the laptop is what makes it looks cool. But the laptop has a simple design, and the wedge shape makes it look thinner at the front.
The laptop is entirely made of plastic, but it feels durable. The lid has little flex, meaning it bends slightly when you try to move it with one hand, but the keyboard has no flex when you type on it or place your hands firmly on it. It is relatively lightweight at 3.42 lbs weight, but the Flex 5i weight is slightly higher than 4.6 lbs which might feel heavier for some people.
IdeaPad 3 is a decent-looking device that doesn't stand out. Overall the design and style are not the main priority of the IdeaPad 3 series.
The hinge in IdeaPad 3 is decent, with a wide range and good resistance. But a downside is that you might find the screen wobbling when you start typing fast. The built quality is good, with the keyboard deck having a mixture of plastic and metal built, but everything else is made up of plastic. There aren't many manufacturing flaws, and the device feels sturdy and durable.
Lenovo Flex vs IdeaPad 3: The Difference in Display Quality
Lenovo IdeaPad Flex devices feature a 14 and 16-inch display with WUXGA resolution. WUXGA offers better resolution than Full HD. It provides a better fit, and compared to FHD, it produces a brighter and better display quality for a similar screen panel. Full HD has an aspect ratio of 16:9; however, the WUXGA display has a slightly taller aspect ratio of 16:10. The IdeaPad Flex features a touchscreen with 45% NTSC, 300 nits of brightness, and a 60Hz refresh rate.
IdeaPad 3 features an FHD display similar to the one on IdeaPad Flex. You can find the IdeaPad 3 in two sizes: 15.6 inches and 17.3 inches. The IdeaPad 3 features a slightly bigger screen. All the IdeaPad 3 models feature a display with 300 nits of brightness and a 60Hz refresh rate, which is decent for regular users. The non-touchscreen displays 72% NTSC whereas the touchscreen features only 45% NTSC, similar to the IdeaPad Flex.
Almost all the Lenovo Flex laptops feature a TUV low blue light certification for your eye comfort and safety, whereas the screen is not anti-glare. The Ideapad 3 has anti-glare panels, but only a few laptops feature TUV low blue light certification.
Lenovo Flex vs IdeaPad 3: The Difference in Sound Quality
Being a budget laptop, the sound quality of both IdeaPad Flex and IdeaPad 3 is just above average. The Lenovo Flex 5 features Harman Speakers with Dolby tuning, which can make the speaker sound decent compared to other laptops in this range. The sound is pretty loud, with not many distortions.
Speakers in IdeaPad 3 are located under the touchpad. The built-in speakers are not great, with hollow sound which lacks loudness. They have a thin, base-free sound you would expect in a typical laptop at this price. You can use external speakers or headphones if you want a better sound.
Lenovo Flex vs IdeaPad 3: The Difference in Cooling System
A dual-fan cooling system in most 2-in-1 Lenovo Flex laptops helps them stay cool while doing demanding tasks. The laptop's dual-fan arrangement draws cool air from the bottom and exhausts hot air from the sides and back. This keeps the laptop from overheating and guarantees smooth operation even after extended use.
The Lenovo IdeaPad 3, on the other hand, is a conventional laptop with a single-fan cooling mechanism that aids in keeping the laptop cool when performing routine duties. The laptop's bottom will draw cool air in, while the back will vent hot air. While this cooling system is sufficient for everyday tasks, it may struggle to keep the laptop cool during intensive tasks.
Lenovo Flex vs IdeaPad: The Difference in Ports
Lenovo Flex features all the essential ports. You get a USB Type-C port with Thunderbolt 4.0(only on some models), Type-A ports, an HDMI port, a 4-in-1 card reader in some models, and an Audio jack. Instead of a 4-in-1 card reader, some devices offer a MicroSD or SD card slot. The thunderbolt 4 port Lenovo offers is excellent, especially at this price point.
The IdeaPad 3 also features similar ports, including USB Type-C, USB Type-A, HDMI, an SD card slot (in some models), and an audio jack. Unlike the IdeaPad Flex, many Ideapad 3 miss out on Thunderbolt 4 compatibility, which is a downside, but at the price, not many laptops offer Thunderbolt 4. The Thunderbolt 4 compatibility is primarily available on Ideapad 3 Gaming laptops and higher-end models.
Lenovo Flex vs IdeaPad: The Difference in Scalability
The RAM you get on IdeaPad Flex is not upgradeable. You can't increase the RAM you get on the laptop in the future. But thanks to the additional M.2 PCIe x 4 slots, you can increase the SSD on the device. Most devices are limited to a maximum storage of 2TB.
The Lenovo IdeaPad 3 offers decent upgradeability. It has a single SODIMM slot that works with the soldered RAM. You can also upgrade the storage as the laptop has a 2.5-inch SATA drive pay and two additional M.2 PCIe x 4 slots. Both the RAM and storage on the device are user-upgradeable without much hassle. You can upgrade the RAM on the laptops to 16GB, whereas the storage can be upgraded to 2 TB.
Lenovo Flex vs IdeaPad: The Difference in Battery Performance
The IdeaPad Flex has a decent battery performance. Lenovo boasts all-day battery life. The Flex 5 will last you over 14 hours of continuous internet surfing at 150 nits of brightness. However, many users have been disappointed with the battery life of the Lenovo Flex. Usually, the laptops last around 7-8 hours. The Flex 5 and 5i feature a 52.5 Wh battery, which is pretty okay for a 2-in-1 laptop.
IdeaPad 3 lasts well despite a small battery, mainly credited to the less-power-intensive hardware. The IdeaPad 3 has decent processors and integrated graphics, which do not consume much power, which results in over 7-8 hours of battery life or almost 10 hours on some models. Most of the Lenovo laptops feature a 45Wh, 42Wh, and 38Wh battery. Lenovo claims their IdeapPad 3 has an all-day battery, only if you use it moderately for about 7-10 hours daily.
Lenovo Flex vs IdeaPad: The Difference in Price
The IdeaPad Flex starts at a price range of $485 for their IdeaPad Flex 3i Chromebook. Most IdeaPad 3 models are available in the price range from $500 to $800, including the Flex 5i Chromebook, starting at $520. Besides the Chromebook, you can find the Lenovo Flex priced around $700 with discounts for their $1000 models. You can also find laptops at $500 to $600. Considering the price, Lenovo Flex offers excellent value for every penny.
The IdeaPad 3 features a similar price range, with its entry-level laptops currently priced at around $400. Most laptops in the $400 range are available for a discount on the Lenovo website. Other laptops from the IdeaPad are currently priced from $600 to $700. Lenovo IdeaPad Gaming 3 is around $899 which is considered a budget-friendly gaming laptop with some powerful specs.
Both IdeaPad Flex and IdeaPad 3 are great value-for-money laptops, but IdeaPad Flex laptops are slightly better in terms of better specifications with almost the same price range as IdeaPad 3.
Lenovo IdeaPad 3 or Lenovo Flex: Which Laptop Series Is Better?
When choosing between the Lenovo Flex and IdeaPad 3, the decision largely depends on your specific needs and budget. Both laptops offer different features and specifications, so you must consider how to use the laptop before making a final decision.
The Lenovo Flex is a decent option if you want 2-in-1 laptops with greater power, better battery life, and touchscreen displays, and if you don't mind paying a little more. On the other hand, for a more affordable and portable traditional notebook, the IdeaPad 3 is a solid option.
Both laptops come in a similar price range, so the decision is based on your personal preference and priorities more than the budget. If you want a more affordable laptop for basic tasks, IdeaPad 3 has models available at a much lower price. If you want a laptop that can do basic and resource-intensive tasks, go for the Flex series without hesitation!
Frequently Asked Questions (FAQs)
Which Is better, Lenovo IdeaPad 3 or Flex?
Overall, Lenovo Flex is better than IdeaPad 3 with better specs and almost the same price tag as IdeaPad 3. Lenovo IdeaPad 3 is generally more affordable than the Flex and is an excellent option for students or users who need a basic laptop for everyday use. Lenovo Flex is a 2-in-1 laptop that is a more versatile and flexible option, making it ideal for users who need a device that can easily switch between work and entertainment.
Is Lenovo IdeaPad 3 Good for Students?
Yes. Because of its portability, battery life, performance, affordability, and durability, the Lenovo IdeaPad is an excellent choice for students.
Can You Upgrade the RAM in Lenovo IdeaPad Flex Laptops?
No, the Lenovo IdeaPad Flex laptops only feature a single slot for RAM. So there are no extra available slots to upgrade RAM.
Is Lenovo IdeaPad Flex Good for Gaming?
The Lenovo Flex is not explicitly designed for gaming. If you want a gaming laptop, switch to IdeaPad Gaming 3 laptops instead of IdeaPad Flex.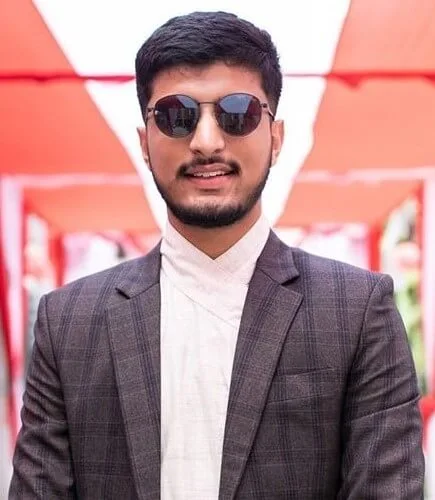 Sulabh is a content writer who also happens to be a tech enthusiast. He likes staying updated about the latest tech and gadgets, which fuels his drive to write different tech-related articles. For the past three years, he has been helping readers know about various gadgets and make their decision easier on choosing the right gadget.