HP vs Lenovo: Which Laptop Brand Is Better In 2023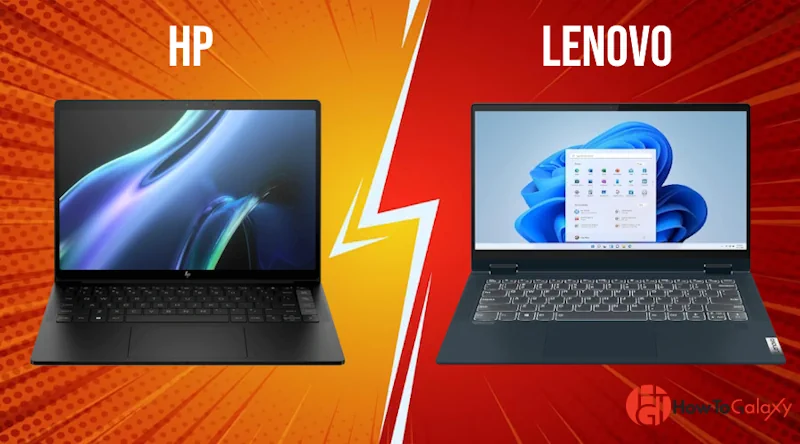 Making the perfect laptop purchase can be a difficult decision, especially with the variety available today. Lenovo and HP are two of the biggest competitors competing for domination within the laptop industry. HP laptops are known for their premium features and slick design, while Lenovo laptops are known for their robust battery and affordable build quality. The question is, which brand is truly better for you? We're here to make that choice simpler by contrasting the features, build quality, and overall worth of these popular laptops.
In recent years, HP and Lenovo have become two of the most reputable computer manufacturers in the tech market. Lenovo and HP laptops both offer a wide range of laptops to suit different purposes, whether for work, play, or simply surfing the internet We'll examine important factors including components, design, and cost to decide which brand is the best value for money.
So, are you looking for a laptop? We know how important it is to choose the right device, so don't worry! We have done the research and presented the pros and cons so you can narrow down your choices to the laptop that will best suit your way of life. Read on for our thorough investigation!
HP and Lenovo: An Overview
Lenovo and HP are on top of the list when it comes to recognized laptop brands. Both businesses have a long history; HP was established in 1939, while Lenovo was established in 1984 as Legend Holdings. These manufacturers have consistently created high-quality laptops that satisfy a range of consumer requirements.
Even though HP is frequently credited with influencing personal computing, Lenovo also makes waves with distinctive designs and competitive prices. Both brands offer a range of laptops, such as budget-friendly models, gaming workhorses, and streamlined ultrabooks. They also focus on including cutting-edge technology like 2-in-1 laptops and deliver the best user experience.
Both HP and Lenovo have established themselves as leaders in the laptop market, so it's important to carefully consider your needs before selecting one. Finding the best laptop that meets all of your requirements in the end is key.
HP vs Lenovo Laptops: Head-to-Head Comparison
Pros and Cons of HP Laptops
To help you make the best decision, we've compiled a list of the main pros and cons of HP laptops. Let's investigate them!
Pros
Affordability: We appreciate that HP makes its products accessible to a wide range of people by providing a selection of laptops to fit varied budgets.
Design: HP is renowned for its minimalist and varied elegant designs for users who want their laptop designs to stand out.
Performance: For some gaming and multimedia needs as well as daily duties, HP laptops are dependable and offer good performance.
Variety: Users can select the ideal HP laptop for their needs from a variety of options, with lots of affordable and high-end models.
Cons
Battery life: Certain HP laptop models have received negative battery life reviews from some customers, which could be a problem for people who are always on the move.
Bloatware: HP tends to include bloatware in laptops, which may need some work to remove to enhance speed.
Best Deals on HP Laptops
HP 14" IPS FHD Display Laptop, Intel Quad-Core Processor Up to 3.7GHz

16GB RAM -1TB SSD - Backlit Keyboard - Type-C Fast Charging

Microsoft 365 1 Year Subscription - Windows 11

Highly Rated - Amazon's Choice

HP Newest Pavilion 15.6" HD Touchscreen, Intel Core Processor up to 4.1GHz

16GB RAM -1TB PCIe NVMe M.2 SSD - Fingerprint Reader

Anti-Glare Screen - Long Battery Life - Windows 11 - Type-C Charging

Most Popular - Highly Rated - High Selling

2022 HP ENVY x360, 15.6" FHD Touchscreen Laptop, Intel Core i5, Webcam, Windows 11, Silver,

16GB RAM - 512 GB SSD - 2-in-1 Laptop

Backlit Keyboard - 32GB SnowBell USB Card - Windows 11
Pros and Cons of Lenovo Laptops
After doing some investigation, we found some pros and cons of Lenovo laptops. Here is a general overview to consider:
Pros
Affordable: Lenovo offers laptops with lower starting prices while maintaining quality.
Flexible yet sturdy hinges: Lenovo laptops often have unique features, such as the flexible hinges in the Yoga series for added functionality.
Performance: Many Lenovo laptops are quite powerful, sporting powerful processors and long-lasting batteries.
Reputation: Lenovo has a significant global presence, with a 24.9% market share and more than 57,000 employees spread across 60 nations.
Cons
Limited design options: Despite their superb build quality, they might not be as fashionable as HP models due to fewer colors and fewer different styles at the moment.
Best Deals on Lenovo Laptops
Best Overall - Amazon's Choice

Lenovo ThinkPad X1 Carbon Intel Core i7-1165G7, FHD Display

16GB RAM - 512GB NVMe SSD - 100% sRGB-Display

Backlit Keyboard - Fingerprint Reader - Windows 10 Pro

Best For Students and Businesses

Lenovo Flex 5i 15.6" FHD Touch Screen Laptop, Intel Core i5-1135G7 Processor

8GB RAM - 256GB SSD - Fingerprint Reader

Stylus Pen - Bluetooth 5.1 - Backlit Keyboard - Windows 11

Best For Budget Gamers - Popular

Lenovo IdeaPad Gaming 3 15.6" FHD, AMD Ryzen 5 6600H Processor

8GB RAM - 256GB SSD - 120Hz Refresh Rate

NVIDIA GeForce RTX 3050 - Antiglare Screen - Windows 11

Lenovo Legion 5 Gaming, 15.6" FHD Display, AMD Ryzen 7 5800H

16GB RAM - 512GB SSD - GeForce RTX 3070 Ti

NVIDIA GeForce RTX 3050Ti - Wi-Fi 6E- Windows 10
Lenovo vs HP laptops: What's the Main Difference?
We've found that the primary distinction between Lenovo and HP laptops lies in their pricing. Lenovo offers a more budget-friendly selection, while HP tends to cater to those who are willing to spend a bit more.
HP vs Lenovo: Performance Analysis (Processor, RAM, and GPU)
The performance of laptops is one factor that no one can ignore. Join us through an extensive look at the processors, RAM, and graphics capabilities of HP and Lenovo laptops.
HP Performance
HP laptops are available with a wide variety of processors, including AMD Ryzen 3, 5, and 7 and Intel's i3, i5, i7, and i9. While certain HP laptops might be equipped with the most recent Intel Core i7 or AMD Ryzen 7 CPUs, other models might have slightly older but still reliable processors.
HP laptops come with a variety of RAM choices. There are variants available with 8GB, 16GB, and even 32GB of RAM. You may rest assured that DDR4 and DDR5 solutions will deliver quick and effective performance for demanding workloads.
When it comes to graphics, HP laptops come with a range of graphic card choices. these include the dedicated NVIDIA GeForce RTX and AMD Radeon GPUs as well as integrated Intel Iris Xe graphics. Whatever your graphics needs, HP has a solution that will work for both professional and casual graphic designers.
Lenovo Performance
Equally competitive, Lenovo laptops offer several processor options too. Like HP, they can come with Intel i3, i5, i7, and i9 processors or AMD Ryzen 3, 5, and 7 CPUs. Lenovo laptops deliver superb multitasking, productivity, and gaming performance, depending on the processor choice.
Lenovo laptops come with a wide range of RAM options, from 8 GB to 32 GB. Lenovo supplies the DDR4 or DDR5 RAM that can support heavy multitasking or moderate computing tasks.
Lenovo laptops come with a range of graphics choices, including dedicated NVIDIA GeForce RTX and AMD Radeon GPUs as well as integrated Intel Iris Xe graphics. The latest NVIDIA GeForce RTX 4080 and NVIDIA GeForce RTX 3060 graphics cards are available in Lenovo gaming laptops. Because of this, Lenovo laptops work great for professional design, video editing, or simply gaming.
HP vs Lenovo: Storage Capacities
HP Laptops Storage Capacities
HP laptops win the hearts of many users with their versatility. They offer a wide range of storage capacities with SSD and HDD configurations, so you can pick between 512GB SSD and 1TB HDD for maximum storage space and performance.
Lenovo Laptops Storage Capacities
Likewise, Lenovo provides a range of laptops with multiple storage options to suit all preferences and budgets. Lenovo laptops are paired with either SSDs or HDDs. With the ample space of 512GB SSDs and 1TB HDDs, you can store all your files and experience speedy computing.
HP vs Lenovo: Design Comparison
HP Design Quality
HP offers a wide selection of laptops to accommodate various user demands and preferences. Many of their laptops have contemporary, lightweight designs for convenience. Although the weight of HP laptops might vary, they often weigh less compared to others in the market, which makes them easier to carry.
HP's premium laptops, including the Spectre x360 and EliteBook series, are built with aluminum and magnesium, which are strong and lightweight materials. In contrast, some of their cheaper models are produced with plastic. These premium materials ensure lasting durability by providing a premium feel and outstanding construction quality. Users can choose from a variety of beautiful color options for HP laptops, including silver, black, and blue.
Lenovo Design Quality
Lenovo is renowned in the laptop industry for its distinctive designs. The company features a wide range of products, from thin ultrabooks to robust workstations. Functionality is first and foremost in Lenovo's laptop designs, like the 2-in-1 convertible laptop feature and 360-degree hinges for adaptability.
Many Lenovo laptops include carbon fiber and magnesium alloy in their construction. This improves the build quality and makes them strong and light. For instance, the Lenovo Thinkpad series is renowned for its toughness. In order to cater to various consumer tastes, Lenovo offers a wide range of color options, including alternatives like black, silver, and even vivid red.
Both Lenovo and HP offer robust and high-quality manufacturing. Still, Lenovo places a greater emphasis on the solid design compared to HP for a more contemporary appeal. Deciding which is the better brand for aesthetics and build quality ultimately boils down to individual tastes and usage requirements.
HP vs Lenovo: Display Quality
HP Display
HP laptops provide a range of display quality options to accommodate different customer requirements. A lot of HP laptops include IPS panels, which guarantee accurate color reproduction and broad viewing angles. The typical resolution for HP laptops is 1920×1080, which provides a clear, large-sized display for multitasking and other visual tasks.
For individuals who need more pixels for entertainment or making visual content, HP also offers greater resolutions, such as 4K screens. Some models even have OLED panels, which produce vivid colors and deep blacks. HP provides laptop refresh rates up to 144 Hz for gamers, resulting in fluid images and a better gaming experience. Don't forget about brightness! HP screens frequently feature settings able to customization to get the ideal level for your surroundings.
Lenovo Display
Lenovo also appreciates a good display, and their laptops are made with a variety of consumers in mind. Lenovo, like HP, sells laptops with IPS panels, providing true colors and a variety of viewing angles. A resolution of 1920×1080, common in Lenovo laptops, guarantees a clean image and better multitasking.
Lenovo versions with greater resolutions, including 4K choices, are available for individuals who need high-quality displays. The higher contrast and color depth offered by OLED technology are attractive, but OLED screens are less common in Lenovo's lineup. In its Legion gaming line, Lenovo laptops provide higher refresh rates for gaming, up to 360 Hz.
HP vs Lenovo: Gaming Potential
Gaming on HP
HP has made a significant place for itself in the gaming sector with its OMEN line of laptops. The newest hardware in these gaming laptops provides an immersive gaming experience. High-quality displays, heavy-duty processors, and dedicated graphics are all features of HP OMEN laptops. Additionally, they have customizable settings and RGB lighting, which improve the environment for gaming.
HP's cooling technology provides a cutting-edge thermal solution to the heating problem in gaming laptops. This means that even during prolonged gaming sessions, your laptop will stay cool. Additionally, with evenly distributed airflow, their OMEN Tempest Cooling technology aids in maintaining peak performance.
Gaming on Lenovo
On the other hand, Lenovo's Legion series has majorly influenced the gaming industry. Performance, design, and price are all superbly balanced in Lenovo Legion computers. These laptops impress with processing power, fast RAM, faster frame rates, and dedicated graphics cards.
The thin and streamlined design of Lenovo Legion laptops is one remarkable feature. For example, the Legion Slim 7 has a thickness of less than 3/4 inch and weighs about 4 pounds. Additionally, certain models have ultra-premium 4K displays, so you can play your games at high frame rates and in rich detail.
In terms of cooling, Lenovo gaming laptops have a powerful cooling system, the appropriately named Coldfront. This technology ensures that heating won't interrupt gaming by effectively cooling essential components. Coldfront increases airflow while reducing noise with a focus on silent operation.
HP vs Lenovo: Battery Life
HP Battery Life
HP laptops have a variety of battery capacities. These start at the lower end of 42 Wh and can have astonishing capacities of 98 Wh for some units. This means you don't have to grab your charger too often just to finish everyday computing tasks! Some HP laptops can survive longer than the standard 9-to-5 with lighter activities.
Battery life may not last long for battery-intensive activities like gaming or creative work. Don't fret though! HP laptops have been optimized to help the battery last longer while performing these kinds of tasks.
Lenovo Battery Life
Additionally, Lenovo laptops provide several battery options, with some models having a battery capacity of up to 98 Wh. Its selection of energy-efficient hardware and software improves battery life without sacrificing performance.
For routine tasks like browsing as well as business work, Lenovo laptops tend to offer outstanding battery life. A single charge can keep you going longer compared to some other brands because of their energy-efficient computing.
Lenovo laptops provide sophisticated power management to adapt your usage to maximize battery life for gaming or creative tasks. Compared to HP, Lenovo is the better choice in terms of battery performance, due to their improved battery life and timing.
HP vs Lenovo: Audio Quality
HP Laptops Audio Quality
Many users prefer HP laptops for their amazing audio capabilities. The majority of HP models produce clear and well-balanced audio through their built-in speakers. These speakers are normally loud enough for regular use, such as watching movies, listening to music, or participating in video conferences.
A notable feature is the finetuning of sound systems by Bang & Olufsen (B&O), who share a partnership with HP. Thanks to this collaboration, you get some laptop models with high-quality sound for an enhanced user experience.
Lenovo Laptops Audio Quality
On the other hand, Lenovo laptops generally offer adequate audio quality, but it falls short of what you would get from HP's products. Lenovo laptops often have decent built-in speakers, but they lack bass and depth, which can make the audio sound a little flat.
The elegant design and portability of Lenovo laptops frequently outshines audio quality. Nevertheless, some Lenovo models are equipped with Dolby Audio technology, which improves the sound quality. Even though Lenovo lags behind in audio quality compared to HP's products, some models offer features for enhanced sound by incorporating B&O technology.
Lenovo vs HP: Security Features for Businesses
HP Laptops Security Features
HP laptops come with a variety of security options to ease your mind, whether for home or business. The fingerprint sensor is a valuable feature that enables rapid and safe access to your device. A webcam kill switch is also included on some HP laptops, which is important for those who value their online privacy.
You will also appreciate the new detection feature added in some HP models to sense human presence. By automatically locking when you walk away and unlocking as you approach, this function keeps your device secure. On some laptops, HP offers the Sure View integrated privacy screen, which reduces side visibility for increased screen privacy.
Lenovo Laptops Security Features
Additionally, businesses can benefit from a number of efficient security features on Lenovo laptops. Most Lenovo models include fingerprint sensors for safe and convenient device access. With added high-quality webcams, you get improved video conferencing and remote work.
Notably, some Lenovo models are equipped with technology to detect human presence. This feature adds an extra layer of security by automatically locking your device when you are away and unlocking it when you return. Although Lenovo laptops do not have an integrated privacy screen like HP's Sure View, they offer rugged security to protect user data and privacy.
HP vs Lenovo: Price Comparison
HP and Lenovo both offer diverse laptops on the market to accommodate various budgets. To help you pick the one that fits your budget the best, let's take a look at pricing!
HP laptops are also reliable with powerful internals. Their laptops target individuals who want straightforward, affordable computing and typically start at around $300. Their flagship laptops cost around $3500. The higher you go, the more premium features you get, such as with HP gaming laptops.
In contrast, Lenovo tends to remain popular for its cost-effective and versatile computers. Their cheap yet dependable laptops offer a starting price of just $200. Their premium models, such as the ThinkPad series of Lenovo and the Yoga line, can cost up to $3,000 and deliver cutting-edge functionality.
HP vs Lenovo: Customer Support and Warranty
Both HP and Lenovo go above and above to help their clients and resolve any warranty issues. One brand does, however, stand out more than the other in several areas.
HP offers a wide range of support options, including phone, email, and chat support, as well as online guides. HP customer service is known for offering prompt assistance that enables you to swiftly return to your job.
However, Lenovo also provides detailed customer service via phone and chat, as well as online resources. When compared to HP, some customers might find Lenovo may respond slower but still maintain good customer support overall.
When it comes to warranties, both HP and Lenovo offer the usual with their laptops, covering one year for labor and parts. To benefit your laptop, however, additional warranties and accidental damage insurance plans are also available. Lenovo's warranty may include on-site services depending on your location, but HP's warranty normally involves mailing the item back and forth for service as needed.
Popular Laptop Series From Lenovo and HP
Comparing HP Models
HP offers a variety of standout laptops for various needs. For those looking for a stylish high-performance laptop, the HP Envy is a great option. The HP Pavilion series, on the other hand, is ideal for consumers on a smaller budget needing a lightweight laptop.
The HP Omen range, popular for its exceptional performance and features, is one of the top choices for gamers. With its resource-efficient processors and dedicated graphics cards, the HP ZBook series suits professionals looking for a reliable work computer.
Comparing Lenovo Models
Lenovo has lots of laptops to choose from. The Lenovo IdeaPad series is geared toward casual users, blending budget-friendly prices with reliable performance. The ThinkPad series is built for work professionals who require sturdy, secure, and long-lasting laptops.
The Lenovo Flex and Lenovo Yoga series stand out for those who value flexibility due to their convertible designs for use as tablets and other form factors. Another choice for people looking for a solid Chromebook at an affordable price is the Lenovo C330.
If you are a gamer, no need to worry! Lenovo's Legion laptops take gaming to the next level with high-quality performance.
Lenovo vs HP Laptops: Final Thoughts
When choosing a new laptop, reliability, affordability, innovation, and quality are the key considerations. Both Lenovo and HP have their advantages and disadvantages when compared. Lenovo is a brand that reinvents itself and pushes for innovation, providing a variety of laptops for creative professionals, gamers, and casual users. However, HP has also established itself as a trustworthy laptop manufacturer, creating a variety of strong and multifunctional devices.
When comparing the advantages and disadvantages of these two competitors in the laptop industry, it's obvious that Lenovo comes out slightly ahead of HP in some aspects. Its popularity is primarily due to affordability.
Frequently Asked Questions
Does HP or Lenovo Last Longer?
Both HP and Lenovo provide reliable and solidly built laptops when it comes to longevity. Lenovo has established itself in the market, even though HP has a longer history. Longevity mainly depends on the model and how you use your laptop. In general, both are reliable laptop brands offering devices that last with proper care. In general, Lenovo laptops last longer than HP.
Are Lenovo Laptops High Quality?
Yes, the quality of Lenovo computers is well-established. The company sells many laptops at a range of prices for every kind of user. The IdeaPad, ThinkPad, and Yoga series are a few of Lenovo's well-known product lines. These laptops typically focus on usability, performance, and dependability.
Which Brand Offers the Best Gaming Laptop, HP or Lenovo?
Both HP and Lenovo have the overall best laptops for gaming. The HP OMEN series from HP is popular for its gaming performance and exciting aesthetics that make it the full package. Lenovo's Legion series, on the other hand, has been drawing notice for its elegant construction and heavy-duty hardware. Gamers tend to choose Lenovo Legion laptops over HP OMEN.
Are HP or Lenovo Laptops Better for Business Like the Probook?
Business laptops from both HP and Lenovo feature dependable and effective performance. Professionals and corporations that cannot compromise security and performance may consider HP's ProBook and EliteBook models. Still, the ThinkPad series from Lenovo has long been a favorite among professionals because of its performance, comfy keyboard design, and durable build quality. While each has its advantages, business folks typically go for HP EliteBooks and ProBooks over Lenovo.