HP Pavilion vs HP ENVY: Which Laptop Series Is Best For You?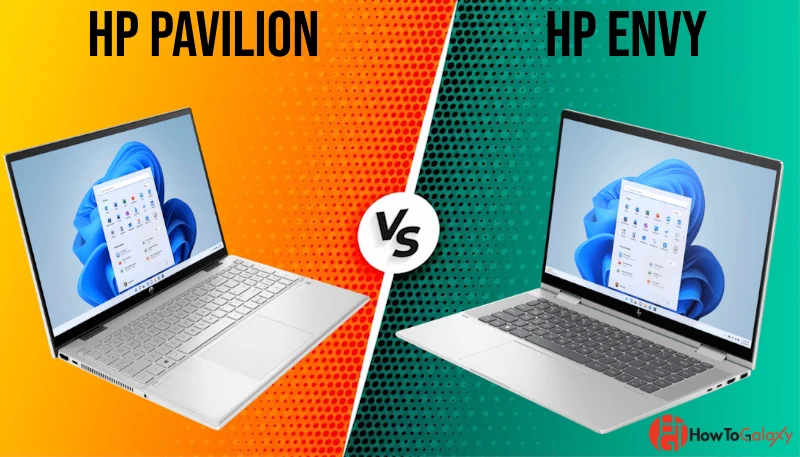 HP is one of the best-known manufacturers of computing devices including laptops on the market. Their budget-friendly and reliable devices make them the first choice of laptops for many. The quality of the HP laptops stands out among the others. In 2023, two HP laptop series popular with users are the Pavilion and the ENVY ranges of laptops. The HP Pavilion series focuses on basics with limited processing power, providing more bang for your buck. The ENVY series caters to advanced users with high-end processors for a premium computing experience. In this article, we will be comparing two popular laptop series from HP, the Pavilion and the ENVY.
Need a laptop? If you are debating choosing from the ENVY and Pavilion series, read on for our laptop comparison. This article will compare the differences between the two when it comes to pricing, performance, and features.
HP Pavilion vs HP ENVY: Performance
When comparing the HP ENVY and Pavilion laptops, no doubt performance comes to mind first. Performance depends on factors like CPU, RAM, and graphics. Keeping things budget-friendly, the Pavilion series comes with the U-Series of Intel processors designed up to 15W. A few models run on Intel Pentium Gold chips. These are not very powerful and so are geared towards lighter tasks and the average user. There is a choice of processors (Intel Core i3, i5, or i7). For gaming, buyers have the additional option of AMD Ryzen 3, 5, or 7 processors.
Similarly, users can choose between Intel Core (i5 or i7) or AMD Ryzen (5 or 7) processors for the ENVY series. The series is built with the P-Series chips based on a 28W design for more intensive computing.
The Pavilion series provides upgradeable RAM options of 4GB to 8 GB or 16GB DDR4. The ENVY series has the same options, except users can expand up to 32GB of DDR4 RAM. With more RAM, you get a responsive computing experience. For this, the HP ENVY is among the best laptops.
For graphics, the Pavilion laptops have the basic integrated Intel UHD graphics. The HP Pavilion gaming laptops come with discrete graphics cards like the NVIDIA GeForce MX as well as a dual fan system. Most ENVY laptops have a dedicated GPU, with integrated Intel Iris Xe graphics in some higher-end models. With a dedicated GPU, users get a better experience with visual-heavy tasks like gaming, graphic design, or photo and video editing.
HP Pavilion vs HP ENVY: Design and Dimensions
Laptops are generally lightweight these days. When it comes to weight, the ENVY series is lighter compared to the HP Pavilion series. The Pavilion series has four basic designs. These include the standard clamshells, the convertible x360s, the ultra-portable Aero series, and lastly the Pavilion Gaming series. Overall, the clamshells and gaming series are heavier. The exceptions include the x360s, which transform into a tablet, and the Aero series. A heavier laptop tends to have greater durability and upgradeable components, the lighter models suit mobility.
Like the Pavilion line, the ENVY line also gives buyers the choice of standard clamshell laptops and convertible x360 laptops. The latter weighs less and is better for users on the move. Ultimately, every user decides how they use their device, and whether weight is a priority.
When it comes to build and appearance, the Pavilion line designs are based around a lighter but cheaper plastic chassis with a matte finish. In contrast, ENVY laptops have a sturdier metal chassis and a glossy finish. The Pavilions come in silver or black, while the ENVY come in silver or gold colors. 
HP Envy x360 2-in-1 15.6" Touch-Screen Laptop, AMD Ryzen 5

32GB RAM - 1TB SSD - Thin & Portable

Windows 11 - Micro-edge & Anti-glare Screen - Long Battery Life

HP Envy x360 Convertible 15-inch Laptop, Intel Core i7

16GB RAM - 1TB SSD - Intel Iris Xe Graphics - Natural Silver Aluminum

Windows 11 - Anti-glare Screen - Long Battery Life

HP ENVY x360 2-in-1 15.6" FHD Touchscreen Laptop Intel Core i5

16 GB RAM - 512GB SSD - Intel Iris Xe Graphics

Windows 11 - 32GB SnowBell USB Card - Backlit Keyboard
HP Pavilion vs HP ENVY: Display And Sound Quality
In terms of screen sizes, there is not much difference between the HP ENVY vs HP Pavilion. Both have standard screens of either 13, 14, or 15.6-inch screens, with the ENVY offering a 17.3 option as well. The Pavilion gaming series comes in either 15 or 16 inches. The Pavilion options for resolution include the 1366 x 768 HD or 1920 x 1080 FHD. The x360 tablet series in both lineups are touchscreens with pen support. ENVY laptops have resolutions of 1920 x 1080 FHD or the higher 3840 x 2160 4K UHD.
Compared to the HP ENVY, the basic Pavilion models are less ideal for media and visual activities like watching movies due to their lower resolution. The HP ENVY series provides better resolutions and enhanced display clarity for more immersive visuals.
Both HP laptop series come with dual speakers with standard mic and audio features like B&O audio tuning and HP Audio Boost technology for an improved sound experience. However, the premium ENVY laptops have quad speakers with Bang & Olufsen technology for higher audio quality. With more balanced bass and treble performance compared to the HP Pavilion models, there is less audio distortion. When gaming, listening to music, or watching movies, the ENVY laptops can deliver a more enjoyable media experience.
HP Pavilion vs HP ENVY: Connectivity and Ports
We can say that the HP Envy range and the Pavilion laptops are quite diverse in terms of connectivity. Both include ports like the USB-A and type-C, some with Power Delivery. Most models have HDMI 2.0 or 2.1 and ethernet ports. Both the HP ENVY and HP Pavilion have the standard combined headphone and microphone jack, SD card reader, and AC power adapter port. A security feature includes the security lock slot, in combination with the Kensington lock in some models.
The ENVY laptops feature fewer ports that are more advanced. Most models include the Thunderbolt 3/4, with DisplayPort support in some. The HDMI comes with HDCP support, while the microphone jack has dual array microphones in selected models.
Compared to the HP's ENVY features, the Pavilion doesn't look much different in connectivity options. However, the ENVY range provides better data transfer and transfer speeds. This offers more convenience for audio transfer, security, and storage expansion. Compared to the Pavilion range, the ENVY's Thunderbolt ports boost data transfer speeds when compared to the typical USB ports in Pavilion laptops.
The HP ENVY and Pavilion series offer all sorts of bells and whistles for connectivity. However, HP's ENVY series has an edge with its advanced ports.
HP Pavilion vs HP ENVY: Battery Performance
Battery life depends on the user. So if you are gaming or performing power-intensive tasks, the battery tends to run out sooner. Typical battery life with light use lasts longer. Both laptop ranges typically come with 3-cell or 4-cell lithium-ion batteries. With capacities between 41Wh and 52.5Wh, Pavilions provide up to 8 hours of battery life on average. They also come equipped with fast charging.
However, ENVY laptops come built with battery capacities of 51Wh or 83Wh, giving an average of 12 hours of battery life. Users looking for laptops to consume media or games on the move need devices with longer battery life.
HP Pavilion Business Laptops Best Deals

12-32 GB RAM - Up to 1 TB SSD - Long battery life

Backlit Keyboard - Wi-Fi - Anti-glare screen

HP Pavilion 15.6" FHD 1080P IPS Laptop, AMD Ryzen 7

32GB RAM - 1TB NVMe SSD - Fast Charge - Numpad

Audio by Bang & Olufsen - Anti-glare screen - Windows 11

HP Pavilion Laptop (2022 Model), 14in FHD IPS, AMD Ryzen 3

8GB RAM - 128 GB SSD - Thin & Portable

Anti-glare screen - Windows 11
HP ENVY and Pavilion: Price and Availability
HP's ENVY series takes the higher end of the budget. With its premium features, HP offers powerful computing with a price tag from $700 to $1500. On the other hand, the HP Pavilion line laptops typically cost between $400 to $800. The HP Pavilion comparison to HP's ENVY series shows that the former aims for day-to-day tasks that use fewer resources. The difference between HP ENVY and HP Pavilion is mostly based on processing power.
The HP ENVY vs Pavilion total cost depends on the users. As HP offers the choice of base models with upgrades, the user can customize their device. They can select elements like RAM, storage, and graphics. Thus, the final configuration tailors to user requirements, and affects how high the cost goes.
HP Pavilion Series: Some HP Pavilion Models
HP Pavilion x360 14
This is a 2-in-1 convertible laptop of the Pavilion x360s range. It can transform from a laptop to a tablet, stand, or tent. Equipped with 14 or 15-inch HD touchscreens, they run on Intel or AMD processors. This laptop holds up to 16GB of RAM and SSD storage upgrades to 1TB. Nvidia GeForce MX450 enhances graphics. A fingerprint reader, a backlit keyboard with a touchpad, a webcam with a privacy lens, and a variety of ports complete the specs.
HP Pavilion Aero
This ultralight laptop weighs 2.18 pounds! With a 13.3-inch display and a 16:10 aspect ratio, It offers up to QHD+ resolution. The Aero comes equipped with up to 16GB of RAM and SSD storage upgrades to 1TB and integrated AMD Radeon graphics. The more recent models feature the Ryzen 7 processors, Wi-Fi 6E, Bluetooth 5.2, and a backlit keyboard with a touchpad.
HP Pavilion 14
This is a traditional clamshell laptop that has a 14-inch display with up to full HD resolution and optional touch support. It comes configured with Intel or AMD processors, up to 16GB of RAM, up to 512GB of SSD storage, and has the option of Nvidia GeForce MX450 graphics. It also has a fingerprint reader, a backlit keyboard, a webcam with a privacy shutter, and a variety of ports. The HP Pavilion 13 and the HP Pavilion 14 both offer similar specifications.
HP Pavilion 15
This is another clamshell laptop that has a 15.6-inch display with up to full HD resolution and optional touch support. It can be configured with Intel or AMD processors, up to 16GB of RAM, up to 1TB of SSD storage or up to 2TB of HDD storage, and optional Nvidia GeForce MX450 graphics or AMD Radeon RX Vega graphics. It also has a fingerprint reader, a backlit keyboard with a numeric keypad, a webcam with a privacy shutter, and a variety of ports.
HP ENVY Series: Some HP ENVY Models
HP ENVY x360
A noteworthy laptop, the HP ENVY x360 13 and the HP ENVY x360 14 are premium 2-in-1 laptops. They can be converted into a variety of modes, such as laptop, tablet, tent, or stand. This model comes in 13-inch and 15-inch sizes, with full HD or QHD touchscreens that support pen input. Users can choose ENVY x360 configurations. These include Intel with up to 32GB of RAM or AMD processors, with 2TB of SSD storage along with integrated graphics.
The standard features also include a fingerprint reader, a backlit keyboard that is full-sized, an HD webcam with a privacy shutter, and several ports including Thunderbolt 4 in the Intel models.
HP ENVY 16
This is a powerful laptop from the HP series of laptops featuring a 16-inch QHD+ display. It features an Intel Core i9 or i7 processor for the OLED and IPS models respectively. Users can configure up to 32GB/16GB of RAM and 2TB/1TB of SSD for the OLED or IPS model. Both models utilize the GeForce RTX 4060 GPU graphics. Other features include a fingerprint reader for the OLED model or an IR camera for the IPS model. It outranks its predecessor, the HP ENVY 15, by some features.
HP ENVY 17
This larger laptop comes with a 17.3-inch full HD display with a touchscreen. Users can select an Intel Core i7 processor with a maximum 32GB of RAM with up to 1TB/2TB of SSD/HDD storage, and Nvidia GeForce MX450 graphics. It also features a fingerprint reader, and a full-sized backlit keyboard with a numeric keypad and touchpad.
HP Pavilion Is Suitable for
Users can opt for a Pavilion laptop if they need a reliable and versatile laptop that is also affordable. The Pavilion lineup is best for everyday activities including web browsing, word processing, light gaming, etc. This makes them excellent for students. HP Pavilion laptops will not suit users looking for high-end performance, expensive design, or premium features such as speedy data transfer or high screen resolution. Compared to the ENVY series, the HP Pavilion offers a variety of budget-friendly types of laptops for work and casual use.
HP ENVY Is Suitable for
The range of HP ENVY laptops is suitable for users who need a dedicated work laptop. This especially works for those looking for a laptop that is a powerful, full-featured device capable of running resource-heavy tasks. The HP ENVY's stylish design also makes it a good choice for users who simply want a more premium computing experience. For many users, the HP ENVY x360 13 is one such model. Overall, the HP ENVY offers efficient computing and style in one package, although at a price.
Which Is Better for Me, HP Pavilion or HP ENVY?
From the specifications of laptops, HP ENVY laptops are designed better than HP Pavilion laptops. They feature better performance and design, but higher prices. This means that the HP Pavilion laptops provide better bang for your buck than HP ENVY laptops in terms of customization and affordability. Either laptop choice depends on on what particular spec you need and use the laptop for. The ENVY and Pavilion lines both fulfill basic day-to-day tasks. The distinction between the HP ENVY and the Pavilion series is up to the user.
Why Is the HP ENVY Line So Expensive?
HP ENVY laptops cost more due to their higher-end components like discrete GPUs and graphics cards, increased RAM capacity, and higher-quality displays. Combined with premium build quality and other modern features further increases the cost. Choose the HP Pavilion for a budget, or go with the HP ENVY for power.
Is Battery Life Better In the HP Envy Laptops, Or In the HP Pavilion Laptops?
HP ENVY laptops have higher capacity batteries and claim a longer battery life compared to HP Pavilion. However, the battery life of a laptop also depends on the usage. The HP Pavilion works better for light tasks due to a lower-power processor. How much you use can decide which one is better. 
Which Series Is Best for Gaming, the HP Pavilion Or the HP Envy?
For gaming purposes, HP ENVY laptops are more suitable than HP Pavilion laptops. This is due to their more powerful graphics cards providing higher frame rates. However, except for the Pavilion gaming neither series is designed specifically for heavy gaming. If you are looking for a dedicated gaming laptop from HP, you may want to consider the HP Omen series instead. This particular one is better suited for hardcore gamers.