Asus vs HP: Which Laptop Brand Is Better In 2023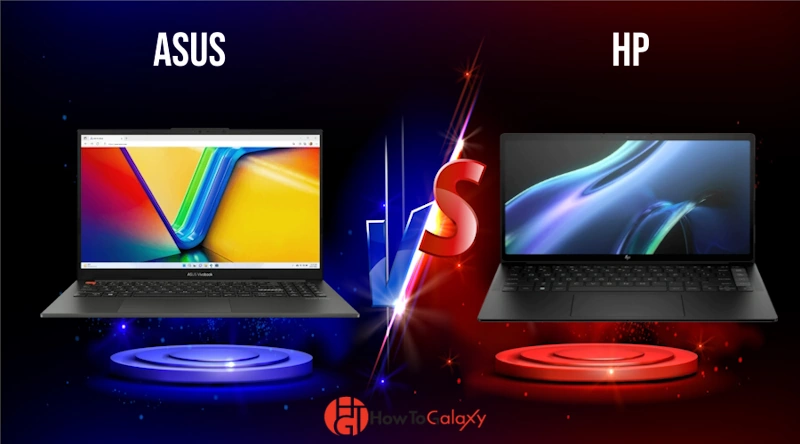 The laptop world is highly competitive, and Asus and HP are two notable brands of laptops on the market. Asus is a Taiwanese company, while Hewlett-Packard, or HP is an American company. Both are known for their variety of computer-related offerings and are known for their reliability. The HP Elitebook, HP ENVY, and HP Pavilion are some of HP's best-known laptop models. Popular Asus models include the Asus Zenbook Pro and Asus VivoBook series.
If you're looking for a laptop, Asus and HP both offer a range of options to match all user requirements. As you go through this article, we will evaluate performance, battery life, warranty, and customer service. If you were looking for a new laptop, then by the end of this article you can make an informed decision on which brand to opt for. So read on and get to know about laptops from HP and Asus!
Pros and Cons of Asus Laptops
When it comes to Asus laptops, there are several advantages and disadvantages worth considering:
Pros
Excellent performance: Asus computers often incorporate powerful processors and generous RAM for efficient multitasking and steady performance.
Sleek and stylish designs: Build quality of Asus laptops uses modern and sleek designs, increasing their visual appeal.
Wide range of options: Asus laptops are known to suit users for lots of requirements, including office work, gaming, or day-to-day computing.
Competitive pricing: Asus provides a better value for money for its laptops, with cost-effective and quality specifications.
Cons
Limited customer support: Compared to HP, Asus has reportedly slower response times and unsatisfactory resolution of issues.
Battery life: While Asus laptops generally offer decent battery life, they may not always match up to the longevity provided by other brands.
Bloatware: Sometimes Asus laptops come preloaded with nonessential software that can slow down the operating system.
Best Deals on Asus Laptops
ASUS ZenBook 14 Ultra-Slim Laptop 14" FHD Display, AMD Ryzen 7

16 GB RAM -1 TB SSD, NumberPad

Radeon Vega 7 Graphics - Windows 11 Pro

ASUS Vivobook Flagship 14" FHD IPS Display, Intel Core i5 (Up to 4.4 GHz)

16GB RAM -512GB PCIe NVMe M.2 SSD - Fingerprint Reader

Ultra thin design - Windows 11

Most Popular - Highly Rated - High Selling

ASUS TUF Gaming F15 Gaming Laptop, 15.6", FHD Display, Intel Core i5, Graphite Black

8GB RAM -512 GB SSD, 144Hz Refresh Rate, Wi-Fi 6

NVIDIA GeForce RTX 2050 - Windows 11
Pros and Cons of HP Laptops
HP laptops are also known for having some advantages and disadvantages:
Pros
Wide variety of options: Like Asus, HP offers numerous laptop series, geared towards diverse user requirements.
Reliable performance: High performance goes hand in hand with HP laptops. They deliver enough processing power for multitasking efficiently.
Robust and solid build quality: HP laptops stand out for their rugged construction, guaranteeing durability and longevity.
Superb customer support: HP has a reputation for responsive and steady customer service, so issues are resolved much more efficiently. easier to resolve any issues that may arise.
Cons
Higher cost: Relative to Asus, HP laptops come with a higher price tag, especially for laptops with premium features.
Average battery life: Although HP laptops have satisfactory battery life, competitors that incorporate long-lasting batteries in their laptops come out ahead.
Best Deals on HP Laptop
HP 14" IPS FHD Display Laptop, Intel Quad-Core Processor Up to 3.7GHz

16GB RAM -1TB SSD - Backlit Keyboard - Type-C Fast Charging

Microsoft 365 1 Year Subscription - Windows 11

Highly Rated - Amazon's Choice

HP Newest Pavilion 15.6" HD Touchscreen, Intel Core Processor up to 4.1GHz

16GB RAM -1TB PCIe NVMe M.2 SSD - Fingerprint Reader

Anti-Glare Screen - Long Battery Life - Windows 11 - Type-C Charging

Most Popular - Highly Rated - High Selling

2022 HP ENVY x360, 15.6" FHD Touchscreen Laptop, Intel Core i5, Webcam, Windows 11, Silver,

16GB RAM - 512 GB SSD - 2-in-1 Laptop

Backlit Keyboard - 32GB SnowBell USB Card - Windows 11
The Difference in Performance (CPU, RAM, and Graphics)
For maximum processing power, Asus and HP laptops both feature a variety of processors like those from Intel and AMD. Let's have a look at the most commonly available processors in laptops from each brand.
Asus Performance:
You will find Asus laptops have a wide range of processors. These include the Intel Core series, with its i5, i7, and i9 variants. as well as AMD Ryzen processors. These CPUs come with various numbers of cores and threads to aid multitasking and performance efficiency. Asus ROG laptops for high-end gaming come equipped with dedicated graphics cards for improved gaming or graphics-heavy tasks. Real-life laptop performance tests demonstrate that Asus laptops have impressive handling of demanding programs for a smooth user experience.
HP Performance:
Similarly, HP laptops also offer a range of Intel Core processors, including i5, i7, and i9 variants, along with AMD Ryzen options. As HP laptops typically cater to diverse performance needs, processors vary in power. The more expensive cutting-edge laptops come fitted with dedicated graphics cards from noteworthy brands like NVIDIA. With higher-end internals, you get better graphics rendering and thus a better overall gaming experience. To sum it up, look at HP laptops for reliable performance and efficient computing.
The Difference in Design and Durability
When it comes to design and durability, both Asus and HP laptops for various audiences have their unique qualities.
Asus Design and Durability:
Asus generally designs its laptops with close attention to detail. They are often noted for their sleek elegance. They feature lightweight modern aesthetics in a variety of colors and finishes. This allows users to choose colors reflecting their personality. When it comes to build quality Asus laptops typically feature sturdy construction with high-quality materials for durability.
HP Design and Durability:
HP laptops tend to focus on functional design. Although not as minimalist as Asus designs, HP laptops exude professionalism. They usually go for a more conservative design language, which prioritizes functionality over frills and fuss. HP laptops are known for their tough build quality and ability to withstand the stress of everyday use.
Read: Asus vs Dell: Which Laptop Brand Should Be Your Choice?
The Difference in Display Quality
Display quality is an essential factor when choosing a laptop. Let's compare the display options provided by Asus and HP.
Asus Display Quality:
Asus laptops offer a wide range of display options, such as Full HD (FHD), Ultra HD (UHD), and the more attractive 4K displays. These screens feature bright colors, superb sharpness, and crisp visuals. Notably, Asus laptops of some series boast high refresh rates, reduced motion blur, and smoother visuals. Some models also go the extra mile. They include anti-glare and anti-blue light technology, lowering eye strain from extensive use. This is especially important for even an ordinary business laptop for comfortable use.
HP Display Quality:
Like the Asus laptops, HP laptops offer various display features. These range from HD to FHD and UHD. While not as prominently featured in the 4K market as Asus, HP laptops deliver high-quality displays with precise color reproduction and sharp visuals. Some HP laptops go further with the addition of anti-glare, which increases screen visibility by reducing glare. However, HP laptops are reportedly less consistent with motion handling and refresh rates and motion compared to Asus.
Asus vs HP laptops: The Difference in Sound Quality
Sound quality is an essential aspect of the overall multimedia experience on a laptop.
Asus Sound Quality:
When it comes to sound, Asus laptops incorporate a high-quality sound system for an immersive audio experience. They deliver clear, rich audio by using sound enhancements like SonicMaster. Thus, you can rely on Asus laptops for producing clear, balanced audio through various frequencies for work and entertainment.
HP Sound Quality:
Sound quality is definitely a priority for HP! HP manufactures premium sound systems in its laptops. HP laptops may come with features for sound optimization, like Bang & Olufsen for best audio quality. These audio systems deliver an immersive experience across different genres and types of media.
Asus vs HP laptops: The Difference in Customer Service and Warranty
When you are buying a laptop, always take note of the warranty and customer service for any support you may need after the purchase. Both brands provide contact through email, phone, social media, and online chat. This allows users to resolve any possible issues that can come up.
HP is known for its swift and effective customer support that addresses all user's queries with competence. Although Asus has lots of customer service options, they are reportedly not so effective when it comes to responsiveness and problem resolutions.
Both Asus and HP include limited warranties on their devices. The warranty conditions vary with the region and model of the laptop. It is wise to look up warranty details on the official Asus and HP websites before making your purchase.
Asus or HP: The Difference in Battery Performance
Battery life is a very important factor to consider before making a laptop purchase. This is especially important for users on the move needing to work uninterrupted on a single charge.
Asus Battery Performance:
The battery life in Asus laptops varies with the lineup and specific models. Generally, Asus laptops are designed with pretty good battery life. They are capable of lasting for some hours with light to moderate use. However, as the battery capacity is different from one model to another, resource-intensive processors consume battery life faster. High-end laptops for gaming and applications also use up a lot of battery. Generally, Asus uses powerful batteries in its laptops.
HP Battery Performance:
HP laptops are optimized to make the most of their battery without needing to charge continuously. Thus, users can go on with routine computing tasks without worrying about charging too much. Still, the battery life in HP and Asus laptops varies with that particular model and the intensity of usage. A business laptop or gaming laptop typically has a larger battery capacity.
The Difference in Price
When it comes to price, both Asus and HP have lower and higher-end models for any kind of budget. You get value for your money, Asus laptops appear more competitive. However, HP laptops tend to have a heftier price tag, especially for laptops with beefier internals. Still, the cost may vary with price fluctuations and promotions.
Asus or HP: Who Is the Winner?
Keeping all the aforementioned factors in mind, it is difficult to say that one is better than the other. There are pros and cons for both Asus and HP. They regularly release different laptops geared to all kinds of users.
Asus is slightly better for users with a smaller budget. Asus provides more affordable options combined with steady performance and useful features.
Frequently Asked Questions (FAQs)
Which Brand of Laptop Is Best, HP or Asus?
Asus is slightly better than HP. Asus laptops provide the same performance and elegance as HP at lower prices. Both brands offer a wide range of laptop options and perform reliably. Before buying, keep factors like your required specifications, design type, and of course budget in mind. The best laptop depends on the one configured to your needs.
Which Laptop Brand Has Better Display Quality, Asus or HP?
The basic display quality is quite good in Asus and HP laptops. However, it does depend on how high-end the hardware is so the quality varies slightly. Asus provides vivid colors and crisp visuals, with features such as high refresh rates and 4K displays. Likewise, HP also offers decent screen quality, with clarity and precise color reproduction. However, their laptops may not feature high refresh rates as often as Asus does.
Which HP Laptop Series Is Famous for Gaming?
HP does have a line of gaming laptops. The HP Omen is popular and sticks out as the better choice for gamers. The Omen series comes with high-powered processors, generous RAM, and superior dedicated graphics cards, for a premium gaming experience.
Which Asus Laptop Series Is Suitable for Creators?
Asus ZenBook laptops are known for their reliability among professionals and creators. The ZenBook series offers excellent performance, better build quality, and full-featured displays. This makes them ideal for creative tasks like content creation, graphic design, and video editing.