Dell vs Lenovo (2023): Which Laptop Brand Should Be Your Choice?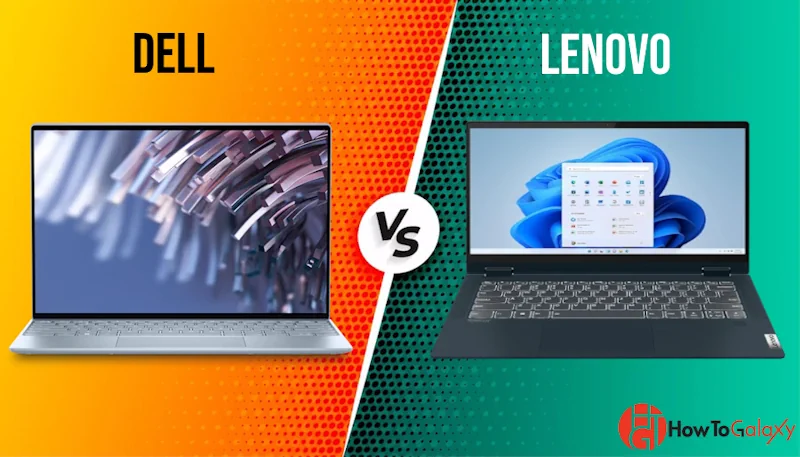 Dell and Lenovo are two trailblazers in the laptop industry. Wherever you go, they are a familiar name. They both have a solid track record for producing high-quality gadgets geared towards a variety of user requirements and budgets. With their reliable, robust laptops, they have worked their way into becoming leading computer manufacturers. But the question still stands: Which company really excels at giving customers the best possible computer experience?
We recognize that deciding between Dell and Lenovo can be difficult. Finding a brand that can meet your specific needs from stylish ultrabooks to powerful gaming laptops is challenging due to their wide range of products. To help you make the correct choice, we examine the main differences between these two powerful laptops in this article. So if you need a new laptop, read on and take notes!
Overview of Lenovo Laptops
Lenovo laptops have established themselves by offering a wide range of laptops on the market. Lenovo laptops are the most popular laptops worldwide, with a 24% market share in 2023. This brand, which commands a sizeable 20% of the market, maintains up with the quickly shifting market trends.
Pros:
A wide range of choices
Affordable models
Dependable performance
Cons:
Poorly rated customer support
Pre-installed bloatware in some devices
Best Deals on Lenovo Laptops
Best Overall - Amazon's Choice

Lenovo ThinkPad X1 Carbon Intel Core i7-1165G7, FHD Display

16GB RAM - 512GB NVMe SSD - 100% sRGB-Display

Backlit Keyboard - Fingerprint Reader - Windows 10 Pro

Best For Students and Businesses

Lenovo Flex 5i 15.6" FHD Touch Screen Laptop, Intel Core i5-1135G7 Processor

8GB RAM - 256GB SSD - Fingerprint Reader

Stylus Pen - Bluetooth 5.1 - Backlit Keyboard - Windows 11

Best For Budget Gamers - Popular

Lenovo IdeaPad Gaming 3 15.6" FHD, AMD Ryzen 5 6600H Processor

8GB RAM - 256GB SSD - 120Hz Refresh Rate

NVIDIA GeForce RTX 3050 - Antiglare Screen - Windows 11

Lenovo Legion 5 Gaming, 15.6" FHD Display, AMD Ryzen 7 5800H

16GB RAM - 512GB SSD - GeForce RTX 3070 Ti

NVIDIA GeForce RTX 3050Ti - Wi-Fi 6E- Windows 10
Overview of Dell Laptops
A significant leader in the laptop industry, Dell offers a wide variety of products that cater to all computing purposes. With a 17.4% market share for laptops, this popular brand has cemented its place among the top laptop producers.
With our expertise, we can help you understand the key specifications of Dell laptops. Here are a few benefits and drawbacks to consider:
Pros:
Wide range of models: Dell laptops are suitable for a range of users, including high-end gamers and consumers on a smaller budget.
Reliable build quality: The company is renowned for producing equipment that lasts a very long time.
Cons:
Occasional bloatware: Unnecessary software that comes pre-installed on some Dell computers might result in performance issues.
Price variations: Despite having a wide range of options, certain Dell models can be on the expensive side.
Best Deals on Dell Laptops
Dell XPS 15, 15" FHD+ Display, Intel Core i7 10th Generation

16 GB RAM - 512 GB SSD - Quad Speaker - Carbon Fiber palm Rest

Nvidia GeForce GTX 1650 Ti 4GB GDDR6 - Windows 10 Home

Dell Inspiron 15 Laptop, 15.6" HD Display, Intel Celeron N4020 Processor

16 GB RAM, 1 TB SSD - Webcam - HDMI

Wi-Fi - Bluetooth - Windows 11 Home

Dell Alienware Gaming Laptops Best Deals

16-32 GB RAM - Up to 1 TB SSD - 240-360 Hz refresh rate -NVIDIA GeForce RTX up to 3080

Windows 11 - Backlit Keyboard - Advanced cooling system

Dell Latitude 3520 Business Laptop, 15.6''FHD IPS Display, Intel Core i7

32 GB RAM - 1 TB SSD - HDMI

Windows 10 Pro - USB-C, WiFi 6, Webcam
Dell vs Lenovo: What's the Difference?
The pricing is the primary difference between the two laptop brands. Even though Lenovo and Dell laptops have nearly identical features and performance, Dell laptops are typically more expensive. The lower price tag of Lenovo laptops appeals to many users.
Design and Build Quality
Functionality and aesthetics go a long way in attracting users to Dell and Lenovo laptops. Do you like your laptops with an industrial, business-oriented design or a sleek and contemporary build? Keeping that in mind, let's get into the specifics!
Dell laptops have distinguished and sleek designs. They often come with silver, dark gray, or black finishes for a classy look. For instance, Dell's XPS series features a silver metal chassis that not only adds to its slick appearance but also makes it lighter. Their interiors are made of carbon fiber, which adds another level of toughness to their construction.
In contrast, the ThinkPad series from Lenovo primarily caters to the corporate world. They typically have a sleek, black exterior and a matte black finish for a businesslike aesthetic.
Both manufacturers work hard to create reliable and long-lasting laptops. Many Dell laptop models incorporate plastic or aluminum frames for light build. Likewise, Lenovo uses robust materials like magnesium alloy and carbon fiber in their laptops to ensure that they can resist the wear and tear of regular use. In terms of design and elegance, Dell laptops take the lead while Lenovo laptops are more durable and long-lasting.
Lenovo vs Dell: Performance Comparison
Processor
Both Dell and Lenovo laptops come with a variety of processor options to meet different demands. Intel processors, including the Core i5, Core i5 vPro, Celeron, and Core i9, are available in a variety of configurations. Some variants also come with AMD Ryzen processors, giving gamers more power and performance options.
The computing experience depends on your laptop usage and the processor you opt for. In general, higher-end CPUs like the AMD Ryzen 7 or 9 series or the Intel Core i7 offer more fluid multitasking and quicker processing times for resource-heavy applications and games. They are therefore perfect for customers who need high-performance laptops for tasks like gaming, graphic design, video editing, or intensive data processing.
RAM and GPU
Both Dell and Lenovo offer laptops with different RAM sizes ranging from 8 to 32 GB. Furthermore, consumers have a variety of graphics card alternatives to choose from, including integrated options like Intel Iris Xe and discrete GPUs like the Nvidia GeForce RTX 4080 and AMD Radeon Graphics cards.
Your laptop's overall performance depends on the RAM and GPU configuration, especially when running 3D rendering, video editing, or gaming applications. More RAM allows for greater multitasking and quicker response times, while a strong GPU can easily handle graphically demanding programs. Therefore, always choose RAM and GPU according to your purpose when selecting laptops from Dell or Lenovo so you have adequate processing power.
Display Quality and Characteristics
In terms of display quality, both Dell and Lenovo offer laptops with unique specifications for every kind of computer user.
Strong features for high-quality display are available with Dell laptops. They offer 2K to 4K OLED panels for superb color accuracy and intense black levels. High Dynamic Range (HDR) technology improves the overall quality of the image, creating more lifelike and immersive graphics. High refresh rates and frame rates are also supported by Dell laptop screens, providing a lag-free gaming experience.
Lenovo's screens, on the other hand, attract users with intuitive designs and appealing price tags. While some devices offer 4K resolution, overall usefulness and price are more important. Even though Lenovo's panels don't have the same OLED quality as Dell's laptops, they offer comfortable viewing for routine tasks and light gaming.
Security Features
An important aspect of any laptop worth its salt is the security it offers. We understand the importance of data safety and privacy, so here are some notable features that both Dell and Lenovo have incorporated into their devices.
We'll start by taking a look at Dell's Latitude line. These laptops are designed for business users and prioritize security. Managing your preferred security measures is provided by technologies like TPM chips for hardware-based encryption, embedded fingerprint readers for secure login, and programmable BIOS settings.
Next is Lenovo's ThinkPad series. These laptops offer a comprehensive range of security features and are also made with business users in mind. TPM chips, built-in biometric fingerprint scanners, IR cameras for facial recognition login, and more can be found among them.
An important feature in selected Lenovo laptops is the SSD encrypted with Opal Storage Specification, which serves as a line of defense against unwanted data access. If you require additional security measures to safeguard your sensitive data, this feature is a plus.
Gaming Performance
Both Dell and Lenovo have some amazing options for gaming laptops. Let's explore their gaming lineups and compare them to one another.
Dell's Gaming G series offers powerful laptops like the Dell G15, designed to provide fantastic gaming. For both casual and dedicated gamers, these devices often come equipped with cutting-edge graphics cards and powerful processors for smooth gameplay and graphics. Hard-core gamers will appreciate the premium gaming Alienware series from Dell.
The Legion lineup from Lenovo features products like the Legion 5i and the Legion 7. Both offer an excellent compromise between performance and design. These laptops appeal to every sort of gamer and include cutting-edge hardware for a dynamic and immersive experience.
With how much both brands have invested in improving the performance of their products, what visual and processing features can users expect? Modern GPUs like the RTX 4070 Ti and powerful Intel processors like the Core i7 and i9 are frequently found in Dell Gaming G and Lenovo Legion laptops for high-powered gaming sessions.
Both the Dell Alienware and Lenovo Legion are high-end gaming series. Although Alienware outperforms Legion overall, many gamers find the pricing too high for their liking. If you want a balance between price and performance, Lenovo Legion comes ahead of Alienware.
Battery Performance
Let's look at what Lenovo and Dell have to offer in terms of battery life. There are some Lenovo and Dell models that definitely stand out when it comes to battery life. For instance, the battery performance of the Dell Latitude 7430 and the Lenovo ThinkPad X1 Carbon is known for its long-lasting reliability.
The Lenovo ThinkPad, Yoga, and Ideapad laptops typically come with a choice of battery capacities so you can match a laptop to your unique requirements. On the other hand, Dell computers have strong batteries that can last you all day, like the XPS 13.
However, battery life is also based on your usage. Do you intend to play games, browse the web, or watch videos? The battery life and performance of your Dell or Lenovo laptop will be affected by how resource-heavy your usage is. Overall, Lenovo laptops have better battery life than Dell.
Pricing Evaluation
Price is a key deciding factor when you're looking for a laptop to buy. Let's examine the cost of laptops from Dell and Lenovo in more detail.
The laptop selection from Dell is quite varied, with many different models available to suit different price ranges. Their entry-level Inspiron series starts at a reasonable $300 and is a great choice for buyers on a tighter budget. However, their premium XPS series, which can cost up to $2,000, provides top-notch performance and intuitive design for users. An example is the Dell XPS 13.
Like Dell, Lenovo has a wide range of laptops to choose from. The IdeaPad series is one of their affordable options, with prices starting at under $200. It's definitely one of the more budget-friendly options for people looking for a low-cost laptop. Lenovo's ThinkPad range, however, can cost up to $1,500 for professionals and business users seeking improved performance and an elegant design.
In the battle of affordable laptops, Lenovo comes out ahead of Dell by a big margin.
Lenovo and Dell: Best Laptop Brand Depending on Use
Gaming
Gaming enthusiasts will rejoice at Dell and Lenovo's gaming laptop options. Alienware is a gaming-focused series of Dell. It delivers powerful laptops with top-notch performance, like the Alienware M15. In contrast, Lenovo's Legion line, which includes the Legion 5i, offers superb gaming experiences thanks to its top-tier specifications. These laptops' powerful graphics cards and processing make them excellent at delivering fluid gameplay. Depending on your preferences for design, performance, and cost, you can choose the one that best suits you.
Business
Looking for a trustworthy business laptop? For corporate users, Dell's Latitude line, which includes the Dell Latitude 7400, offers a selection of laptops designed for dependability, security, and top performance. Lenovo's ThinkPad series, which includes laptops like the X1 Carbon, is made with professionals in mind. So you can expect the most dependable hardware to enhance your productivity. Both companies provide fantastic alternatives for business customers, allowing you to customize your tablet to meet your unique requirements. Dell has more variety in its business laptops and offers better features.
Everyday Use
Both Dell and Lenovo provide affordable solutions for casual consumers looking for laptops for daily use. Students, home office users, or people who browse the web and stream media can all find a device from Dell's Inspiron series or Lenovo's IdeaPad lineup that meets their demands. Both Lenovo's C340 series and Dell's 3100 Chromebook series are portable and reasonably priced solutions for simple jobs like word processing or online browsing. Lenovo takes the lead here with more affordable options.
Creative Use
Graphic designers, video editors, and 3D animators need powerful tools that are specially designed to meet their specific needs. Among the best laptops for these jobs are the Dell XPS and ENVY series, in particular the Dell XPS 13. With its top-of-the-line specifications, Lenovo's P-series workstation laptops, including the P1, also deliver outstanding performance. These provide users with the tools needed for your creative work, including magnificent screens, powerful graphics cards, and other essential features. Both Lenovo and Dell offer powerful machines for creative work but again Lenovo takes the lead with more affordable prices.
Customer Support
Both Dell and Lenovo provide a range of choices for customer assistance to help users with any possible laptop-related issues.
The variety of support options offered by Dell includes live chat, phone, and social media platforms. Their support team is very competent, and their reaction speed is amazing.
Likewise, Lenovo also provides support over the phone, live chat, and social media. Their reaction time isn't always the fastest, compared to Dell.
Let's discuss warranties! Depending on the device, both Dell and Lenovo provide a variety of warranty packages with opportunities to extend coverage. On laptops, they often provide a 1-year warranty. To choose the appropriate warranty for your needs, it is critical to thoroughly analyze the terms and conditions for your individual laptop model.
Dell or Lenovo: Concluding Thoughts on the Better Option
We have investigated a variety of factors, including design, performance, durability, and customer service, in our quest to compare laptops from Dell and Lenovo. To sum it up, each brand has its advantages and disadvantages. It is clear that both have established themselves in the laptop market, but which one should you pick?
If you are looking for elegant designs and a modern aesthetic, the Dell laptops should be your alley. These laptops are renowned for their superb craftsmanship and powerful features, which make them perfect for creative professions.
Lenovo's ThinkPad line, on the other hand, features tough designs and great hardware options. Additionally, Lenovo laptops are less apt to overheat in comparison to Dell when performing long or load-intensive tasks. Moreover, they provide the same performance as Dell but cost quite less which is a big plus for Lenovo.
Frequently Asked Questions (FAQs)
Is Dell Better than Lenovo?
While Dell offers a wide variety of laptop solutions for many types of people, Lenovo laptops have a more robust build quality. Before choosing, take into account the unique qualities of each brand's laptops.
Which Laptop Has Better Performance, Dell's Inspiron or Lenovo's Ideapad?
Depending on the model and configuration, both the Dell Inspiron and Lenovo IdeaPad series provide laptops with differing performance levels. Generally, Lenovo IdeaPad provides a smoother experience than Inspiron.
Which Is More Durable Dell or Lenovo?
Overall, Lenovo laptops tend to outlast Dell computers by a small margin. Remember that different models can have different build quality. While the ThinkPad line from Lenovo is renowned for its durable and sturdy design, some Dell laptops are famed for their premium metal design.
Are Dell or Lenovo Laptops More Suitable for Engineering Students?
Both companies sell laptops that are perfect for engineering students. Due to their capabilities for heavy-duty performance, the Dell XPS and Lenovo ThinkPad series are particularly well-liked among professionals and engineering students.
How Do Workstation Offerings From Dell Compare to Those From Lenovo?
The Precision series of workstations from Dell is known for its superb performance, robust build, and dependability. Comparatively, Lenovo's ThinkStation and ThinkPad P series are also popular for their solid performance. Due to its excellent performance, Dell has an advantage here.