Asus vs Lenovo (2023): Which Laptop Brand Is Better?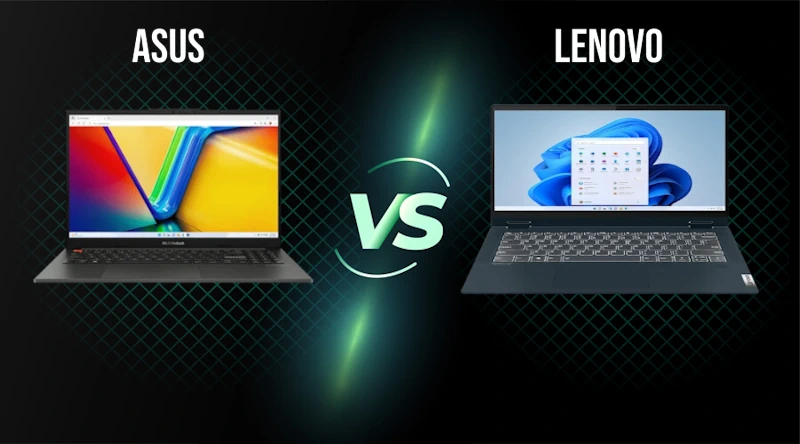 Every laptop enthusiast's dream is to get into the nitty-gritty details of the laptops and the brands producing them. Asus and Lenovo are two brands that have established themselves in the market with quality hardware and design aesthetics. Asus is a Taiwanese tech giant, while Lenovo was founded in Beijing, China. They manufacture laptop models geared towards a wide variety of users, making it interesting to determine which brand is better.
If you are looking to buy from either brand, you may wonder about the features of Lenovo and Asus laptops. Choosing between Asus and Lenovo might feel difficult at first, but don't worry! With this article, we will compare the differences and consider the common ground between these popular brands to help you choose the right one.
Asus Laptops: An Overview
Asus laptops impress many users, especially with their high-end models. The ZenBook, StudioBook, and VivoBook series dominate with their premium specifications. Among these, the Asus ZenBook 13 is an example of combining minimalist lightweight design with efficient computing for professionals. For gamers, the ROG Zephyrus G15 and S15 impress with high-powered hardware and elegance. Similarly, the Asus VivoBook 15 delivers a great performance balanced with affordability. Thus, whether you are a content creator, a gaming enthusiast, or simply want a reliable machine, Asus is the clear brand of choice.
Lenovo Laptops: An Overview
When it comes to laptops, Lenovo is the largest seller in the world. It covers every type of laptop user by offering all sorts of laptops. Its transforming Lenovo Yoga series is a sleek ultraportable line of laptops that convert into tablets. Legion series, like the Lenovo Legion 5, serves gamers with a smooth performance for gaming. For day-to-day use, the Lenovo Ideapad 3 delivers affordability and all the features necessary for basic computing.
In terms of business laptops, Lenovo is known for its reliable ThinkPad series. They are popular due to their solid build and efficient hardware for professionals on the move. The Lenovo ThinkPad X1 Carbon offers lag-free computing wrapped up in an elegant aesthetic.
To sum it up, Lenovo has a laptop for everyone, whether for work, gaming, or everyday activities.
Asus vs Lenovo: Analyzing Performance
Gaming Performance
For gaming, Asus and Lenovo both have strong attributes. Asus stands out with its TUF and ROG gaming series. These series deliver workhorses of gaming laptops, with high-powered GPUs like the Nvidia GeForce RTX 2080. With Asus's powerful machines like the Asus Zephyrus laptops, gamers can play popular titles like Overwatch and Call of Duty: Warzone at high refresh rates. The Asus Zephyrus laptops also feature different high-resolution display sizes with QHD for maximum immersion in gaming.
Not one to be left behind, Lenovo's Legion 5 series also offers next-level gaming. Like Asus, Lenovo laptops are also innovating with the latest AMD Ryzen chips and graphics cards such as the GeForce RTX 4080. In the long run, the quality of your gaming experience is as good as the specifications you choose.
Best Deals on Asus Laptops
ASUS ZenBook 14 Ultra-Slim Laptop 14" FHD Display, AMD Ryzen 7

16 GB RAM -1 TB SSD, NumberPad

Radeon Vega 7 Graphics - Windows 11 Pro

ASUS Vivobook Flagship 14" FHD IPS Display, Intel Core i5 (Up to 4.4 GHz)

16GB RAM -512GB PCIe NVMe M.2 SSD - Fingerprint Reader

Ultra thin design - Windows 11

Most Popular - Highly Rated - High Selling

ASUS TUF Gaming F15 Gaming Laptop, 15.6", FHD Display, Intel Core i5, Graphite Black

8GB RAM -512 GB SSD, 144Hz Refresh Rate, Wi-Fi 6

NVIDIA GeForce RTX 2050 - Windows 11
Business and Basic Tasks
Lenovo's ThinkPad series shines when it comes to business and casual use. The ThinkPad series is known for its affordable and reliable laptops. These models run the trusty Intel Core i5 or i7 processors, so you can breathe a sigh of relief buying one for your business. You can be sure that your work and home tasks will run without a hitch on a ThinkPad.
Asus takes a backseat in this department, but it also offers the Expertbook and Zenbook series for business users. One such is the Asus expertbook b9450. These come with a rugged build, long battery life, and portability. However, aThinkPad's reputation as a laptop that will last and perform excellently makes it a popular work computer choice.
Creative Applications
When it comes to creativity, Asus has some stellar options for both professional and casual content creators. Its ProArt Studiobook laptops can easily handle resource-heavy applications such as SketchUp, Adobe Photoshop, and Illustrator. Additionally, most Asus models have dedicated GPUs for improved graphics experience. Lenovo also offers laptops for creators. However, Asus models geared toward the content creation workflow are more convenient.
Comparative Analysis
Both Asus and Lenovo manufacture versatile laptops with diverse features. While the computing basics are similar, most models cater to specific categories of users. Asus is a strong choice for gamers and creative professionals, while Lenovo excels in the business and 2-in-1 convertible laptop sphere.
Gaming: Asus (with TUF and ROG series)
Business and Basic Tasks: Lenovo (with ThinkPad series)
Students and daily Users: Lenovo
Creative Applications: Asus
Ultimately, your choice should be based on your personal preference and requirements for specific tasks.
Best Deals on Lenovo Laptops
Best Overall - Amazon's Choice

Lenovo ThinkPad X1 Carbon Intel Core i7-1165G7, FHD Display

16GB RAM - 512GB NVMe SSD - 100% sRGB-Display

Backlit Keyboard - Fingerprint Reader - Windows 10 Pro

Best For Students and Businesses

Lenovo Flex 5i 15.6" FHD Touch Screen Laptop, Intel Core i5-1135G7 Processor

8GB RAM - 256GB SSD - Fingerprint Reader

Stylus Pen - Bluetooth 5.1 - Backlit Keyboard - Windows 11

Best For Budget Gamers - Popular

Lenovo IdeaPad Gaming 3 15.6" FHD, AMD Ryzen 5 6600H Processor

8GB RAM - 256GB SSD - 120Hz Refresh Rate

NVIDIA GeForce RTX 3050 - Antiglare Screen - Windows 11

Lenovo Legion 5 Gaming, 15.6" FHD Display, AMD Ryzen 7 5800H

16GB RAM - 512GB SSD - GeForce RTX 3070 Ti

NVIDIA GeForce RTX 3050Ti - Wi-Fi 6E- Windows 10
Asus vs Lenovo: Discussing Design, Durability, and Build Quality
Aesthetic Appeal
Looking at these brands, it's clear that both Lenovo and Asus refreshed their laptop designs for a modern appeal. You can find Asus models in a variety of colors, such as black, silver, or gold. Some consumer-geared models come in more color options. Finishes come in either glossy or matte, while brushed aluminum completes the look. Lenovo tends to stay with the classic black or silver. Weight varies between models and both Asus and Lenovo laptops are lightweight. If aesthetics is your priority, go for Asus laptops.
Sturdiness and Durability
Build quality determines how long your laptop holds up over extended periods of use. Lenovo and Asus provide solidly made laptops constructed from durable materials. Asus laptops look and feel premium with their aluminum builds, which also add sturdiness to their design. Similarly, Lenovo is known for building robust machines made with carbon fiber, magnesium alloy, or aluminum and capable of surviving long-term usage.
Nevertheless, build quality may vary across certain models in both brands. Some higher-end models may use better-quality materials for a more premium experience. Others may swap materials for a lighter feel. Overall, Lenovo laptops take the lead there with more robust build quality.
Price and Value for Money
When comparing the better brand for your type of laptop, consider all suitable options from both Asus and Lenovo. Asus offers the ZenBook 14 UX433 for lower budgets, priced at around $1398. Lenovo also has several affordable models in its IdeaPad and Lenovo Essential series.
Pricier models from both brands are available, but decide what specs you want first. Are you searching for a cutting-edge processor for editing videos or gaming? Perhaps you cannot do without a high-resolution display at work. While evaluating laptops, keep these elements in mind for a laptop true to your preferences. Lenovo also takes the lead with slightly more affordable laptops.
Additional Features
Display Quality
The quality of the display is important to consider when comparing laptops. Both brands provide laptop variants with splendid screen resolutions, such as 720 and 1080p displays. The IPS screens and OLED panels on some of their laptops make for an impressive experience with vivid and clear visuals. Gaming laptops, like the Asus Zephyrus from the Asus ROG series, feature higher resolutions and refresh rates. There are also some innovative display options, such as the dual display in the Asus double-screen Zenbook. Asus laptops are slightly better in display quality and features than Lenovo.
Battery Life
Battery life is very important, especially if you are on the move regularly. From my experience, Asus and Lenovo laptops both have adequate battery life. Many models allow for light work and play without needing to charge your laptop for a long time. This makes them suitable for professionals and students who require a dependable device for routine tasks. I found Lenovo laptops taking the lead here. Even the 41 Wh battery from Lenovo can last 6-8 hours of resource-intensive internet browsing with 50 tabs open.
Audio Experience
Audio is significant in adding to the overall experience of using a laptop. The typical laptops have built-in speakers that promise a satisfactory audio experience. Of course, higher-end laptops come with premium speakers and clearer sound. Both brands work on delivering quality performance for an immersive sound experience. Asus laptops take a slight edge in overall audio quality.
Storage and Memory
When you need a laptop, you have to go over memory and storage options that fit your needs. Lenovo and Asus have an assortment of laptop variants with 16GB or 32GB RAM, and storage from 512GB SSD to 1TB or more. You can build a budget laptop or a high-end laptop. With these options, you make sure your device performs smoothly and has enough storage for your operating system, applications, and files.
Customization Options
The best laptop is the one you make. The more you configure your laptop according to your requirements, the more you get out of it. Both brands have several series of laptops. Each series goes further and provides options for storage, RAM, graphics, and more. This allows buyers to choose the specs that suit them best. Both brands offer customization options so there is a tie here.
Unique Features
The competitiveness of the laptop market means innovative features help products stand out. Asus and Lenovo both bring unique features like 2-in-1 laptops, touchscreens, stylus support, and ultraportable tablets. Furthermore, they introduce state-of-the-art technology such as fingerprint scanners, advanced thermal cooling solutions, OLED displays, rapid battery charging, Dolby Atmos® speakers, and more. These innovations show their dedication to delivering outstanding customer service while trailblazing in the laptop industry.
Customer Support and Warranty
In terms of customer support, Lenovo checks all the boxes. Its excellent customer support takes in all concerns and makes sure users have a positive experience. A good customer support experience is important when opting for one brand or the other.
Asus users have several options to get in touch with company representatives. Asus uses Twitter and Facebook, plus offers chat support for technical issues as well. Although its service is decent, it is less comprehensive than Lenovo's.
Asus and Lenovo both generally include a standard limited one-year laptop warranty. This typically encompasses defects in hardware. In any case, double-check both brands' terms and conditions for ease of mind. Remember, a reliable warranty means long-term satisfaction with your purchase!
Conclusion: Which Laptop Brand is Better? Lenovo or Asus?
We understand choosing between Lenovo and Asus depends on how you use your laptop. Gamers may like the Asus ROG series or the Lenovo Legion series. These high-end gaming laptops incorporate AMD Ryzen chips, and Nvidia GeForce GPUs, while their displays feature high refresh rates for the best experience.
On the other hand, you may simply want a laptop that can last. Asus might be the way for lighter use or Lenovo for college work. Perhaps you're looking for an affordable laptop for movies or a new work device. Both brands have lots of options, so it is personal which laptop is the best choice. In my opinion, the better build quality, better battery life, and affordable price range of Lenovo are something that should be preferred when buying a laptop.
Frequently Asked Questions (FAQs)
Which Asus or Lenovo Laptop Offers the Best Performance?
Speaking from experience, both Asus and Lenovo offer a wide range of models with first-rate performance. The Zenbook and Vivobook series from Asus are known for delivering exceptional gaming performance. On the other hand, Lenovo's affordable ThinkPad and Ideapad series surpasses many others in a professional capacity.
How Do Asus and Lenovo Gaming Laptops Compare?
Gaming enthusiasts find Asus's dedicated gaming laptops with better cooling mechanisms and powerful hardware in general. The ROG series offered by Asus has a wide range of laptops and gaming hardware. However, Lenovo isn't far behind. The Lenovo Legion gaming laptops also deliver an up-to-the-mark performance in gaming. However, compared to Asus, Lenovo is less competitive in the gaming market.
In Terms of Durability, Do Asus or Lenovo Laptops Excel?
When it comes to durability, Lenovo laptops take the cake. I have found Lenovo laptops more robust and reliable in use. Its ThinkPad series for professional users stands out in particular for its build quality. Asus also offers military-grade toughness in a few of its laptops but Lenovo offers the same toughness in every laptop series.
Which Brand, Asus or Lenovo, Has a Better Selection of Laptops for Various Needs?
For gaming, Asus has more variety like Asus TUf, ROG Zephyrus, ROG Strix, and ROG Flow. While Lenovo only has the Legion series and an Ideapad gaming laptop. For other usage, both brands offer laptop series that cater to different users. Lenovo has a slight edge with more variety of budget-friendly options.
How Do the Battery Lives of Asus and Lenovo Laptops Compare?
Compared to Lenovo, Asus laptops tend to have shorter battery life. Lenovo laptops typically promise longer battery life. Some even claim to last up to 15 hours on a single full charge. In contrast, Asus laptops last between 5 to 6 hours, with a discernable decline in the battery's capacity over the years.
Do Asus Laptops Last Long?
As I have used Asus laptops myself, I can attest to their sturdiness! But they are a little behind Lenovo when it comes to overall lifespan.