Asus Vivobook vs Zenbook: Which One Is Your Perfect Match In 2023?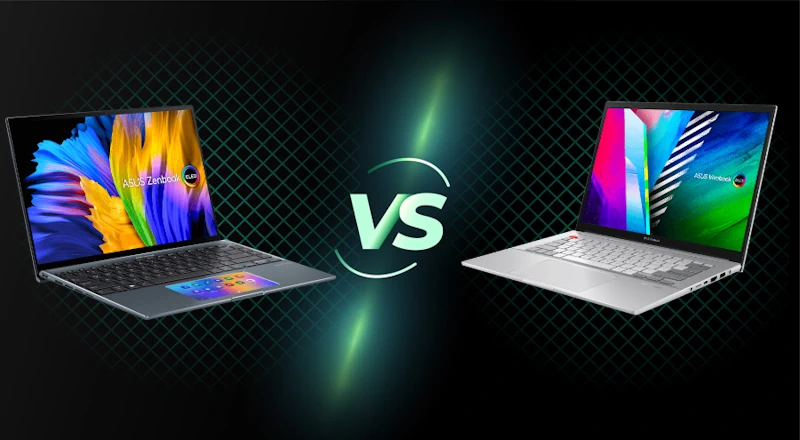 Asus has been nailing the laptop market with their laptops. Recently, I came across two popular Asus laptops: the Zenbook and the Vivobook. Their sleek designs and powerful hardware can capture anyone's attention. But which one truly stands out when it comes to fulfilling all our personal and professional needs?
But don't worry! By the end of the article, you can find out which laptop is better for you. With the laptop comparison, we will help you understand both series comprehensively before deciding which laptop to invest in.
About Asus Vivobook Laptops
Oh, the Asus Vivobook laptops! First introduced in 2011, these laptops are designed for the budget-conscious among us. You might wonder, "What's the main purpose of Vivobook?" Well, you're in luck! These affordable devices ensure you get all the necessary features at a lower price.
From casual browsing to office work and light gaming, Vivobook has you covered. Stay tuned, though – we'll move on to the Asus Zenbook line soon!
ASUS VivoBook 15 Laptop, 15.6" Full HD Display, Intel Core i3

12GB RAM - 512 GB SSD - UHD Graphics

USB Type-C - HDMI - Wi-Fi - Windows 11 Home

ASUS VivoBook Pro 16X OLED Slim Laptop, 16", AMD Ryzen 9

32 GB RAM - 1TB SSD - NVIDIA GeForce RTX 3050 Ti

4K 16:10 Display - Windows 11 Home
About Asus Zenbook Laptops
Launched in 2011, the Asus Zenbook laptops offer premium ultrabooks designed for the more discerning user. They offer users modern design and top-notch performance.
Asus Zenbook models are ideal for professional businessmen, graphics designers, video editors, programmers, and 3D animators. They share a balance between portability and performance.
ASUS Zenbook Pro 14 Duo 14.5" 16:10 Touch Display, Intel Core i9 NVIDIA Geforce RTX 4050

32 GB RAM - 1TB SSD - Wi-Fi 6 - ScreenPad Plus

Backlit Keyboard - Thunderbolt 4 - 120Hz Refresh Rate - Windows 11 Home

ASUS ZenBook 14 Ultra-Slim Laptop 14" FHD Display, AMD Ryzen 7

16 GB RAM -1 TB SSD, NumberPad

Radeon Vega 7 Graphics - Windows 11 Pro
Asus Vivobook vs. Zenbook: What's the Differences?
The main difference between the Asus Vivobook and Zenbook is their target audience and price. The Vivobook line aims to cater to the budget-friendly laptop segment. Whereas the Zenbook targets users who prefer more premium devices.
But what are the main differences in performance and design? Let's compare different aspects of both laptops, including specs comparison, performance, design & durability, display quality, pricing, and sound quality.
The Difference in Performance (Processor, RAM, and Graphics Card)
I thoroughly looked at a few models from both the VivoBook and Zenbook laptop lines to examine their performance differences in processing power (CPU), RAM, and graphics.
VivoBooks, being more budget-oriented, typically comes with various processors, ranging from Intel Core i3 to i7, and some models have AMD Ryzen processors. Most VivoBook models had 8GB or 16GB of RAM. As for graphics cards, the VivoBooks were mainly equipped with integrated Intel graphics. Some models i.e. Asus Vivobook Pro 14x OLED come with NVIDIA GeForce RTX 3050.
On the other hand, Zenbooks are positioned as more premium laptops. In the models I looked at, processors were consistently of higher tiers, such as the latest Intel Core i5, i7, or i9. Regarding RAM, Zenbooks offer similar options to the VivoBooks, with 8GB or 16GB being the most common choices. The graphics found in Zenbooks cover a broader spectrum, including both Intel-integrated graphics and more powerful dedicated NVIDIA GeForce GPUs.
Regarding raw performance, Zenbooks pack more punch, with higher-tier processors and better graphics cards. If you carry out light tasks and seek a more budget-friendly option, the VivoBook might be your best bet.
However, if you desire a laptop with better performance for more demanding tasks or better visuals, consider investing more in the Zenbook.
The Difference in Design and Build Quality
When choosing between the Vivobook and Zenbook, each laptop series's design and build quality plays a crucial role in the decision-making process.
Vivobook laptops have playful designs and come in various eye-catching colors. Most models share a gradient-color design with unconventional patterns, helping them stand out in a crowd. Asus Vivobook laptops come in 13, 14, and 15-inch screen sizes.
On the other hand, Zenbook takes a more classic approach with a sleek, minimalist design. Zenbooks usually come in 13-inch and 14-inch screen sizes in a narrower selection of colors, such as royal blue, pine grey, and lilac mist.
The material used for chassis construction differs between the two ranges. Vivobook laptops are generally made with a combination of plastic and metal to keep the cost down while maintaining a decent build quality.
Zenbook uses better quality materials like aluminum or magnesium alloy, making it a durable and lightweight laptop. The build quality of Zenbook is better than Vivobooks.
The Difference in Storage Capacity
Regarding storage capacity, the Vivobook and Zenbook offer various options to suit your needs. The minimum storage capacity starts at 256GB, and they're available with maximum capacities of up to 2TB. On average, most models in both series offer 512GB to 1TB of storage.
The Vivobook and Zenbook offer SSD (Solid State Drive) storage. SSDs are much faster and more reliable than traditional Hard Drives. Some models also offer NVMe SSDs, providing faster read and write speeds.
The Difference in Display Quality
The Asus Zenbook supports a higher-resolution display compared to the Vivobook. OLED and Ultra HD 4K (3840×2160) displays are common in the Zenbook lineups, while Vivobook usually comes with Full HD (1920×1080) displays with some models having OLED screens.
While both laptop series offer touchscreen models, it's more prevalent in the Zenbook line due to the premium nature of the series. Also, both lineups have 2-in-1 laptop models as well.
Zenbooks often come with brighter screens and better contrast ratios as they are equipped with high-quality IPS or OLED panels, ensuring accurate color representation and broader viewing angles. The Vivobook uses LED panels, which, while still decent, may need to catch up compared to the IPS displays found in their Zenbook counterparts.
The surface of the display also matters as it can affect the user experience. As for aspect ratio and screen-to-body ratio, Zenbook models tend to feature a 16:9 aspect ratio and slim bezels, resulting in an impressive 88% screen-to-body ratio. This design choice makes for an immersive viewing experience. The Vivobook series usually sticks to the same aspect ratio but may have slightly thicker bezels.
Both laptops offer anti-glare displays with a matte finish. But you'll find the Zenbook's matte finish works better in reducing reflections and improving outdoor readability.
If the display is your top priority, Zenbook models generally have a better display quality.
Speakers and Audio
Regarding speakers and audio quality, Vivobook and Zenbook offer impressive features to satisfy your listening needs.
The Vivobook lineup generally has decent speakers that provide clear audio output, suitable for casual listening and watching videos. Despite the decent sound clarity, it may not be able to deliver an immersive audio experience, mainly during bass-heavy music or movies.
On the other hand, the Asus Zenbook is known for its remarkable audio quality. Many come with Harman Kardon-certified speakers, ensuring top-notch sound clarity and a balanced audio profile. Some Zenbook models even feature Dolby Atmos technology, providing an immersive surround sound experience that takes your audio enjoyment to the next level.
Some Zenbook models even feature Dolby Atmos technology, taking the immersive sound experience to the next level.
Ports and Connectivity
When I look at the Vivobook and Zenbook, I find that both laptops have different connectivity options.
Starting with the VivoBook, it usually comes with a good range of ports. You'll get USB Type-C, HDMI, an SD card reader, and an Ethernet port. On the other hand, the ZenBook series often packs even more advanced connectivity features.
Let's talk USB Type-C: ZenBooks often come with more cutting-edge USB Type-C ports than VivoBooks. For example, the Zenbook 14 UX435 has two USB Type-C ports, while some VivoBooks may only have one.
VivoBook and Zenbook support fast Wi-Fi speeds and up-to-date Bluetooth connections for seamless communication with all your wireless devices.
One exciting aspect is the Thunderbolt capability of some ZenBooks. They provide ultra-fast data transfer speeds and can connect to multiple 4K displays.
The Difference in Scalability
You might ask, can I upgrade my laptop after purchasing it? Well, the answer varies for Vivobook and Zenbook.
Vivobook is usually budget-friendly, but Asus provides fewer customization options during purchasing. After purchase, upgrading depends on the specific model you choose. Often, RAM and storage upgrades are possible.
Zenbook is typically a premium alternative. It offers opportunities for customization during purchase, such as expandable RAM and storage.
The Difference in Price: Best Value for Money
When comparing the Vivobook and Zenbook, it's clear that the Vivobook is more budget-friendly. The Asus Vivobook series offers a range of affordable options. Prices for the Vivobook start at around $679, catering to people looking for a good deal on a great laptop.
On the other hand, the Zenbook has a higher starting price tag of $1,499, making it a premium option.
Keyboard and Touchpad
Both series come equipped with backlit keyboards, but Zenbooks often have a more comfortable essential travel and better tactile feedback than their Vivobook counterparts.
Asus VivoBooks usually have a standard, chiclet-style keyboard. The keys have minimal travel, but they're decently spaced and comfortable for typing.
The touchpads on both series provide a smooth tracking experience. You'll have access to all the useful multi-touch gestures. Some Zenbooks feature the innovative ScreenPad. It is an interactive secondary display that can function as a touchpad, numeric keypad, or app launcher.
The Difference in Battery Life
When it comes to battery performance in the Vivobook and Zenbook series, there are subtle differences to consider. The Vivobook generally offers a decent battery life. You can expect it to last around 6 to 8 hours, depending on your usage.
Zenbook offers more powerful batteries than Vivobooks to cater to the heavy load. But the battery timing is less than Vivobooks due to the nature of tasks it has to handle, like video editing, graphic designing, 3D animations, etc. With the Zenbook series, you can expect 4 to 6 hours of endurance for resource-intensive tasks. For light usage, they can surpass Vivobooks with around 10 to 12 hours of battery usage.
Specific Models Review
As I look at the Vivobook and Zenbook series, some standout models catch my eye. The Vivobook S and Zenbook S offer sleek designs with portability in mind. The Asus Zenbook 14 OLED and Vivobook 14 are also excellent choices for those who want a slightly larger screen without compromising too much on weight. Asus Vivobook 15 is a great laptop for everyday use.
For creators and professionals, the Vivobook Pro and Zenbook Pro Duo have powerful laptops with powerful chips and dedicated graphics cards. The OLED models, including Zenbook Pro Duo 15 OLED, Zenbook 17 Fold OLED, Zenbook Pro 15 OLED, and Zenbook Pro 16X OLED offer OLED screens that are perfect for creative tasks and immersive entertainment. The Zenbook 13 or Zenbook Flip model from the Asus Zenbook offers a compact option for those constantly on the go.
Frequently Asked Questions
What Sets the Asus Zenbook Apart From the Vivobook?
The key difference between the Zenbook and the Vivobook range is their design and target audience. The Zenbook is more premium, offering sleeker designs, better quality, and more advanced features. Whereas the Vivobook focuses on budget-friendly and accessible options for the general audience.
How Does the Battery Life Differ Between the Vivobook and Zenbook?
Battery life may vary depending on the specific models you're comparing. However, I've generally seen that the Asus Zenbooks have slightly better battery life, as they often come with more energy-efficient components and optimizations to support increased performance.
Which One Is Better: Vivobook or Zenbook?
Determining which series is better, Asus Zenbook vs Asus Vivobook, depends on your priorities. If you're seeking a premium, sleek design with advanced features, consider the Zenbook. However, if budget and affordability are your main concerns, the Vivobook might be more suitable for you.
Are Zenbooks More Premium than Vivobooks?
Yes, the Asus Zenbook series is more premium than Vivobooks. They offer higher-end specifications, slimmer designs, and improved quality compared to the more budget-friendly Vivobook.
Which Series Is More Budget-Friendly, the Vivobook or Zenbook?
The Vivobook is the more budget-friendly option. With an accessible price range and versatile selection, it targets users looking for the best value-for-money laptops.
Is Vivobook Good for Students?

The Vivobook is well-suited for students due to its budget-friendly pricing, decent performance, and portable design. They offer enough power to handle everyday use. Some specific models may better suit your needs, so always consider available features and specs.
Asus Zenbook vs Vivobook: Which Asus Laptop Should Be Your Choice?
As an avid laptop user, I'm happy to help you narrow your options between the Zenbook and Vivobook.
The Vivobook is generally more budget-friendly. On the other hand, the Zenbook range is typically pricier. Still, it comes with sleeker designs and higher-end specifications, making it well-suited for professionals and power users.
Regarding essential characteristics such as performance, the Zenbook series laptops usually pack more power with advanced processors and GPUs.
However, suppose your primary focus is everyday browsing, document editing, or light gaming. In that case, you can buy an Asus Vivobook, which would be capable enough to meet your needs.