Laptops are portable, lightweight, and flexible devices. In the current era, they have become an everyday tool for many people around the globe. Now, if we talk about Macbooks, they have been highly in demand since Apple introduced them.
MacBooks are known for their high build quality and attractive looks. Their sleek designs, user-friendly interface, built-in encryption, and great customer support make these devices worth everyone's while. These devices are not only useful professionally but are great for personal home-based usage too.
Now, if you're deciding which Macbook Air to buy and are stuck on its color, you've landed at the right place. Usually, the color you choose for your MacBook or any electronic device is based on your personal taste and style. However, there are some major differences between the Space Gray and Silver MacBook Air models that might just help you to get the better one out of the two.
Space Gray MacBook Air
The Space Gray MacBook Air is a sleek and stylish laptop that offers a range of features and performance capabilities for users. Exactly like the purple most Macbooks are designed for, this device is a lightweight and portable device, making it ideal for people who need to work on the go.
Now when it comes to the Space Gray color of the device, it is a darker, more muted color compared to the classic silver finish. This makes the device stand out as a stylish and modern choice for users who prefer a subtle device for professional usage.
Silver MacBook Air
The Silver color of the MacBook Air is a classic and timeless choice that appeals to many users who prefer a traditional color palette. It offers a bright and polished appearance that can make the device stand out as a professional choice.
Similar to the Space gray MacBook Air, this device also comes with a high-quality Retina display, which offers sharp and clear visuals for work and entertainment. It also features a reliable processor that provides great reliability and storage. This makes these Apple devices suitable for a number of technical tasks such as video editing and graphic designing.
MacBook Air Space Gray vs Silver: What's the Difference?
The major difference between the two MacBook Air models is obviously their color. The Silver MacBook Air has a bright and polished appearance, while the Space Gray MacBook Air has a darker and subtler appearance.
Here, we will have a look at the key differences between the Space Gray and Silver MacBook Air models. Both these models have similar features as they come from the same series. Below is some valuable information about both these laptops that might be beneficial for those who are planning to buy MacBook Air.
Price
At the time of writing this article, the base price for Silver MacBook Air with Apple's M1 chip was $999 USD. The same model in Space Gray also started at $999 USD. These prices can vary from place to place due to different exchange rates and availability options of the devices.
At this time, at Apple's official website, both these MacBooks are still in the same price range. This price is for the MacBook with 8GB of unified memory and 256GB SSD storage. If you want to enhance any of these features, you'd have to pay an extra 200 bucks.
Best Deals on Apple Macbook Air Space Gray (Discounted Prices)
Deal #1: MacBook Air Space Grey (M1 Chip)
Deal #2: MacBook Air Space Grey (M2 Chip)
Deal #3: MacBook Air Space Grey (M1 Chip)
Deal #4: MacBook Air Space Grey (M1 Chip)
Color Appearance
In terms of popularity, both Silver and Space Gray MacBook Air colors are widely popular and equally desirable among consumers. Apple offers these options as standard choices for the Air series, which indicates that both these models have a significant market demand.
When viewed in natural light, silver may appear more reflective and brighter, with a subtle metallic sheen. Meanwhile, the Space Gray color may look darker and calmer.
Ultimately, choosing between these colors comes down to your personal preference and style. If you prefer a more classic and traditional look, the Silver MacBook Air may be more appealing to you. On the other hand, if you prefer something minimal, the Space Gray MacBook Air would be the better choice.
Best Deals on Apple Macbook Air Silver (Discounted Prices)
Deal #1: MacBook Air Silver (M1 Chip)
Deal #1: MacBook Air Silver (M2 Chip)
Deal #1: MacBook Air Silver with AppleCare+ (M1 Chip)
Color Coating and Durability
The MacBook Air space gray and silver color coatings are performed through anodizing. It is a process that is used to create a layer on the surface of metals that can protect.
In general, anodized coatings are known for their durability and good quality. They are preferred because these coatings provide excellent resistance to UV light, which helps to maintain the color of the laptops over time.
This coating's durability can depend upon different factors including the environment the device is exposed to, and the type of work that it is used for.
Generally, dust and scratches are more visible in darker colors as compared to lighter ones. This is because darker colors usually absorb more light, making imperfections on the surface more noticeable.
The coating that you find on MacBook Air devices is designed to be scratch-resistant and long-lasting. Thus, you don't have to worry about the appearance of your device as the MacBook hides scratches and other surface imperfections.
Design
Both silver and space gray laptops have the same weight, dimensions, and build quality. The design of both laptops is a similar unibody design, which means that the entire body of the laptop is made as a single piece, not as different pieces and connected together. This design provides a sleek and durable look and feel. The keyboard is backlit so you can easily work in any environment.
The weight of the MacBook Air is approximately 3 pounds – 2.8 to be exact. It comes with a Retina display with True Tone technology, which adjusts the display's color based on the surrounding lighting in the room. Cool, isn't it?
The laptop features a sensor that allows you to log in to your computer using your fingerprint. You can also make purchases online using this Touch ID.
Overall, the MacBook Air has a slim and lightweight design with a sturdy aluminum build. Its high-quality features, including a high-resolution Retina display, backlit keyboard, Touch ID, etc. make this device a popular choice for those seeking a reliable and functional laptop.
Ports
There is no difference in the port options available between the Silver and Space Grey MacBook Air models as the available ports are the same for both colors.
Performance
The MacBook Air models have different configurations when it comes to performance, including differences in processors, RAM, SSD, and display resolutions. Here are the details regarding the performance and display options of the MacBook Air:
Processor: Apple M1 chip with 8-core CPU and 7-core or 8-core GPU

RAM: 8GB(Default) or 16GB unified memory

SSD: 256GB (Default), 512GB, 1TB, or 2TB

Display: 13.3-inch screen with Retina display
You can select your specifications before buying a laptop. This includes RAM, storage, keyboard language, and some pre-installed applications.
The performance of the MacBook Air is significantly better than older models due to the latest M1 chip. The M1 chip offers faster CPU and GPU performance, longer battery life, and better thermal efficiency than the Intel processors used in the older model.
As both MacBook Air models have the same looks and features, their display resolution is also alike which is 2560×1600 pixels (2K resolution). There is no difference in the display options available between the Silver and Space Grey MacBook Air models. Additionally, neither model offers a 3K, 4K, or OLED display option.
Which Color Is More Popular and Why? Silver or Space Gray?
Space Grey is a more popular color as it gives a more sophisticated look and is good for professional usage. However, both colors have their own significance and the choice depends upon the personal taste of a person.
Can You Upgrade MacBook Air Space and Silver Laptops?
The upgrade options for MacBook Air laptops depend on the specific model and year of production.
In general, newer MacBook Air models have limited upgrade options due to their compact and slim design. The RAM and SSD are typically soldered to the logic board, making it difficult to upgrade them after purchase. However, some MacBook Air models may allow for upgrades to the SSD or RAM if they have user-replaceable components.
Silver vs Space Gray MacBook Air: Which Color Is Better Suitable?
As said earlier, one must decide his desirable color depending upon his requirements and uses. The students usually prefer a sleek and modern look and thus, they go for the silver one. While people with professional uses usually like to keep things minimal and thus, go for the Space Gray device.
Frequently Asked Questions
Which is Better MacBook Air Silver or Space Gray?
Both MacBooks have the same features, designs, and outlooks. The only difference is their color. Thus, the answer depends upon an individual's personal choice. You are free to choose any color if the features of this laptop are all you're looking for in your next laptop.
What Colors Does MacBook Air Come In?
The MacBook Air is available in three color options: Silver, Space Grey, and Gold. The Silver option has a bright, metallic finish that gives it a timeless appearance. The Space Grey option has a dark, matte finish that gives it a sophisticated look. The Gold option has a bright finish that gives it a luxurious appearance.
Is the Silver MacBook Air Distracting?
The Silver MacBook Air is not inherently distracting, however, Some users may find the Silver color too bright or reflective in certain lighting conditions, which could cause distractions.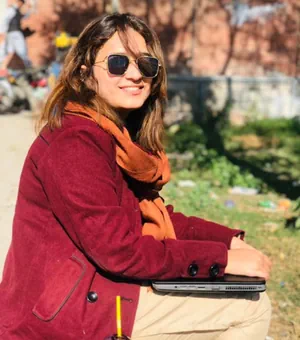 With three years of experience in freelance writing and a Bachelor of Science degree in Computer Science in progress, Soha is an accomplished writer of technology-related articles. She possesses the technical expertise required to offer informative reviews and comparisons of the newest gadgets and laptops thanks to his academic qualification in Computer Science. When she's not busy writing, you can find her exploring the latest trends on the internet, touring across the country, or curled up with a good book.